Here are the most batshit crazy things that happened in 2017
Never forget the time someone was banned from Eduroam for illegally downloading Chicken Run
People assumed 2017 couldn't be any worse than 2016, and those people were wrong.
The list is too long to go through now, but it's been a hell of a year, like actual hell.
But in this crazy world university life remains much the same. Students do ridiculous things to pass the time, universities fuck up in increasingly moronic ways, and student Tories and rugby lads continue to be dicks.
Here are the most batshit crazy things that happened across UK campuses this year.
January
"Unfortunately my ex-housemate and ex-friend Kieran Grub has had to drop out *sips from a can of Budweiser* because he's a nobhead!"
The uni was fined £400,000 for the research experiment that went wrong.
'The Sinnerman' was supposed to be doing Dry Jan but cracked with 11 days still to go.
February
Wait, a Tory did this?! That's not like them at all.
There will never be a greater club photo.
Shame it's a degree from Swansea.
Pls can I move in.
He didn't get anything above medium spice though, the wettie.
Imagine having the confidence/desperation to get your willy out in the middle of the SU.
March
I can't imagine people got sick of this at all.
But don't worry because when they were asked to explain the social, the boys said: "This absolutely did not happen and was not meant as a suggestion. It was one of the guys trying to make a personal joke aimed at one of the other boys."
Pitch invasions, police involvement, fighting, streaking, people bottling each other. That's exactly what sport is all about right?
His apology read: "I can assure you that I did not have racist intentions, nor am I a racist, however completely understand the offence taken and the naivety of my actions.
"The decision was made late on in the evening, heavily under the influence of alcohol as a last resort for a costume however this does not excuse my actions."
Natasha Hamilton shouted "fuck you" and raised her middle finger before walking off.
Later in the year, Lincoln students also bottled Jedward off the stage when they came to perform. Lincoln, you keep doing you.
He had to post a selfie for them to believe he was really a police officer.
April
A little known fact is the NUS lot actually host the best afters.
One read: "Instead of taking any money we can discuss another way you could show me your appreciation."
They got him good.
May
Sometimes the moment just takes you I guess.
And THEN they banned someone for illegally downloading Shrek. OH THE HUMANITY.
It's not even up for discussion, Stormzy was the downright overall good guy of 2017.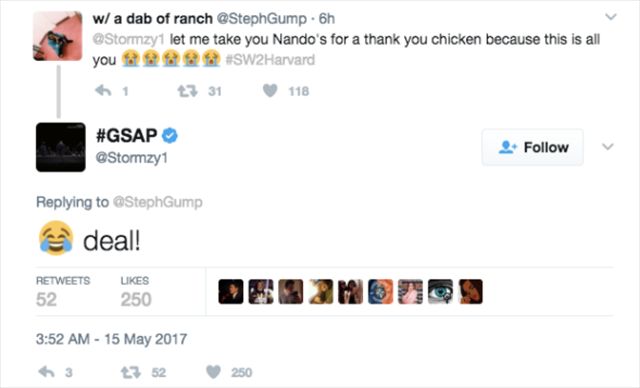 Some of us are born great and some of us have greatness thrust upon us. This guy has both.
Michaela claimed white wine was the key to success.
Exam fuck-up season also got underway – remind me again what exactly we pay £9k for?!
Birmingham Economics finalists were given 'unanswerable' questions in their exam
Final year Warwick Historians were given two hours to sit an exam rather than three
And invigilators at Edinburgh interrupted a Geography exam FOUR times to inform them of mistakes in the paper
June
The confidential information was helpfully laid out in a spreadsheet detailing exactly who had what extenuating circumstances.
A lot of them involved faeces.
July
For the many, not the (Chris) Hughes.
"The Sinnerman" from The Chase was having it large in Manchester this time and was the last to leave at 4am.
August
It took hundreds of experts thousands of hours but the issue was finally put to bed.
The appeal worked and both of them survived.
Yooooo! It was without doubt the can't-miss event of 2017.
I heard Cameron has a similar jacket with Corbyn's name in a love heart.
September
Instead his kid was "forced" to eat a "dry crisp sandwich". Jamie Oliver I hope you're sleeping soundly at night buddy.
Who needs to protect the realm from the White Walkers when there are VKs to strawpedo.
Okay fine, it was the girl who voiced Peppa when she was younger.
She said they looked like they only had one GCSE.
If you're not from Leeds, Manchester, Newcastle or Bristol I've got some bad news for you.
This was before she went on I'm a Celeb, won it, outed herself as a massive Tory and everyone started hating her guts.
October
Everyone in Newcastle came together in the city centre to sing Toto's Africa
The police threatened to arrest people but that didn't stop the rains down in Africa getting blessed.
Fit.
The man refused to leave or pay rent.
It documented how many times each of them were taken to A&E during first term.
It was something to do with the Sahara desert right?
The student said to the other people trying to study: "The next person to speak dies."
The Geology students were advised by the social secs not to wear the hi-vis jackets to their morning practical. Probably not a bad idea.
Dreams can come true.
Debs covered the birthday boy's face with squirty cream, and later sat on his face whilst asking party-goers to chant "fish and chips, fish and chips".
He interviewed thirty students who had had a threesome.
November
I literally don't even know where to start with this one.
They also had chilli powder rubbed on their genitals.
They're planning to get married in eight months.
Apparently he spent all of his money on pints!
Nottingham came 2nd and Loughborough came 3rd.
Oh, and don't forget the guy on Tinder who said girls enjoy being raped.