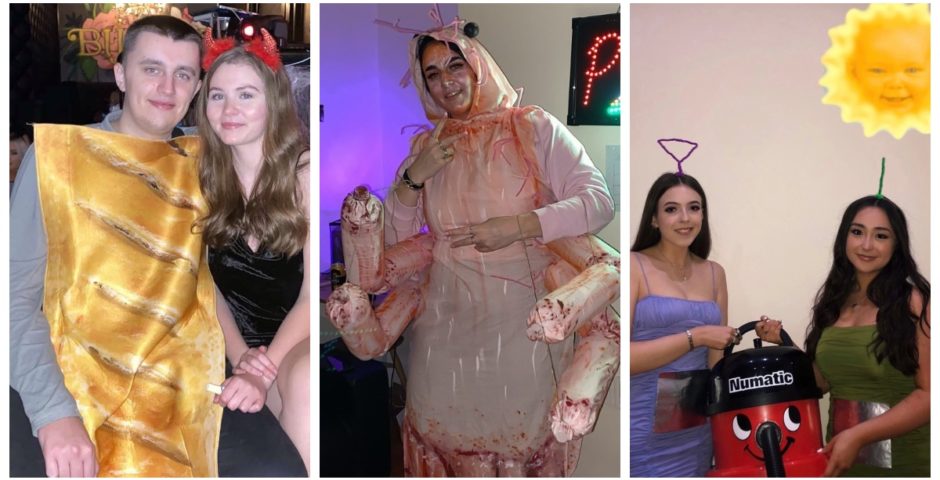 Here are some of Newcastle's best Halloween outfits this year
Spooky season isn't quite over yet!
Whether you spent Halloween at home and got spooky with your housemates, or were organised enough to book a table at a cocktail bar in advance (we're jealous of everyone who did this), no outfit can possibly be scarier than 2020 has been so far.
We scoured through Instagram to find some of Newcastle's most creative and best-dressed students this year:
Teletubbies
Have you ever seen the Teletubbies look so glamorous? The spookiest part of Halloween this year is definitely the impending second national lockdown and not this costume – however, major points go out for creativity.
Devil
Girls LOVE dressing like angels or devils on Halloween every year – granted, it's not hard to find devil horns or wings; however, this student took her devil costume to the next level with the intricate makeup and the red wig. If this is what hell looks like take us there right now! Prinny told The Newcastle Tab: "I wanted to dress up as Boris Johnson… but make it sexy."
Prawn
We want to draw attention to the fact that the caption of this beautiful Instagram post reads: "Newcastle's biggest prawn star", and we couldn't agree more. With just over 20 hours spent on this costume made from Primark bedding and stuffed with 2L plastic bottles to ensure "fully functioning joints in accordance with the arm movements of the user", this costume definitely deserves 12/10 points on creativity.
Ava told The Newcastle Tab: "Unfortunately one of our fish in our tank died after getting stuck under the filter and was called 'Prawn' (the others are called dog and chicken), so it only seemed right to pay tribute to his life. We also cremated him in a chick pea can and then spread his ashes at the waterfall in Jesmond Dene."
Sausage roll
We repeat… SAUSAGE ROLL!!! No other Halloween costume could possibly be more Newcastle-related than this one, Greggs for life. Nick said that the inspiration behind this costume simply came from hoping to get a free sausage roll on his way home – sadly it didn't work, but there's always next year.
The Rock
Simple, effective and the resemblance to The Rock is uncanny. Who said that you have to spend an extortionate amount of time, money and effort on Halloween costumes when you could just as easily dress up as a meme (especially when it's as recognisable as The Rock in his turtleneck) – we rate this costume highly.
Cheerleaders
Another classic Halloween costume choice but beautifully put together with the pom-poms and the fake blood. Zoe and her friends saw this idea on TikTok and quickly ordered the necessary components on Amazon a week before Halloween; imagine not throwing together your costume in the last minute… we can't relate.
Lara Croft
This Lara Croft inspired costume definitely wouldn't disappoint Angelina Jolie. Although not as spooky as some of the other costumes in this round-up, Park View has truly gained its own personal tomb raider. Charlotte told The Newcastle Tab that she ordered this costume ages ago because Halloween stresses her out every year, so she likes to be prepared – the organisation skills certainly payed off!
Cowgirls
Possibly inspired by the cows that reside outside Castle Leazes, these girls brought a new meaning to the term Cowgirl. We're truly impressed by the variety of cow-print attire as shown in this picture, the Leazes cows could only dream!
Jenna told The Newcastle Tab: "Lockdown has meant we haven't been Cowgirls in a while ;)" – we can only hope that your costume lived out to its meaning x
Overall, these costumes definitely show that Newcastle students don't even let a global pandemic ruin their Halloween plans. Our personal favourite and therefore the winner of Newcastle's best dressed student this Halloween goes to Ava with her homemade Prawn costume (extra points because it was prompted by the tragic death of her fish). RIP Prawn, we hope fishy heaven is treating you well.
Want to write stories like this? Join the team, no experience required. DM us via @TheTabNewcastle on Instagram or The Tab Newcastle on Facebook.
Similar stories recommended by this writer:
• This is what your choice of Newcastle gym says about you
• Student business Moments Labelling is donating 50% of profits to Movember
• We asked Newcastle students to rate their first week of online uni