We asked Newcastle students to rate their first week of online uni
'Lecturers have got to realise there are only 24 hours in a day'
It's no doubt that online learning has been a struggle for all of us. From the pre-Zoom anxiety, to trying to cope with Canvas (seriously, who doesn't miss Blackboard) to keeping track of all the dates and deadlines, actually learning something is proving to be quite difficult.
It's only been a week but chances are you've already felt the sheer panic of realising you've left your mic on, had a housemate interrupt your seminar or spent an entire lecture scrolling through TikTok. Uni this year is different, to say the least and here are how students at Newcastle Uni feel about it.
Rianna, third year Law student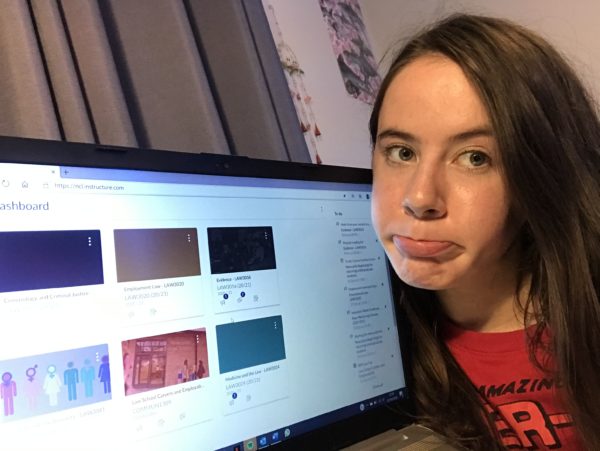 We've only had one week of teaching so far, which is a bit stressful as it's my final year so everything feels a bit overwhelming at the moment and adapting to the new teaching platform has been tricky. Canvas is hard enough to work your head around when you've had 2 years of Blackboard, never mind adding a pandemic where all the information needed for every single lecture and reading are posted on there.
I am grateful that the majority of my degree can be done very similarly online, but realising that a lot of my modules are being taught via pre-recorded lectures makes me feel frustrated because this is in no way worth 9 grand a year. I can't believe I'm completing my most important year of study from my bedroom desk. Fingers crossed after a couple weeks I'll feel better about how things are going.
But the fact that I don't physically have to go on to campus, especially on days I would have felt low or not had the energy is a plus. Now there's no excuse and I am able to access everything from my laptop. Also, whilst I'm not a fan of purely pre-recorded lectures, I am aware that it means I can do them in my own time and can now access them when it suits me.
Overall rating: Currently a 4.5/10, I would give anything to have even two hours on campus a week.
Kurchi, second year Medicine student
"I would say it's going alright. Not sure if it's because my brain's rotted from 7 months of not using it but it feels like a lot more work now. I think they've tried to overcompensate with the online resources, which is fine! Although structuring all that online work yourself is a bit hard. They've got to realise there are only 24 hours in a day.
I'm doing Medicine, for which some things CAN'T be substituted online. Since we're currently under Tier 3 restrictions, we've had our in-person hours cut, which is frustrating given the fact that we were asked to come back. For example with dissection room sessions; we can't go in, and they can't show us specimens on camera, so we've had to go off of diagrams and DIY models. It just isn't the same.
Overall rating: A solid 6/10, it's not really uni if you're sat in your room 90% of the time.
Gemma, second year Media, Communication and Cultural studies student
"As an international student, I feel like I'm losing out on the experience of studying in the UK by doing second year at home in Hong Kong instead. The hardest adjustment though is the time difference – it's 8 hours in the winter, so an online session at 5pm UK time is at 1am here. I can't fully concentrate on the session because I'm supposed to be sleeping.
"Relying on my WiFi is also really annoying; half the time I cannot see or hear clearly due to the poor connection. And during live sessions, people freeze on the screen." (Sounds ideal).
"Despite all this, studying has been very flexible as the learning materials are all put online and I can learn whenever and wherever I want – and I get to stay with my family during the pandemic, so really, I can't complain."
Overall rating:  6/10 – I just want to go back to the UK to study.
Bill, second year Combined Honours student
"I'd say online uni is going to take some getting used to. For me there's a lot less motivation to get online than rock up at in-person lectures. I'm not on a very practical course anyway, so the only difference is that I'm not sat in a lecture hall. The only thing I miss out on are the field trips but the lecturers themselves are trying super hard to make things as smooth as possible with the current situation.
"Trying to navigate Canvas is confusing though; each subject and each module do different things from the last so trying to keep track of everything is tricky. But the ability to go back and look at pre-recorded lectures is pretty good. Makes note taking far easier."
Overall rating: Eh I'd give a 6-7 out of 10.
Adam, first year Medicine student
"The hardest part of online uni for me has been concentrating because it's easy to lose focus when doing lectures on a Zoom call. A flatmate was in a lecture when the fire alarm went off, and the whole Zoom call heard it in the background." (Yikes).
"First year has not been what I had expected. There are lots of restrictions and it's hard to meet people outside of your flat. But a positive of this is that you can proper get to know your flatmates because you inevitably spending so much time with them.
"However I definitely feel like I'm missing out on the full potential of my course – usually with medicine I would be going to hospitals, which obviously isn't possible at the moment due to the current climate."
Overall rating: 7/10.
Whether you're a disappointed fresher, a struggling second year or hanging on for dear life as a third year, this experience is one of adjustment and despite what the many unread emails in your inbox suggest – you can and will get through this. Go easy on yourself, you're trying to dodge a global pandemic after all.
Want to write stories like this? Join the team, no experience required. DM us via @TheTabNewcastle on Instagram or The Tab Newcastle on Facebook.
Similar stories recommended by this writer:
• '9k for what?': A protest over university fees is happening in Newcastle next week
• Five easy ways to make sure you stay on top of online uni