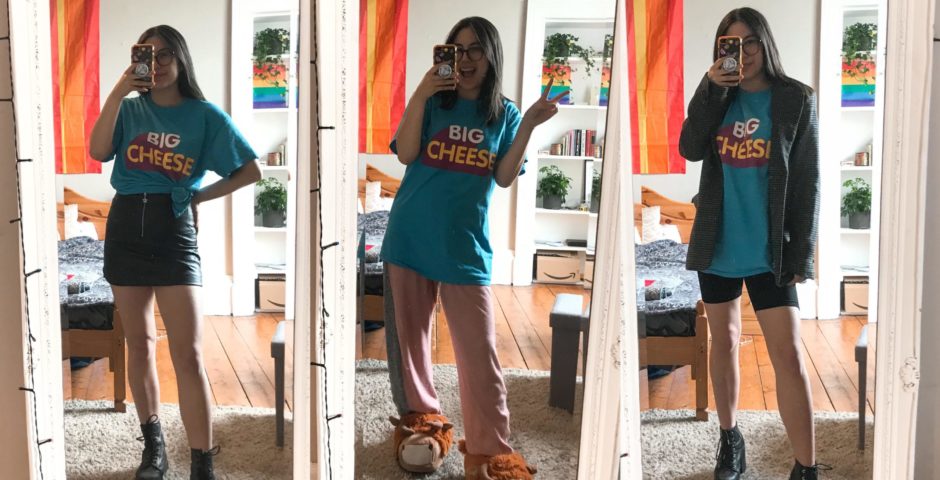 These are the five best ways to style your Big Cheese t-shirt
No club night? No problem
We've all heard the horror stories from online classes, tutorials and meetings of people who don't realise their mics and cameras are on and end up embarrassing themselves in front of a virtual room of almost-strangers. And normally, in the midst of our laughter and disbelief that someone could be that stupid, we think to ourselves how we could never be that careless and such a mortifying experience could never happen to us.
However, last Wednesday at one of my weekly zoom meetings, the most dreadful eight words I could ever hear were uttered; 'Viola, are you wearing a Big Cheese t-shirt?'.
In the meeting I had tried so hard to make sure you could only see my face and just the very top part of the iconic blue t-shirt, but to no avail; I'd been caught and was mortified. I quickly tried to defend my outfit choice, but I still left the meeting deeply embarrassed and eternally cringing.
But why are we embarrassed? I make a plea to all of you out there with a Big Cheese t-shirt stuffed at the back of your wardrobe to pull it out and put it on with confidence. And to those of you who are still reluctant, let me show you just how versatile and stylish it can be.
1. Classic jeans and a tee
You can't go wrong with this cute and simple look.
2. Pop of cheesy colour
For those of you who aren't quite ready to show off that sexy Big Cheese logo yet.
3. Kim K cycling shorts
The Kardashians would 100 per cent wear this out around Beverley Hills.
4. Big Cheese ready
The perfect outfit for those Big Cheese (zoom) Saturday nights.
5. I'm comfortable and idgaf
My personal favourite; I expect to see you all dressed like this at your next zoom tutorial.
It's time to pull out that blue monstrosity hiding at the back of your wardrobe and wear it with pride.
Related articles recommended by this writer:
• These are the 7 red flags to look out for on an Edi boy's Tinder profile
• I went to Hive with social distancing and it was strangely vibey
• A scientific breakdown of what your Edi flat location says about you