Which Euro 2016 player is your uni?
Did Roy pick you through clearing?
June sees the start of Euro 2016 in France. Torres has been unjustly left out of the Spain squad, Alan Shearer says our own captain isn't good enough to start ahead of Jamie Vardy and Harry Kane. Jermain Defoe didn't make it, and your university might have not made Roy's list either. But who cares when you're Zlatan Ibrahimovic?
Aberdeen – Eidur Gudjohnsen
Stuck up north/in Iceland and often overlooked, you're vaguely remembered by a few people. They know you were good at some point, but they haven't got a clue what you're actually like now.
Aberystwyth – Tom Heaton
You're second tier but you know what? People think you're doing OK. You're in good form, you deserve to be mentioned. As the third Welsh uni that everyone remembers behind Joe Hart (Cardiff) and Fraser Forster (Swansea), you're holding your own in an area that no one either remembers or really wants to be in. Shame you'll never get a look in.
Anglia Ruskin – Super Victor, the Euro 2016 mascot
You're not a real footballer/uni, stop pretending.
Aston – Eric Dier
It's up for debate whether less people know that Eric Dier is a professional footballer or that Aston had a university.
Bath – N'golo Kante
N'golo Kante loves football so much he literally never stops running after the football. He probably doesn't have a life outside of sport, at all. Bath students don't either.
Belfast – Steven Davis
The captain of the ship, the leader of the pack, you're so good for your own kind that you've started making intrusions overseas to the English – which, if you think about it, is quite ironic. You're on form, three in two games for club and you've qualified for a European competition for the first time in forever. Go you.
Birmingham – Zlatan Ibrahimovic
You have an inflated sense of your own importance and can't believe more people don't think of you as one of the Greatest Universities In The World. Never far from a showy stunt, whether it's being walked off the pitch by your two young children or occupying another fucking building.
Bristol – Andros Townsend
Yes there's some talent there, a real footballing brain, but is there any real desire? It's all very well coasting on a 2:1 and getting the occasional good essay mark but if your uni is plummeting down the rankings while you do it then you may as well have not bothered. Ultimately, you're nowhere near as good as you think you are and your one trick, whether it be cutting inside and shooting or dropping mandy at Motion, isn't as clever as you think it is.
Brookes – Ryan Bertrand
On the periphery for most of your life, your claim to fame is merely association. Just like winning a Champions League medal for a rather shoddy but lucky performance, you can say you're at uni in Oxford but everyone already knows the score.
Cambridge – Wayne Rooney
Absolutely class, but bloated and full of your own self-importance, you end up dragging the team down by the size of your own ego.
Cardiff – Joe Hart
Imperious form in an otherwise barren land – English goalkeepers are few and far between, a bit like Welsh unis. Sure, there's little shits nipping at your ankles but you're the first name on the team sheet.
Chester – Jermaine Jenas
You're only known for being on TV, and people forget you actually existed before. Chester has a uni, but you only know it for Hollyoaks. Admitting you go there was as embarrassing as announcing you've retired from the game when people just thought you were a TV presenter.
Durham – Ross Barkley
Ooh, look at this, look at all the promise of Durham University. Finally, things are going to be different. It's not going to be boring old Oxbridge again, we're going to have a uni with some flair, sitting in the hole behind the two big guns and managing to be better than both of them. Look at them go, such skill, such poise, such grace! Ah, fuck it, he's lost the ball again. If only they were half as good as they think they are.
Dundee – The whole Scotland squad
Like the Scottish national team, you're best described as disappointing.
Edinburgh – Daniel Sturridge
Sturridge is "the hipster footballer" and sees himself as more than just a ball-kicking neanderthal and is desperate to break out of the mould with his trendy threads and hanging out with Drake. Just like Edinburgh students reaching for relevance, prattling on for hours about how great "Edi" is and wearing moth-eaten clothes forgetting that they go to uni in Scotland.
Exeter – Jack Wilshere
Expensive, overrated and always photographed in the smoking area of a nightclub he shouldn't be in. Can you be sure Jack Wilshere has actually been injured this season, and wasn't actually spending the evenings after his Physiotherapy foundation degree terrorising freshers in TP?
Glasgow – Jack Grealish
Second class haircut, loves a night out and doesn't really give a shit about why it's here. You're not a uni, you're a social cub. And lil' ol' Grealish is only here for the salary.
Hull – Simon Church
Let's face it, Simon Church was never going to be a world-class footballer. No world-class footballers are called Simon Church, it's just not a name you associate with quality. Similarly, no matter how hard they try, no university in Hull can ever be top in the UK: it's Hull.
John Moores – The paparazzi
Despised by the wags (Liverpool), though you're not their biggest fans either. What neither of you realise is how much you need each other to survive.
Kent – Jamie Vardy
A little bit ratty and slightly racist, you were never going to go to the Euros when you voted UKIP, but a sudden dalliance with a certain Italian has turned you into certified Europhiles.
King's – David De Gea
The last year would have been a whole lot more enjoyable if a horrendous admin error hadn't deprived you of your dream move to Real Madrid. And by dream move to Real Madrid, we mean whatever the most administrative cock-up at KCL has been.
Lancaster – Jermaine Defoe
You'd think all that hard work to climb up the uni rankings would have got you a spot in the Russell Group by now but it's too little, too late. You'll never get that chance again.
Leeds – Dele Alli
You're the new kids on the block, you're all from North London anyway, you're young and have got a bit of a fight about you.
Leeds Beckett – Aleksander Mitrovic
You're basically a more violent version of Leeds. Young and angry.
Leicester – Danny Drinkwater
Rejected by the big names, scooped up by Leicester and made to look far better than they really are. Whatever comes after they leave Leicester behind, chances are it will never get better than this. No, I'm not describing Danny Drinkwater's career, that's the life of a Leicester student.
Lincoln – Costel Pantilimon
Look, you're around there somewhere, it's just no one is really sure what you do, why you do it, or why you exist. Or what team you play for.
Liverpool – The wags
You walk around with rollers in your hair, far too much fake tan and you all bloody love each other. Problem is, compared with all the other wags, you're bang average. There's even a program called Desperate Scousewives – you were born to carry a handbag and sit there delicately clapping.
Loughborough – Marcus Rashford
The Euro squad is basically university rankings. Generally pretty accurate but sometimes they shock you. Just like how Loughborough somehow made the top 10, Rashford doesn't quite know how he made it into the team while still finishing up with school. You clearly have the athletic ability, but it's down to dedication whether you go on to greatness or just become a sports physio.
Manchester – Raheem Sterling
Up there with the big dogs of the uni rankings, but keeps on getting arrested and caught doing nos. Making all the same mistakes as students in Manchester, including wearing way too much Nike.
Newcastle – Kyle Walker
A gym bunny from North London summarises most of the students. Your squad role is based off a solid but ordinary record of achievement. Tottenham failed to win the league, England won't win the Euros, and you didn't get into Bristol or Manchester.
Northumbria – Danny Rose
You're basically just a shit Kyle Walker.
Norwich – Fabian Delph
Marooned in the east of England, cut off from every other top UK uni, life at UEA is a lot like life on the substitutes bench at Man City for Fabian Delph. If people turn their noses up at you, it's not because they dislike you, it's just they'd forgotten you were still a thing. Yes, you are ranked highly for certain subjects and everyone always says your Union is amazing, but let's face it: you're never going to be someone's first choice.
Nottingham – Nathaniel Clyne
Your fans bang on about you all the time – you're the next big thing, everyone wants to be like you, you're not like the rest of them. It turns out everyone realises after a while you're distinctly bang average. Yeah you're good, and yeah, you deserve to be up there with the rest of them, but you're not worth the price tag.
Oxford – Gary Cahill
The elder statesman of the squad, you're not very exciting, and you're probably going to be more successful than most of the rest of us ever will be. Every now and again you'll smash in a volley and pound your chest – and that's really what you do best: pride, and making sure no-one gets past you in the rankings.
Plymouth – Duje Cop
When filling out your Panini sticker album, Duje Cop is the sort of player you'll never be able to get hold of – Croatia's page will be empty but you're simply fascinated by who this guy is. Similarly, Plymouth always do well in league tables, you hear of the uni all the time and you would love to meet someone who goes there – but you simply never do.
Queen Mary – Mark Noble
Ever unfashionable, some people in London are adamant that we give you a chance, talking endlessly about your work rate and natural ability. Nobody's listening though, all the other London unis are hogging all the attention.
Reading – Emyr Huws
The only thing more confusing than having to remember not to pronounce "Reading" like "reading" is trying to say Emyr Huws out loud.
Royal Holloway – John Stones
Beautiful to look at, graceful and well-poised: you are an aesthete's ideal university. Unfortunately, British people aren't aesthetes and so you're viewed with a healthy dose of suspicion by everyone who encounters you. Maybe it's because you're based weirdly far outside of London, maybe it's because of all the rumoured haunting. Or maybe, maybe, it's because you won't just put your foot through the ball and clear it sometimes.
Sheffield – Gary Neville
You used to be a big deal, the top of your game, but a steady decline in ability has left you sat on the sidelines. A big job on foreign shores once beckoned but you managed to screw that up. All that's left for you now is a career in the media.
Sheffield Hallam – Phil Neville
You're a shitter version of your older brother Sheffield except you didn't have any talent in the first place. You tried to copy him by choosing a career in media but you're just boring in comparison.
Southampton – Adam Lallana
Hard working, and a staple in the Russell Group, but nobody is looking at you as their first choice. There are some admirable attributes, sure, but on the whole you could easily be replaced by four or five different options. You're going to get some playing time after the more impressive players have had their fill, but really you're just there to make up the numbers. People will forget you were even in the squad a week after England are inevitably knocked out. Instantly forgettable.
Southampton Solent – Joe Allen
A budget Adam Lallana.
St Andrews – Roy Hodgson
Imperiously looking down on all the young talent.
Stirling – Marouane Fellaini
Unattractive, old-fashioned and likely to give you a black eye. Everyone's a little bit wary of you and you can't figure out what you've done wrong.
Strathclyde – Anatoliy Tymoshchuk
The most capped Ukrainian footballer sounds like a nuclear warhead, and Strathclyde sounds similarly dangerous. No one really goes there, and no one really wants to.
Sussex – Sami Khedira
Sami shows the kind of things which are possible when you allow migration between countries and embrace other cultures. Sussex would be pleased.
Swansea – Fraser Forster
Cardiff hold the reigns, and while you compete with them, sometimes getting close to their level, unfortunately you're the slightly more gruff, slightly less hair shampoo advert friendly goalkeeper. Your followers will love you, but you're there to fill up the numbers.
Trent – Darron Gibson
You used to have so much promise. This meant you were able to ride off your potential for a while by telling people you "went to uni in Nottingham". These days you're more interested in going to Ocean than showing up and delivering on match day.
UCL – Harry Kane
You've been knocking around for a few years but times were tough. Now though, you're not only on the up, people have not only admitted that you exist, but they actually think you're worth something, and even something to be reckoned with. You're now a preferred first choice to other big stalwarts of the squad, but there's one thing letting you down from true unadulterated stardom – you are ugly as fuck.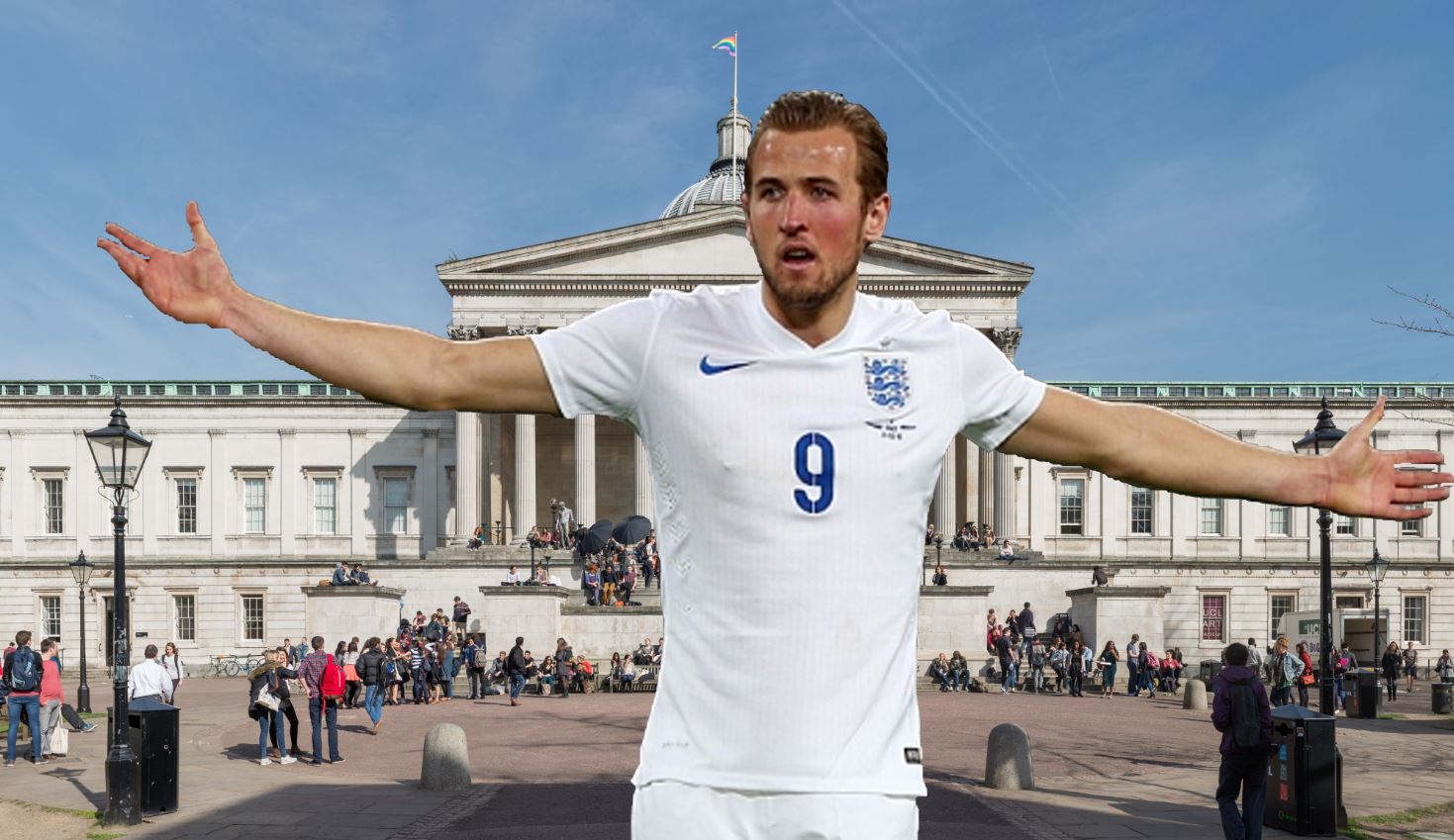 UCLan – Andy Carroll
You could be really good, but you're dedicating too much time to your girlfriend, your beebo declaring you have a girlfriend (if you have one at the time) and painting your room, or worse your house pink.
USW (South Wales) – Boaz Myhill
Steady for your team against weaker opposition, you'd see off the likes of Bangor, Glamorgan and Glyndwr. But when it comes to the big dogs, there's a reason you're not even cutting it. Tony Pulis might be able to get a few clean sheets out of you, but under Coleman you're just a mess.
UWE – Ciro Immobile
If I'd taken that much ket, I'd be pretty immobile too.
Warwick – Jordan Henderson
Over-rated, overplayed and overpriced. People bang on about you not because you're good, but because some old people decree that you probably should be up there with the greats. Prestige means nothing anymore, you're actually a bit rubbish and worse, far worse in fact, you're really boring.
York – James Milner
You're both held in quite high esteem, be that winning the Premier League twice and captaining England once or being part of the Russell Group and having a nice cathedral. But at the end of the day, you're just a bit boring. Milner runs around a lot and is commended on his work ethic but will never make the headlines and neither will York students.
York St. John – James McCarthy
A James Milner-copycat from the other side of town, everyone's beginning to think you only look good when everyone else around is rubbish.