Newcastle students 'reclaim the night' with empowering late night city-centre rally
It Happens Here and Women's Street Watch stood in solidarity with campaigners as they marched together to fight for a change in our society
Students from Newcastle University were among a large group of campaigners who took to the streets for a late night march and rally last night, shining a light on the dangers women continue to face every day when out in public.
Thursday night saw approximately 75 people march together in solidarity, campaigning for safety on the street for all.
Newcastle University society It Happens Here and community watchdog Women's Street Watch NCL partnered together to organise the march from the university arches down to Monument.
Kate, social media manager for It Happens Here, said: "It's really tiring that we have to do this again and again but I am so happy that we all came out here to stand in solidarity."
The protest saw many gather and chant against male violence. "Stop the violence, stop the hate" was shouted through the streets of Newcastle in the hope of evoking change in society.
At Monument, protesters grouped together to hear empowering speeches from students and organisers.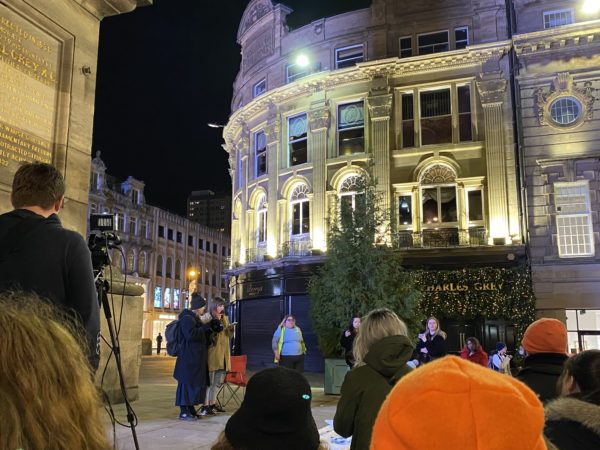 A volunteer from Women's Street Watch NCL said: "I'm tired of hearing that women are simultaneously hysterical and not careful enough. I'm tired and I know that you are too".
We spoke to many students to find out what the Reclaim The Night march meant to them.
One said: "I'm here tonight to support all the amazing women who don't feel safe on the streets, and don't even feel safe in their own home. I'm here for those women so we can all stand together."
Another added, "I refuse to be silent. Being here for me means a lot because it's such a personal cause. it's important that the university really take this seriously."
The group received great support from the community, with Newcastle University Students' Union welcoming campaigners beforehand to make their own banners and signs, while Northumbria Police were on hand monitoring the safety of the marchers.
A representative of the police confirmed to The Tab that approximately 75 people were in attendance and the march had been held in a safe and orderly fashion.
Want to write stories like this? Join the team, no experience required. DM us via @TheTabNewcastle on Instagram or The Tab Newcastle on Facebook.
Related stories recommended by this writer: