Every crystal you need for your Newcastle-student-specific problems
Searching for a Jesmond lover? Let rose quartz help you with that
Desperate times call for desperate measures, so why not look to our shiny crystal friends in times of need? Exhausted Jesmond Tinder? Feeling the hang-xiety after a night at Soho? Whatever your Newcastle-student-specific problem may be, we are here to find you the crystal that you need most in your life – good things are on the Jesmond horizon.
Sad about the single life?
Calling all hopeless romantics! If you're unlucky in the world of love and are looking for your Jesmond sweetheart, then look no further. Rose Quartz is definitely the crystal for you. Known as the stone of universal love, this is the crystal for all things romance and is perfect for lifting yourself out of a romantic rut. 
Never getting the best reduced-section deals at Jesmond Tesco?
The Tesco Metro reduced section is the place of dreams, and nothing beats the feeling of turning up to a fridge stacked full of discounted deals. Feeling as though you never turn up at the right time to get the best deals? Are your friends always gloating about their lucky finds? Maybe you need to get yourself a Labradorite. This crystal is best known for its influence on "lucky decisions", so maybe owning this stone will influence you to take a trip at just the right time to score yourself some discounted grub.
Are you the friend who always loses their belongings?
We all have that one friend who is, let's just say, the friendship group's liability. If the only thing you can be trusted with is losing your belongings on a night out, maybe your life lacks a bit of Tiger Eye. Known as the crystal of protection, Tigers Eye crystals hold a powerful protective ability, and could just be the key to keeping you from, well, losing your keys.
Stressed about exams? 
Get yourself an Amethyst, gal. Amethysts are known for their immense calming properties, which could be just the thing if exam stress is getting you down. This purple friend is one of the most popular crystals out there, and its soothing qualities make it the perfect companion for those crying sessions in the Marj.
Are hangovers getting you down?
That post-night out hang-xiety creeps up on us all. We get it – you wake up at midday after a long Soho night with a stomach filled with trebs and regret. If the hang-xiety is getting you down, we recommend investing in  Smokey Quartz, known for dispersing negative energy, anxiety and depression.
Struggling with concentrating on online uni?
We get it, over a year of online uni can leave you feeling, well, let's just say unmotivated. A lack of motivation can make it really difficult to keep the focus in yet another online study session. If you're struggling to keep yourself present in those essential Zoom lectures, Clear Quartz might just rock your world. Known for its ability to amplify concentration and focus, this crystal is a great way to keep yourself on track in those last 15 mins of a 4pm seminar. Trust us, we know the feels.
Bank account looking sad after a few too many treb deals or takeaways?
If you are liable to make questionable financial decisions after midnight, or if you would rather opt for a Toon Takeaway than a home-cooked meal, you might have a Pyrite shaped hole in your life (and your wallet). Pyrite, often known as fools gold, is known for being the best crystal for manifesting money and could prove useful if typical student antics have left your bank account looking a little bruised. 
Exhausted Newcastle Tinder?
If you're finding yourself running low on swipe-rights, you may well have exhausted Newcastle Tinder. We're a little impressed if we are being completely honest. But, it's lockdown – what else is there to do after all? We get it. If you're looking for some fresh faces on your dating app of choice, purchasing some Green Aventurine could just do the trick. Known for its ability to bring new opportunities, Green Aventurine is a great choice if you're looking to change your luck.
Struggling to find a study space?
We've all been there, awkwardly wandering around your chosen study space during exam season in search of a seat. But it's too late, everyone knows that turning up after 11am means you're out of luck. Well, that was before you starting carrying your Carnelian around. Known as the stone of empowerment and luck, Carnelian is your best friend if you're wanting to stumble across a seat in the Robbo at 1pm during exam season. It also helps to boost confidence, so you might not find that awkward walk around in search of a seat so awkward after all.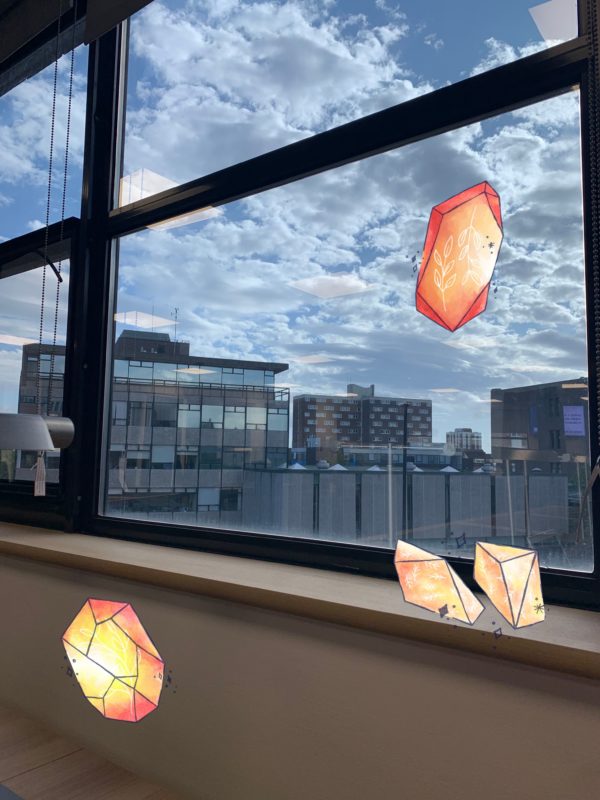 So there you have it – the crystal you need for your Newcastle-student-specific problem. Maybe your crystal-obsessed pals aren't that crazy after all.
Want to write stories like this? Join the team, no experience required. DM us via @TheTabNewcastle on Instagram or The Tab Newcastle on Facebook.
Similar stories recommended by this writer:
• Which Newcastle night out are you based on your Zodiac sign?
• The A to Z of thoughts all Newcastle uni students have had this year
• The top seven things Newcastle students are manifesting for Summer 2021