NUSU Elections: Meet your presidential candidates
They're all better than Trump
It's that time of year again. Expect to be littered with leaflets as you walk past the Student's Union, as the Student Officer elections begin.
We've made it easier than ever to make an informed decision about who you should vote for. These are the four candidates hoping to win your vote to become Union president next year.
Voting opens on the 6th March at 2pm (this Monday) and runs until next Thursday.
Harry Young
Studies: Economics & Maths
Under the banner of #livefastVOTEYOUNG, Harry's manifesto revolves around five key areas:
1) Your future
2) Your health
3) Your support
4) Your access
5) Your involvement
Harry is also a key part of the RAG society – he was RAG Week Supervisor in 2016 and is current RAG president. He wants to improve the health of Newcastle students and increase the availability of affordable and healthy food across campus including the Union and [email protected] outlets.  On top of this, Harry is all for improving the mental health support currently available to students during exam periods as well as throughout the year. Harry also proposes to campaign against proposed increases in tuition fees, and "improve relations between students and landlords".
Ronnie Reid
Studies: Politics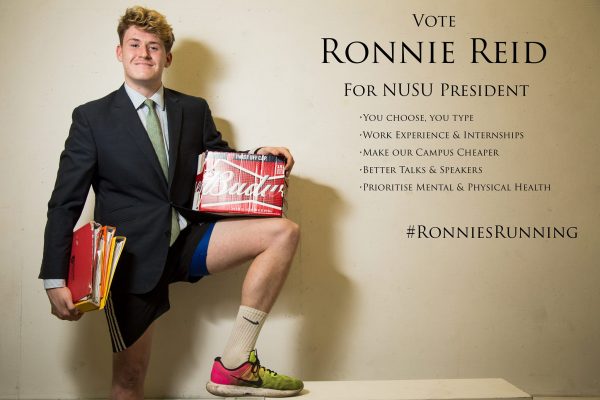 #Ronnie'sRunning with a campaign to make the Newcastle campus cheaper; and to organise better talks and speakers across all university departments.
He also promises to prioritise mental and physical health across the university's support network, and give students the choice to type their exams, if they want to do so.
Ronnie told The Tab: "I'm running a campaign for a fairer, more affordable and career enhancing university experience. I think the Union is currently in brilliant shape, but with 78% of students not engaging with it during elections last year, I want to implement policy which benefits every student."
James Johnson
Studies: Media & Public Relations
Johnson's Harry Potter-themed campaign is a refreshing departure from ordinary everyday politics: "Newcastle truly is magical", Johnson told The Tab; "but students still face dementors every day. After a butterbear-fuelled epiphany, I knew that I could no longer be a Moaning Myrtle, I had to stand".
When asked about his manifesto, James said; "Although I can't promise to get everyone into Gryffindor, I will strive to achieve practical changes for students, such as cookery classes focusing on cheap, healthy meals".
William Goddard
Studies:  Physiological Sciences
"I believe that my skills and experience will enable me to make a genuinely positive impact on your university experience, which motivates me greatly.
"I have dynamically immersed myself in university life in a variety of ways, including my roles as President of Newcastle Comedy Society and Social Secretary for BioSci. I am also my course representative, an ambassador for UWLP, have played intra-mural football and have been a volunteer for a nationwide emotional listening service."
Will's manifesto includes:-
A bicycle rental scheme for students commuting in from outlying areas
Free sanitary products
Lowering the price of student accommodation
Monthly emails to students providing Union updates
Click here to cast your vote.