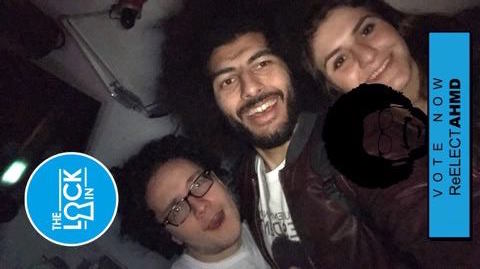 Ahmd Emara allegedly disqualified from leadership race for using UWE's old Snapchat filter
It was a 'resource that he had access to as president, that others did not'
Last night, we revealed that Ahmd Emara and another candidate had been disqualified from the SU elections. Ahmd, who was running for a second term as SU president, has spoken to the Tab and claims that the reason he was disqualified was because he used an old SU logo in the Snapchat filter for his campaign.
This would have been a breach of the election rules, as it is a resource that he had access to as president while others did not. Read Ahmd's full statement below.
Ahmd Emara gave the Tab the following statement:
"The thing is that they even removed me from the race before giving me the opportunity to appeal so clearly decision was made to kick me out the race when it was clear that I am ahead the race.
"I have been fighting a lot this year and they know that I was going to keep fighting if re-elected and apparently this is not something they want. They want the student voice to be quiet and everything be planned in the closed rooms and when someone try to speak up to oppose it, they get rid of them.
"I was never worried about the voting as I trust my electorate and I have worked really hard this year. My only worry all the time was what happened today and it was something I always got a feeling that it will happen.
"They can't kick me out by votes so they played it around the rules to make me seem as if I am the wrong then have some sort of reason to disqualify me. I should not have been disqualified and I want to at least have my votes counted and if appropriate action taken thereafter.
"I knew that the appeal was going to change nothing as everything was decided and planned a while ago. They claim that I used SU logo. This logo used to be used back in 2014 and since ever it has not been used after the whole re-branding thing. The SU never use it now.'
He added: "I think some people are making a petition. I would like to say that I have tried my hardest this year to make the SU a better place but clearly they want people to do what they want and not what students want."
When we contacted them, the SU chose not to respond directly to Ahmd Emara's statement, and instead directed us to this message on their website:
"The Leadership Race at The Students' Union at UWE operates in a fair and democratic manner, where all candidates are governed by a clear set of policies, procedures, protocols and election rules.
Unfortunately, this year the election rules have been breached by two candidates, resulting in The Students' Union at UWE Deputy Returning Officer, Assistant Returning Officers and the external Returning Officer taking the difficult decision to disqualify both candidates from this year's Leadership Race.
Appeals were submitted by the candidates in question, however these appeals were not upheld by the Returning Officer.
Regrettably, this means that any votes cast for these candidates will now not be eligible for consideration. The Students' Union would like to reassure any affected students who have used single transferable voting, that their next preferences will be taken into account."
The Tab will continue to publish any updates we receive.