The definitive ranking of buildings at Northumbria University
A lighthearted look at the best to worst of Lipman, Ellison, and all the rest.
| UPDATED
It's been a long time since some of us have even been on campus, so we're looking back at the places we miss dearly, and those that make us think we'd rather just stick to online. From general aesthetics to the quality of scran available, here's a complete look at all the best (and worst) places to be on campus.
1. The Library
Not gonna lie, the Northumbria library is a lot better than we give it credit for. Each floor has a different feel, meaning there's always something for everyone. If the stress of deadlines is ever too much, you've just got to take the lift down to basement one, and cheer yourself up with a Yazoo from the shop and the good vibes. No wonder Newcastle needs multiple libraries to compete with our single legendary one. Five stars, would recommend.
2.City Campus East
Even if you've got nothing to do with it, everyone's wandered through CCE once and pretended they were some superior ball of potential on the cusp of post-adolescent success. Having lectures in CCE is just a dream; it's clean, modern, has its own refectory, and it's probably closest to most student accoms. If we had a choice, that's what we'd want to think the outside world thought the whole university looked like. It's a shame so many people only know it as "the massive grey building over the motorway".
3. Sport Central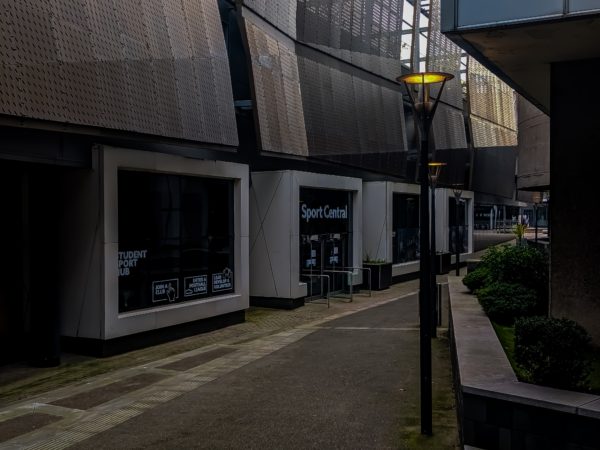 This is perhaps one of Northumbria's most valuable cards in its hand. From the outside it looks understated, but even we can't deny the facilities are pretty mint. Again, points for being modern, and the staff have good crack.
4. Squires Workshop
The true unsung hero of Northumbria. For anyone who doesn't know, Squires Workshop is sat between Squires Building and Lipman Building; it's small but packs a punch. It's got a sleek Mac lab and the offices of the arts & design technicians right next door. It doesn't matter what you're problem is, they're always there to help – basically they all deserve MBEs. There's one final huge benefit that few freshers even know about- it serves as the only route that bridges Lipman with Squires, Sandyford and the Library. This secret cut-through is what saves students all important minutes walking all the way around the back of uni to Lipman just before a Monday morning 9am. Honestly, we can't praise it enough.
5. Squires Building
This is the location of the journalism department, so we're probably biased, but hear us out – Squires is one of the best places to work. Floor three has a few quiet computer open areas; just be careful not to invade too much and take up seats silently reserved for die-hard Squires loyalists. You've also never truly experience Squires building until you've been brave enough to trespass to the fifth floor, usually reserved for some art students. It has almost panoramic glass windows allowing you to see all angles of the city.
6. Sandyford Building
We're getting into the midfield now. Sandyford Building is nice enough, modern and clean. However it's also got a lot of space that students don't seem to use, the fourth floor seems primarily reserved for conferences and while there's a small café on the ground floor, has anyone actually ever been in the Woon Gallery of Asian Art? Upon googling it, it may be worth a visit – apparently it's got work by Picasso, Warhol and Damien Hirst in there. Who knew?
7. Ellison Building
All of Ellison is grouped together because the predominant vibe given off is "meh." Some bits are nicer than others and it gets bumped up a couple of places for the new round computing section and the fact that it houses a Subway and a pizza bar.
8. Northumberland Building
A similar building achieving casual indifference. There are a couple of saving graces- the Digital Commons is swish and surprisingly handy when in need of decent computer space. We also can't ignore Northumbria's rip off version of FRIENDS' Central Perk. Café Central is a slightly upmarket version of the coffee shop in everyone's favourite sitcom. It's a little pricey, but we're talking Starbucks and Rollover Hot Dogs…bit of a guilty pleasure.
9.Student's Union Building
We're nearing the bottom here, and don't get us wrong, the SU is okay. But compared to other universities, it leaves a lot to be desired, especially considering Newcastle have a Dominos and a Shijo. Considerable recognition does need to be given to Habita, which may look rundown on the outside but is actually a really good bar. Mint food and drink, and if you've not been there for Thursday night karaoke, are you even a real Northumbria student?
10.Squires Annexe
This is the brutal but sad truth – no one knows what Squires Annexe is, or what's taught in there but judging from the outside, we don't want to know and certainly don't need to be invited in, thanks very much.
11. Lipman Building
We say this with respect to every staff member that works in Lipman, but if it's a choice between a lecture here or giving Donald Trump a full body massage? Best get the baby oil. If the Lipman building was a family member it would be the estranged, alcoholic uncle and we're sorry but it's just not great. There's no space, it's always too hot or cold, the tech rarely works and worst of all most rooms have those weird desk-chair things you see in America. At best they're a pain, at worst their discriminatory against anyone who isn't a size ten or below, and if you happen to be left-handed? Lord have mercy.
Want to write stories like this? Join the team, no experience required. DM us via @TheTabNewcastle on Instagram or The Tab Newcastle on Facebook.
Similar stories recommended by this writer:
• The definitive ranking of buildings at Northumbria University
• Six cult Newcastle trends that are more of a let down than the Line of Duty Finale 
• The eight best (and worst) things about being single in Newcastle