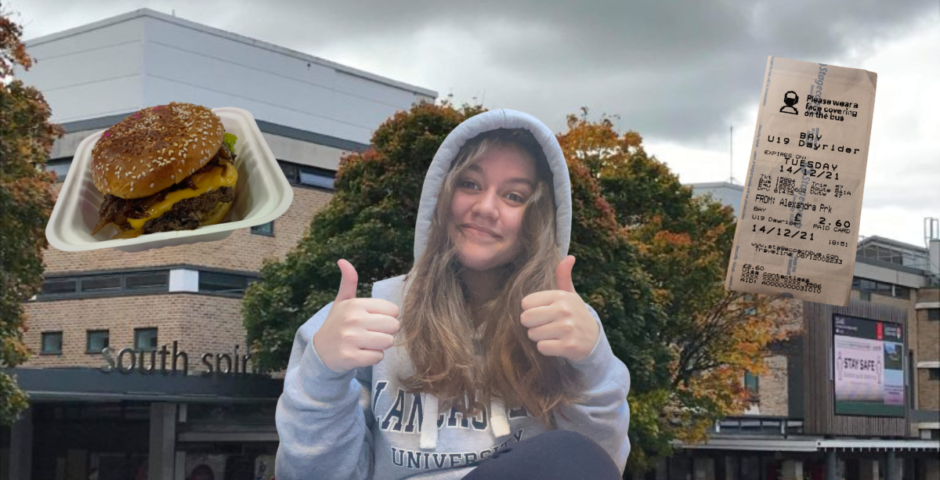 19 Lancs secrets freshers should know before term starts
All the essential info for LU students this year
Going to a new uni there are always a lot of unknowns, especially when you're at Lancs which seems to be the dark horse of northern unis. Today, we've compiled all the secrets and tips we have about the best places, offers, and must-haves as a Lancaster student.
Don't get mad at your freshers' reps for not telling you some of these. I'd want to keep the Engineering Building donuts a secret too.
Greggs will always have a queue
Greggs is probably the most popular outlet on campus, so it's understandable that there is always a queue outside, ESPECIALLY at lunchtime. You'll find campus Greggs without a queue once in a blue moon, so make the most of it when you do.
3-4-6 VKs on Wednesday in sugar
The three VKs for £6 deal ONLY runs on Wednesday in Sugar. Take it from people who it took weeks to find out, this deal does not run on Fridays.
If you're getting a bus to town get an Under-19 dayrider
The under-19 dayrider is one of the cheapest return tickets that Stagecoach offers and it means you can use that ticket as many times on that day as you want to.
Go to Sultans
The Sultans staff are some of the nicest people on campus. They make great food for the students and are known for giving out free food and water. They really are gems.

Floors B and C are the quietest in the Library, but they'll always fill up first in deadline season
Floors B and C in the Library are quiet or silent zones (even if not everybody listens to this). They are the best parts of the library to go to if you want some quiet solo study time. However, when it comes to exam season and everyone's deadlines coinciding, they'll always be the first to fill up so you may not find a space when you need it.
Roses is the biggest Lancaster Uni event of the year
Roses. When the whole of Lancaster Uni comes together, regardless of college, to defeat our rival York. Roses is hosted one year at Lancaster and the next and York (this year it will be at York) and is the largest varsity competition in Europe. It is a time for sports teams to show that roses are red and not white.
The 1A is the fastest bus between campus and town (but the 100 is good for visiting people living in Bowerham)
On average, the 100 bus to the centre of Lancaster takes about 5 minutes longer than the 1A, 1, 40 or 41 buses since it detours through Bowerham on its way. This can be inconvenient when travelling directly between campus and town but many students live in Bowerham in their second or third year so can be very useful for them.
Bowland will always be the most bullied college
For some reason, all of Lancaster Uni is agreed that Bowland is the worst college. They've even been made fun of by Lancaster alum James May. Is it because of Bowland Tower? Bowland Annexe? We'll never know.
If you want to find the ducks, go to the LICA Building, Alex Square, or Edward Roberts Court
Lancaster Uni is known for its ducks on campus. If you want to find them, they'll usually be found by the LICA building by County college, at Alexandra Square or by Sultans and the other outlets below Spar.

Your tutors are there to help
Although the idea of emailing your tutors and academic advisors can seem daunting, at the end of the day, they are there to help with whatever you need them for. Make the most of them, it's what you're paying for.
Take the Sugarbus
If you're going on a night out to Sugar, the Sugarbus currently runs on Wednesdays and Fridays to take students from campus to the nightclub. It is free on the way to Sugar and only costs £1 for the journey back. It's cheaper than a taxi and safer than walking home. Our article on the Sugarbus (including the current times it runs) is available here.
You can make friends outside your college
Even though Lancaster has a college system, many people have friends who come from different colleges. There are no rules against it and everyone does it (even if you may disagree over which college is best).
Sliders/slippers will be your best friend
Uni kitchens are notoriously dirty and you never know what has been spilt by your flatmates or what happened in there from the flats before you. You'd have to be brave to venture in there barefoot.
Having a friend on your course is always useful
Meeting people on your course can be daunting, but everyone is in the same boat as you. Knowing people on your course can be helpful as you can ask them to help you catch up on lectures on seminars you might have missed (and can bond over how behind on your coursework you both are).
Get flu and cold medicine for freshers' flu
Chances are, you will get freshers' flu at some point, even if it's not during Freshers' Week. When it happens, Lemsip and flu medicine will be your saviour.
Not all houses have cleaners (but if they do they'll only do communal areas)
Most houses with communal areas (excluding townhouses) will have a cleaner who visits weekly. They clean the kitchens, but beware, if there is so much mess left that they cannot clean then your flat won't get cleaned.
Freshers Fest is great for freebies, discounts, and to find out about sports, societies and local businesses
Lancaster University holds a Freshers' Fair every year (and a re-Freshers' fair later in the year) where students can visit stalls for local businesses, societies and sports teams. It is a great place to get information, and often freebies. This year's Freshers' Fest will be held on Thursday 6th October in the Sports Centre.
Try the market in Alex square on Thursdays (and donuts by the Engineering Building)
Every Thursday (weather permitting) there is a market in Alex Sqaure with local businesses selling food, clothes, books and records. One student favourite stall is the donut stand which is usually found by the Engineering Building.
Go to things in person, as soon as you skip one it's a slippery slope
Even though it's tempting to skip that one nine AM seminar, you will eventually regret it when it leads to you missing it every week and having work to catch up on during deadlines season. Try to go to your in-person sessions.
The Lancaster Tab is looking for new writers for the upcoming academic year! You can find everything you need to know here! We hope to see you at our open meeting on October 11th, 7pm, at County Bar.
Related articles recommended by this writer: