From espresso to espress-no: A comprehensive review of every coffee shop in Lancaster
It was a Rage Against the Espresso Machine
It's a well-known fact that uni students are caffeine addicts. Cold-brew, basic espresso, or a home filtered coffee; anything to get us through the long treacherous days in the library. Luckily, Lancaster has a lot of coffee shops – one for every mood!
In Lancs, the quest for caffeine is far and wide, from the well-known classics to some unsung favourites. There may be so many places you haven't been able to go to due to lockdown. We went to some of the best-rated coffee shops so you can know where to get the best cup of joe during your time at uni.
Brew
This is a gorgeous little shop just up the Common Garden Street, past Hanging Flowers towards the traffic lights, serving amazing desserts and great craic. It's tiny but makes up for that in décor and good vibes (check out the hanging square of plants above you as you go in!)
The coffee is unbeatable. Plain and simple. When you have staff as upbeat as Brew's, you're naturally going to have that positive energy come through in the drinks. Not to mention the amazing food and desserts you can buy alongside your drinks. A personal favourite is the Cajun chicken club sandwich or the cinnamon rolls (currently called 'Cinnaboobs' in honour of Breast Cancer Awareness month, Brew donating 50p from each to Breast Cancer UK).
HOLM
Ah, HOLM… It's the Scandinavian dream of a coffee shop right in the middle of the city. Salty liquorice, crispbreads the size of a hubcap and, of course, Moomin. Seriously, try the Moomin tea; the designs on the box alone are worth buying one.
It's cute and quirky, with a great selection available. The coffee can be a bit strong, but you get used to it easily. Their macchiato is potent, and I have no complaints about that.
Leonardini's
It's a proper Italian coffee shop run by a lovely Italian man just to the right of the town bus stop. I couldn't get anything but an espresso.
The espresso is so strong… Amazingly smooth with a great taste but strong. The aesthetic of the little shop is adorable, and the biscotti is perfect.
Journey Social
Journey Social used to be positioned down King Street. The coffee took a while longer than expected, but it wasn't too milky or overly strong. They use a unique milk blend of Jersey-Holstein from the Lune Valley that makes a flat white silky smooth. If you're not a fan of dairy, their use of Minor Figures oat milk for lattes or flat whites means you don't miss out.
They also do coffee courses, which are their Latte Art, Espresso and Filter Coffee Masterclasses. This gives them a cute edge because you can learn more about coffee if you're someone that wants to.
Dam Good Coffee Shop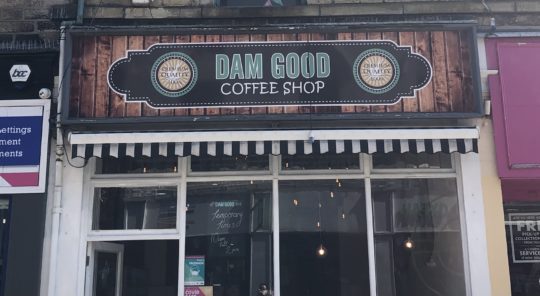 This coffee shop has a nice twist that you can add to your drinks, food, and coffee – CBD! While not everyone's cup of tea, the beneficial properties of cannabidiol can't be ignored. Quick note: CBD is NOT the same as THC – it's a safe and legal non-psychoactive cannabis product that does not get you high.
I thought it was good, but not great. The fact it's a CBD coffee shop doesn't take from the fact they do something to the beans that nearly burns them, but not completely, so you second guess the drink a bit.
They do some great CBD infused honey, though, so if they have it in stock, grab a couple of sticks of it.
Café Dolce
Cafe Dolce has arguably the most intense fanbase of all the coffee shops in Lancaster, creating a mountain of anticipation. The flat white was perhaps more similar to a latte, especially if you're a fan of the one from Starbucks. Very milky and creamy but not as strong as some of the others on this list. If you like your coffee to have a more intense aroma, you might prefer another option. But for the pumpkin spice lovers out there, this might be the perfect brew for you.
The Hall
Right next to Atkinsons' coffee roasters, we have The Hall. Cute modern minimalist designs and great coffee. They have an amazing coffee machine and great blends available. However, the coffee tasted different since coming back in September, making it difficult to review. Everyone has different tastes.
Overall, the coffee shop scene around Lancaster is good. There's some hit and misses, but it wouldn't be a review without it.
Recommended articles by this writer:
• Which classic horror movie are you based on your college?
• A complete guide to the most iconic places in Lancs