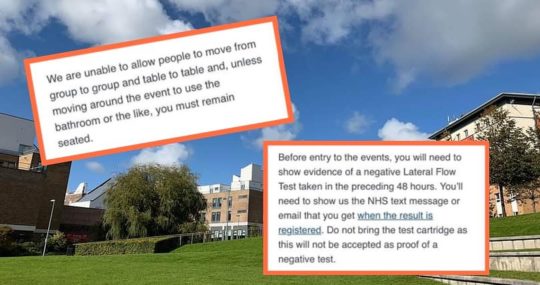 Students require a negative Covid test to attend Extravs
LUSU have outlined how Extravs will be conducted in a Covid-safe environment
LUSU have announced via an email to attendees that students will have to show evidence that they have had a negative Covid test to gain entry to Extravs.
The university is also enforcing a rule of six policy for each table, and taking student details upon arrival via the NHS Test and Trace App.
The Students' Union said: "Before entry to the events, you will need to show evidence of a negative Lateral Flow Test taken in the preceding 48 hours. You'll need to show us the NHS text message or email that you get when the result is registered. Do not bring the test cartridge as this will not be accepted as proof of a negative test.
"If you take an LFD test on Thursday morning, this would suffice for Extravs on Thursday 1st and Friday 2nd."
They also stated about students taking tests after the event. The email said: "We strongly encourage you to also take an LFD test 48 hours after the event".
The email went on to outline the Students' Union's approach of allocated seating at Extravs, highlighting how students are expected to "remain seated at the event with table service in place."
They said: "We are operating on tables with a rule of six; the six people on your table must remain on this table for the duration of your stay at the event. The six people can be from any number of households. These six people will form your "Extrav bubble".
"We are unable to allow people to move from group to group and table to table and, unless moving around the event to use the bathroom or the like, you must remain seated.
"Unfortunately, we are only able to accept bookings of six. If your group is unable to fill a table, we will not yet be able to accept a booking from you and would encourage you to complete your "Extrav bubble" by finding others on the event Facebook Page."
There is an Extrav Table Booking Form, asking for you to submit "the names and tickets numbers of the six people making up your "Extrav Bubble". Reservations need to be made by midday on Friday 25th June."
The SU stated that table service will only be accepting payments through PayPal, they said: "All orders will be taken via a QR code."
All students are also expected to "check in" with the NHS Test and Trace App; "If you don't have the app, we'll be taking your details on arrival."
For general Covid safety, the SU outline the expectation of social distancing "maintained at a distance of two metres between "Extrav bubbles"", as well as the mandatory wearing of masks unless exempt, "but can be removed when seated at your table."
The SU stated a warning to anyone breaking Covid rules at the events, which said: "For any breaches of Covid-security, attendees will receive a warning. After this, attendees, will either be refused entry to the event or removed from the event area."
Related articles:
Mamma Mia, Tropicana, Coachella: Extrav themes for 2021 revealed
500-person socially distanced picnic: Extrav plans for 2021 leaked
Students' Union night club will remain named The Sugarhouse after winning preferenda