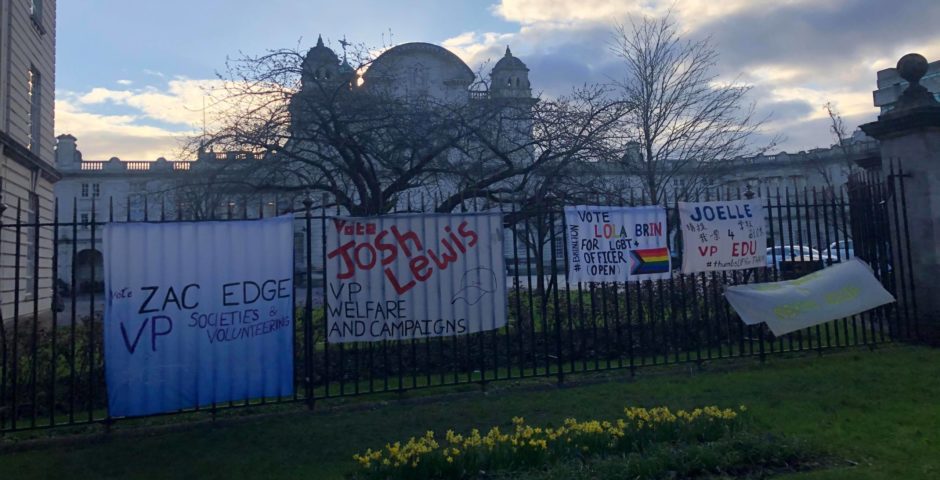 Your banners are safe, the SU Election results have been announced
Over 5,000 votes were cast
After the drama of elections week and banners being stolen, it's all finally over as the election results for the Students' Union took place yesterday at 2pm.
The Sabbatical Officers for the next academic year have been announced and the banner thefts are behind them.
So, who won what? Let's find out:
Students' Union President: Tom Evans
VP Heath Park Campus: Sebastian Ripley
VP Societies & Volunteering: Luke Evans
VP Education: Hannah Doe
VP Postgraduate Students: Jane Chukwu
VP Welfare & Campaigns: Georgie East
VP Sports And Athletic Union President: Jude Pickett
Tom Evans, your elected Students' Union President told The Cardiff Tab he felt "very shaky and unbelievably excited".
Likewise, the new VP Societies and Volunteering, Luke Evans, said he felt "absolutely ecstatic" and commended the other candidates for a great campaign week.
A familiar face is Jude Picket, who was re-elected to be VP Sports and Athletic Union President, and she told The Cardiff Tab she is "pleased to be able to carry on doing what [she] loves."
Who filled the other roles?
LGBT+ Officer (Open): Georgia Day
LGBT+ Officer (Trans): Lucas Jakabovic
Ethical & Environmental Officer: Julia Komar
International Students Officer: Megha Roy
Women's Officer: Polly Denny
Students With Disabilities Officer: Megan Dee
Mental Health Officer: Alfie Potter
Mature Students' Officer: Hannah-Louise Salter
So there you have it, the elected officers for next year's Students' Union. The new officers will begin their roles in the next academic year of 2020/21.
Related stories recommended by this writer:
A drunk student ripped down and stole SU Election banners last night
Emergency General Meeting called to discuss Cardiff SU stance on strike action
These are the motions to be voted on at the SU emergency strikes meeting