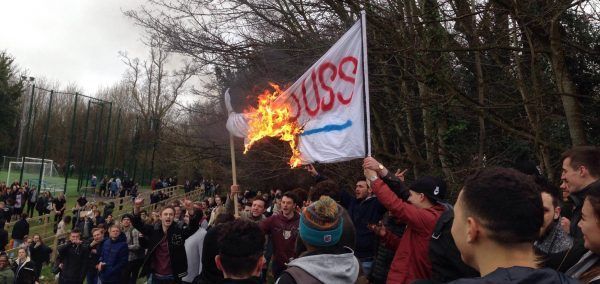 Sussex Varsity to be replaced by The Sussex Cup
After months of planning, Lucy Williams, activities officer for Sussex Students' Union has announced the 'Sussex Cup'. The event will act as a replacement for Varsity, the traditional sporting event taking place on campus each year between Sussex and Brighton University. This arises after rioting at last year's Varsity led to its cancellation.
Sussex Students' Union Sport will be hosting the first ever 'Sussex Cup', an event which is going to reunite recently graduated Sussex sport alumni and current Sussex students in an "inter-univeristy tournament" taking place on campus. The event will take place on Saturday 14 April and will run all day from 10am until 10pm. The event is also offering a BBQ at East Slope Bar after all the fixtures and an afterparty in town.
This announcement follows the cancellation of Varsity for 2018, a decision that was made after last year's Varsity made national news due to violent behaviour, bottles being thrown, banners being burnt, pitch invasions, spectators being taken to hospital and police action.
Described as a 'celebration of sport', the union are determined not to see Sussex's sporting students being punished for "something the vast majority had nothing to do with".
Lucy Williams promises to "welcome back some familiar faces and have some well mannered fun" and says that "it is important to me and the Students' Union that sport is still celebrated at Sussex". Hopefully removing the inter-university tension will offer a safer sporting event this year and will lead to the reintroduction of the Sussex vs Brighton Varsity in the years ahead.
More information is to follow and tickets will be on sale soon. In the mean time, check out the Facebook event here.