These are the best group costumes you should dress up as this Halloween
If I see any more of you in traffic cones this year I'm going to scream
Halloween is only around the corner and if you haven't yet got your costume sorted, we're here to help. There's still plenty of time to order online or battle the queue outside Smiffys Magicbox but the hardest part is often deciding what you're going to go as. One thing we can all agree with is that group costumes always look the best. Whether you opt for the classic devil and angel or the whole Scooby-Doo gang, Halloween costumes ALWAYS look better in a group. See below for all of the group costumes you can recreate to stand out from the crowd this Halloween.
The Purge
This one is cheap and very low maintenance. Order yourself a mask from Amazon or the likes and run to Tesco's for some red food colouring. Pair it with an understated white or black outfit and Bob's your uncle. It also gets extra marks for actually being within the category of "scary", albeit just.
Witches
Again, top marks for ease and being an actual Halloween costume. You can get a witches hat from just about anywhere and you can definitely dress this one up to make it sexy. The elbow gloves are *chef's kiss*.
Spice Girls
If you can spare the time and the effort then a Spice Girls group costume would definitely steal the show. It's actually pretty easy to assemble and is such an iconic girlband; in my opinion, you should get free entry to the club.
ABBA
This one might be hard to guess, but can be easy to spot if you nail three key things. First, you need a flare – trousers and sleeves if you can find both. Secondly, get a cat eye – it's not 70s if it doesn't have a wing. And lastly, throw on some boots!
Vemla(s)
This one is very niche and so we applaud the dedication, even if it isn't the slightest bit scary. This is also really funny and would get a laugh out of me any day.
Pirates
If you own a corset and a shirt, a pirate costume is literally the easiest to pull off. Add some little plaits to your hair or splurge on a pirate hat if you're that way inclined and you'll pull it off no doubt.
Devil and angel(s)
Definitely going to be overdone this year, like every year, but it's undoubtedly a classic. Make sure to have both wings and halo if you're wanting to nail the look.
Kitty cats
Break the gender barrier guys, it's your Halloween as much it is the girls'.  There's absolutely no reason why you can't peel on a pair of fishnets and boob tube this year! But if you do, send us a picture. Seriously.
Blokes
That is all.
Power Puff Girls
This trio wins at being the cutest costume year in year out. Look how adorable those tops are! Super easy to guess and you might not even need to buy anything new.
Shrek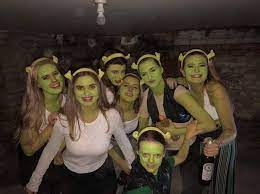 I don't know where I'm going with this one either. I'm also slightly disappointed that nobody dressed up as Fiona or even Farkle, Fergus or Felicia. But again, super easy, super funny and super cheap, if not a little weird.
Cowboy or Cowgirl
So fun! You might actually freeze to death but make it cute! Throw on literally any denim, add a shirt and hat and you're done.
Nemo and Bruce
Perfect for couples or mates who don't mind a bit of costume play. Maybe push the boat out and purchase an adult costume though? A funny duo nonetheless.
Teletubbies
Inventive and is perfect for a group of four! But there's no chance in hell that all four of you make it through the night with your tinfoil squares so be prepared for some obscure guesses and confused looks.
Want to write stories like this? Join the team, no experience required. DM us via @TheTabNewcastle on Instagram or The Tab Newcastle on Facebook.
Related stories recommended by this writer: