All the Lancs guys you will find on Tinder during Lockdown
Being back in lockdown means Tinder downloads have once again gone through the roof. Not sure why, but something about being in the house all day makes people suddenly in the mood to find love or to get instant validation from the compliments of complete strangers. It's been a while since we've been able to pull a guy in Sugar as covid has been the exact opposite of a wingman.
Whether you are a Tinder regular or a lockdown newcomer, these are the types of Lancs guys you are bound to bump into on your swiping adventure.
Nudes?
Let's be honest, we all know that most (*cough cough* all) guys on Tinder ultimately want one thing, but this guy will make it very clear that this is his main priority. This isn't necessarily a bad thing, honesty is the best policy after all. If you know exactly what he wants you can't complain he led you on, some could argue this guy isn't so bad after all (as long as you are down of course) because let's be honest, things could be worse.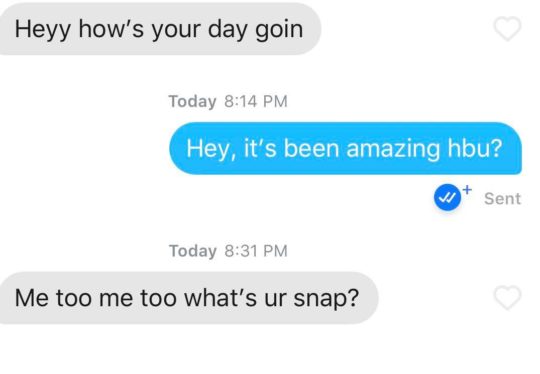 There are three classic signs that you have interacting with a man of this kind, you will receive three messages. Firstly, he will compliment you, and I'm not talking about him saying you're "cute," no you will be called "hot" or "fit" because that's definitely the way to make a girl's heart melt, right? Next, you will be asked "What you on here for?" and he will be praying you're looking for some "fun" or something "casual" because in a guy's mind this instantly means you 100 per cent want to send him some nudes. The logic really is unflawed. Finally, he will ask for your Snapchat after about five messages and trust me ladies, he isn't wanting to look at your cute eyes or your adorable smile.
You haven't been on Tinder unless you have bumped into at least 10 of the guy who asks for nudes. It's in the fine print when you download Tinder, I'm sure.
The one who actually wants a relationship
It's no surprise you will find some of these on a dating app, but I'm not sure over lockdown is the best time to be trying to explore this. Best you could do is a socially distanced walk to Williamson Park or a Sunday stroll around campus, but it's not quite the same, is it?
Where's Wally?
We all know the frustration of this type of guy: every photo on their Tinder profile is a group picture and now its become a game of Where's Wally. Although Where's Wally is actually easier because you know who you are looking for.
This is frustrating for two reasons. Firstly, who has the time to pay this much attention to look at one profile, especially when you are on a swiping roll and only want to spend five seconds looking at one profile. Secondly, let's be honest, it's never the fit one. If only Tinder had a feature where the other boys in the pic could be tagged and you could explore their profile instead. But for now we have to deal with the disappointment when you match with the guy with the group pic but it turns out to be the smallest one with the monobrow.
The endless circle
This is the guy who just wants to have the same conversation with you every day. I know things seem to be the same day in day out during lockdown but that doesn't mean you shouldn't mix the conversation up a bit, add some excitement into the lockdown life. There are only so many different ways you can say you are "good" and you "aren't up to much."
I'm not sure why the only two conversation starters this guy is aware of is "how are you?" and "what you up to?" but he really needs to expand his vocabulary and start deeper conversations… He does go to Lancaster University, after all. If he got into a top 10 uni, he should be able to communicate this thoughts.
The Gym Lad
We are all very familiar with this type of guy, and if you're not, I don't think you have actually been on Tinder. I honestly feel bad for this guy, how can he make up for his personality now that the Sports Centre is shut? How will he go about his day without going to the gym and making sure to take a multitude of pictures to update his Tinder profile with?
Sure he might say he is getting the bus to campus to work out and lift some weights but he won't be able to resist whipping out his phone, because did you really go to the gym if nobody knows about it, and if nobody knows about it what is even the point?
The one who doesn't follow-through
Out of all the types of guys you could find on this app, this has got to be the most frustrating. They will ask you what you are looking for, make you think you are on the same page, and then when it comes to actually making the plans, whatever that may be, they seem to think you are talking an alien language. Have they hit their head or something? Did they blackout while having that conversation? This is just a confusing specimen who apparently just wants to text all the time and nothing else.
Having said this, I have a feeling this guy is thriving in lockdown, now he has a perfectly good excuse to not actually do anything and just waste your time. If you happen to be talking to one of these don't expect to actually meet them once lockdown is over, they will just remain another name on your Snapchat or another like on your Instagram.
We all know the frustration that comes with Tinder, but hopefully good or bad, these guys will be able to provide you with some entertainment this lockdown. Best of luck ladies.
Recommended articles by this writer:
We used up our 15 hours in the library in one sitting, never again
All the types of people you'll meet on a Lancs night out
We asked Lancs students 'If 2o2o was a uni meal, what would it be?'