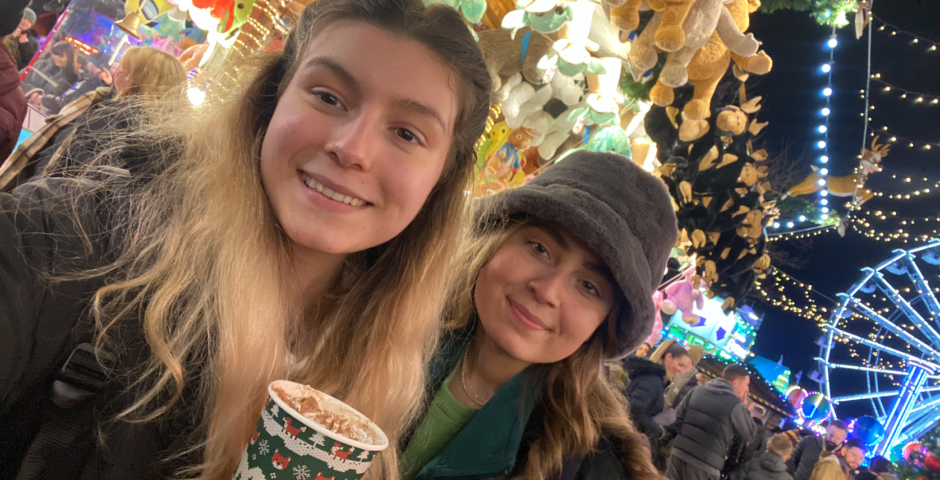 We tried some of the most festive hot drinks in Cardiff
Is it really Christmas without warming your stomach with festive syrups and fluffy marshmallows
| UPDATED
It's officially a week until Christmas, which means two things, it's cold and more importantly, we're getting ready for the big day. So before all of those last minute shopping trips, you deserve a caffeine boost with a festive feel and so we've rated the best festive drinks in Cardiff.
Brodies:
If you want a Cardiff classic, Brodies Coffee Co. is the place to go. It's located in Gorsedd Gardens, opposite the town hall so whether you're walking into town or going to Winter Wonderland you should definitely stop at this little, green hut.
We got the vegan hot chocolate (rating it a 4/5)
The cream tasted like marshmallow fluff and it was the perfect, tasty hand warmer whilst going around Winter Wonderland. You could not tell it was vegan and the only reason it wasn't a 5 was that it was £3.50 with student discount (still worth it though).
Pret:
We got the Gingerbread latte (3/5 stars from us)
In Pret there is a choice of three festive drinks: Gingerbread Latte, Popcorn Bar Hot Chocolate and Love Bar Latte. We went at 9am this time and the staff have always been nothing but friendly. Don't forget Pret's subscription service, where you get a free month's worth of coffee – major savings for us coffee addicts.
That being said, the coffee was slightly sour and didn't taste like gingerbread but this might have been due to the fact that we used a soy milk substitute. No festive cups were involved in this buy, unfortunately. What do we need to do for one? They're so cute. Festive cups excluded, this is a really ideal study spot in town with free wifi and no-rave-like environment.
Bird and Blend:
Located in the castle arcade this place is a must-visit. Each drink is made out of a special blend freshly brewed by the team. You can either choose a pre-made blend or create your own, we went for the Snowball Mega Latte (5/5 all the way)
Bird and Blend have a variety of festive drinks available but the Snowball Mega Latte takes the spotlight with a mix of snowball black tea, coconut milk, a gingerbread person, vegan marshmallows, and a vegan snow person.
But if this doesn't take your fancy they also do gingerbread chai lattes or peppermint hot cocoas. How are you not convinced yet?
https://www.instagram.com/p/CWdAsuCgz2T/
Hoffi Coffi:
Are you even a Cardiff uni student if you haven't been to Hoffi Coffi at least once? Its location means it lies between the ASSL, the Law building, and the school of music… An ideal location for so many Cardiff students.
On our festive drinks trip we got the Pumpkin Spice Latte (an autumn classic with an overall rating of 4/5)
After asking what festive drinks Hoffi Coffi had, they offered me a pumpkin spice latte which is a must-have for any festive season if we're being honest. Despite it being soy milk instead of cow's it was very frothy. It cost £2.70 for a sit-in pumpkin spice latte and an extra 30p for oat milk. That being said, the syrup wasn't very strong but it was nice, and definitely worth a second visit.
Try one of these spots before you head home for christmas. If you're struggling to get into the spirit this year these spots make it hard not to feel at least a little bit jolly.
Related articles recommended by this writer:
• Here are the hygiene ratings of your favourite Cathays takeaways
• These are the best vintage shops in Cardiff to spice up your winter wardrobe