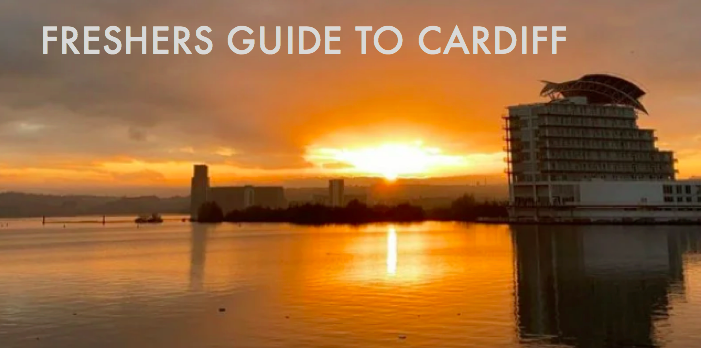 The ultimate freshers guide to making the most of Cardiff after lockdown
Because there's only so many times you can walk around Bute
As we're coming up to the one-year anniversary of Covid, it's hard to remember how uni life was before the pandemic. Long gone are the SU nights, 4am kebabs, rugby all-dayers and picnics in Cardiff Castle.
Sadly, the freshers who have been stuck within the confines of a Taly flat haven't had the chance to experience all that Cardiff has to offer.
So we're here to provide you with the ultimate guide on making the most of Cardiff after lockdown. From Next Bikes to Barry Island, here are some of the best things to do in and around Cardiff once we get out of lockdown.
Get yourself to the SU as soon as those doors open
Now for freshers who have never been to an SU night before, Juice is the drink you have with your brekkie and YOLO is what your cringy 14-year-old cousin might say. In our reality, these are the Saturday and Wednesday night events that happen in the SU. Both nights are open to everyone, but Wednesday nights are usually dominated by sports societies as teams play matches in the afternoons, whereas Saturday nights are open to all who want to chug VKs.
Speaking of VKs, freshers you have yet to experience the wonders of a VK in a club. Just remember, the orange ones are the best! It's the cardinal rule of going to the SU on a Wednesday – you must have at least one VK in hand at all times, two if you're a pro.
Game days are the best days out, and Cardiff is the best place for it
If you didn't know already, let me be the first to say: rugby is a pretty big deal in Wales. They bloody love it. Every Welsh gal has a dragon painted on her face, and is kitted out head to toe in Welsh merch. Even if the sport is not for you, game day at a Cardiff pub is not one to miss.
The rowdy, drunken crowds all dressed up, face-painted, and cheering for Wales feels electric, no matter what pub you're in. However, the atmosphere in the Prince of Wales pub sure is something spectacular and town is just buzzing! A note for non-Welsh freshers – always say you're supporting Wales, even if deep down you want England to win, or prepare to have a pint chucked over you!
Cardiff Bay is beaut on a summers day
For those looking for an outdoor activity that is different from your regular walk around Bute, try moseying on down to Cardiff Bay! In no time at all you could be staring out across Mermaid Quay with a pint in hand, or watching a fantastic show at the Millennium Centre.  There are enough bars, pubs and restaurants to keep you occupied for hours, with the sunset over the quay as just another reminder of how beautiful Cardiff is.
Take yourself to Cardiff Castle grounds for a picnic
Once spring rolls round, I suggest you put picnicking in Cardiff Castle on your to-do list. In the grounds of the castle, the noise from the city seems to fade away, making you feel as if you're in your own little Welsh bubble!
You'll find the best independent shops and cafés in the Arcades 
One thing that makes Cardiff so unique are the various arcades that weave through the city centre.Unfortunately, due to Covid they have been shut for months – the artsy tables packed away, the fairy lights taken down and the smell of coffee and cake just a distant memory.
I highly recommend that once they reopen, take a stroll and see what they have to offer. Central market is the place to go for fresh produce, whilst organic cafes and second-hand bookshops can be found in Castle Arcade. If comic books and vintage clothing is your vibe head to Morgan Arcade, or if you need a costume for a social then the fancy dress shop in Duke Street Arcade is the one for you!
Clubbing is one of Cardiff's best assets
As soon as they open go get yourself in a queue for a club! Whether it be Pryzm, Live Lounge or Revs, as long as there is a dance floor and a bar, you'll finally be able to do what you came to uni to do (besides your degree… obviously). Grab yourself as many VKs as possible and spend the night dancing away!
See our article on what your choice of Cardiff club says about you! I'm sure you'll figure out your favourites pretty soon.
Barry Island is to Cardiff what Buckingham Palace is to London
A true symbol of Welsh entertainment and culture, Barry Island is a must-see for everyone, whether you're a Gavin and Stacey fan or not. O, Ness! Whilst this activity requires a car, it only takes about half an hour to drive down to Barry on a sunny afternoon.
The sea is freezing if you're brave enough to try it, and there are plenty of sunbathing spots to choose from, not to mention all the delicious chippy and ice-cream stalls. You and I both know it would be wrong to go to Barry and not visit Stacey's house, or wave at Bryn's across the road. A picture in front of their houses is one that needs to be in your camera roll!
So there you have it, your ultimate guide to some of Cardiff's best spots. As soon as lockdown relaxes, get these ticked off your bucket list. But for now, it's back to the confines of Taly.
Related stories recommended by this writer:
• What your choice of Cardiff club says about you
• A rugby virgin's guide to the Six Nations
• We asked Cardiff students for their worst lockdown dating stories and they delivered