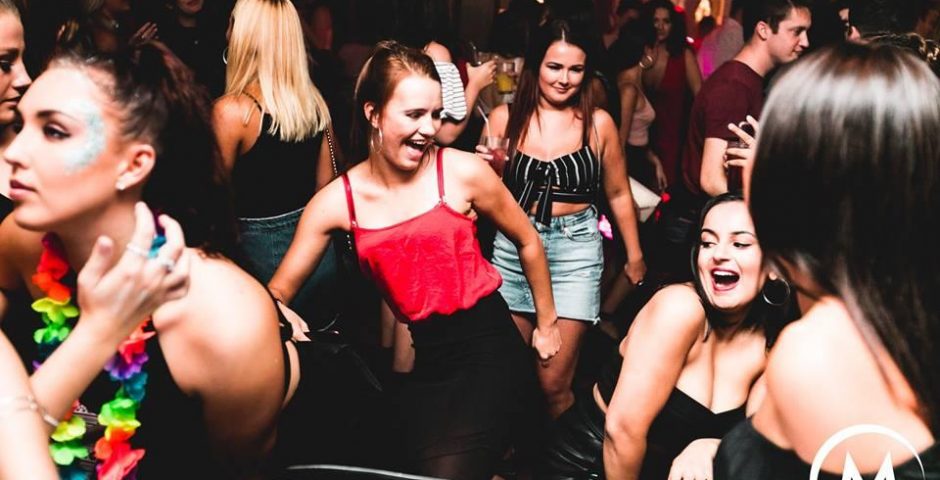 What your choice of Cardiff club says about you
| UPDATED
No one does nights out like Cardiff. Whether you're an SU loving rugby lad or a classy Revs gal, there's always something for everyone.
Each club has their own little stereotype attached to them and we'd be lying to ourselves if we denied fitting into at least one of them.
SU
The good old Student's Union is home to the stereotypical rugby lads. If it's a Wednesday night, they'll probably be in social attire not that it matters because at some point during the night they will have taken their tops off. They may be big and tough but even they can't say no to a VK, the only difference is that they have a tendency to down any drink handed to them.
Glam
The typical Glam legend wears the skinniest black jeans with his uncomfortably tight shirt. He travels with his lad pack in their matching outfits, right down to the fuckboy haircuts. And when they get their photos taken no one smiles – they just put on their best smoulder and tense their arms to look bigger. There's also always that one guy on the edge who makes the pointing gesture with his thumb and index finger. Plus, there's every chance of finding your Prince Charming as Glam is always an easy pull.
Pryzm
On Saturday nights at Pryzm, there's always that huge group of woo girls who run straight to the disco room. These girls are usually wearing their favourite crop tops and bodycon skirts and get overly excited whenever any song from high school musical comes on. They'll be more focused on screaming the lyrics to "Dancing in the Moonlight", the Friends theme song, and every single Taylor Swift song than dancing to them.
Tiger Tiger
The stereotypical Tiger Tiger boy is an innocent first year who isn't sure where else to go on a Saturday night. He'll be at the bar downing Jägerbombs with his new flatmates, the way only freshers with healthy livers can, but by the end of the night, he would have lost them all because he doesn't exactly know his way around the clubs yet.
Live Lounge
Live Lounge is the home of the "Jeans and a nice top", let's be real, no one really dresses up to come here. The girls at Live Lounge are probably wearing the same makeup from the day and haven't even bothered to change out of their trainers. After a couple vodka cokes, these girls will be rushing over to the famous "Pink Floyd The Wall" wall to take edgy photos for their Instagrams.
Revs
Everyone at Revs is unbelievably fit. The Revs girl pairs her best dress from Missguided with her strappy heels and clutch that she got courtesy of the student loan. Her contour and dramatic eye makeup are on point and she'll grace the nightclub looking like a real life Instagram model. This classy biatch downs her flavoured vodka shots like a pro and she has absolutely zero time for the fuckboys in the club trying to get with her, she's too good for you mate.
Clwb Ifor Bach
The Welsh Club is a favourite among the edgy gals. These edgy hipsters will be wearing ill-fitting vintage clothes that their dads probably paid for along with their classic black chokers. Even if it's not festival themed, these gals love their glitter contour and quirky hair styles. There's also a rumour that 99 per cent of them are vegans and at least one of them is probably a white girl with dreadlocks.
Buffalo
The boys at Buffalo are pretty much the male versions of the girls at the Welsh Club. These casually dressed lads are constantly pointing at something as they dance and sneak in a dab every once in a while. They'll also be pretending to know the words to every rap song by mouthing the wrong lyrics, it's alright mate, it's too loud and everyone's too drunk to notice anyways.
Walkabout
Walkabout is your classic freshers' nightclub. Here, you'll find the stereotypical, overly enthusiastic, cheese-loving first years. These girls will come in their best crop tops, high waisted jeans and trainers, excitedly chatting among themselves in the queues, then run straight to the photo booth as soon as they get in. They'll do a shot of Sourz at the bar before dancing in a circle all night, occasionally screaming and hugging each other when tunes like "Dancing in the Moonlight" come on.
One of the great things about Cardiff nightlife? We don't have to choose just one of these stereotypes, we can be all of them. On Monday be the edgy hipster at the Welsh Club, on Tuesday be the classy Revs bitch and end the week at the SU as one of the legendary rugby lads.
Eat sleep Revs repeat.