Fit College Snowman: VOTE NOW
The sexiest snowfolk in Cambridge: VOTE NOW
Cambridge
Fit College
Snowmen
Cantabs awoke yesterday morning to find the beloved city covered in a fine white powder, from which several beings had been created.
Naturally, their first question was "which is the fittest?"
The Tab have made it their mission to answer this question through the medium of democracy. Below you will find the most attractive snow constructions Cambridge has to offer.
Please choose carefully.
1) Snophie, Newnham College
A professional model by trade, Snophie has fallen on hard times after her agent told her that 'snow people just aren't attractive any more'. She is now attempting to break the internet to prove him wrong. If you want to protest against the impossible beauty standards set by humans to snow people, vote for Snophie.
2) Chilliam, Magdalene
Chilliam is a struggling Jedward impersonator, struggling because, for starters, no-one like Jedward, but also because whenever he goes up on stage he literally starts melting. If you support the tortured soul of the artist, vote for Chilliam.
3) Jon Snow, Queens'
John is very much the underdog. Look, he doesn't even have a proper head, just a torso someone stuck some pebbles in. Poor bastard. Also, he knows nothing. If you support poor bastards and would like Whose University to take on his plight, vote John Snow down below.
4) Iceabell, Lucy Cavendish
Vertically challenged and female (probably), Iceabell hits two bits of intersectionality on the head. I mean, she is white, very white in fact; but she still has the shackles of heightist snow patriarchy to deal with (like how they're all snowmen. What's with that?!) If you support strong independent snow women, vote Iceabell.
5) The Snow Cats (fuck puns), Catz College
With Equus and 'Awkward Conversations With Animals I've Fucked' hitting the ADC theatre this week, it seem that Bestiality really is the zeitgeist. And why not? Look at them, they're gorgeous. We're not going to make you choose between them. If you're bored of humanoid snow creations, vote for the Snow Cats.
6) Chris, St. John's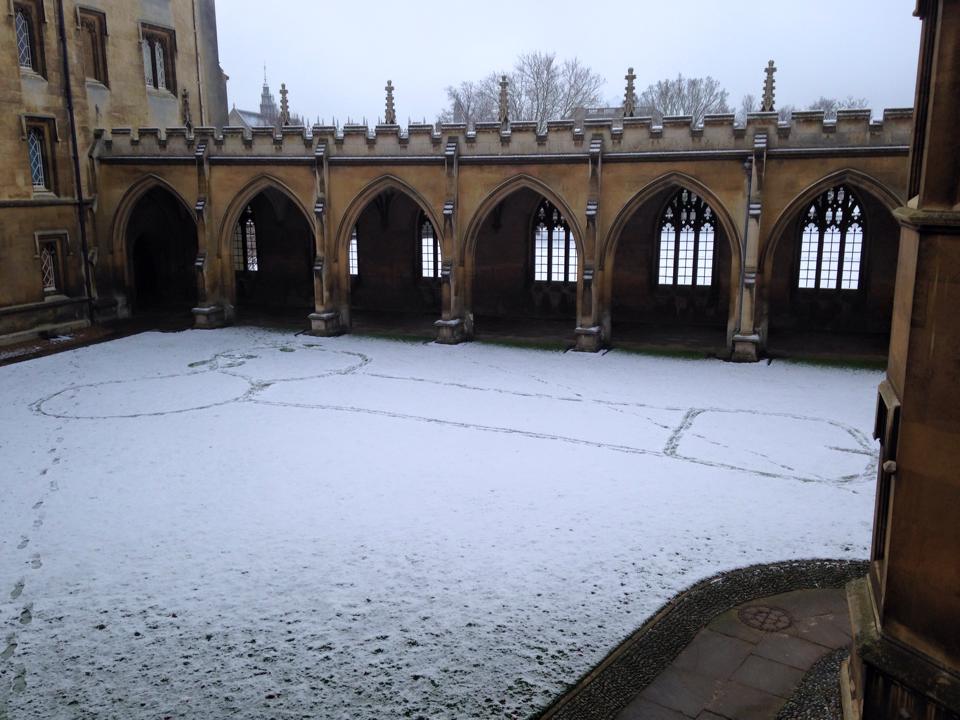 Okay, none of us are surprised this was made at John's.
However, Chris is perfect for those of you who want to think outside the box with what a snow creation can be. If you like metaphor and symbolism; want to dig a bit deeper into the philosophy of frozen water; or just like giant cocks made of snow; Chris is your man. I mean cock.