RAG Blind Date: LIVE
Stay tuned with all the action from Cambridge's biggest love-in: RAG Blind Date.
a raza
live blog
love
mollie wintle
romance
tab blind date
Valentine's
valts
will heilpern
The sun has set, you've brushed your hair and you're ready to fall in love. Welcome to The Tab's live blog of RAG Blind Date.
Join us this evening as we track the romantic trajectories of students across Cambridge in a thoroughly professional capacity. We'll be putting up texts, tweets and pictures throughout the night and, as ever, we want YOUR input.
Email: [email protected]
Tweet: @tabcambridge (#tabblinddate) or @ragblinddate
Text: 07936 415842
Excited about the night ahead? Concerned that your clammy palms will provide a good ice-breaker but will never be touched? The Tab
wants to know! Together, we can hold onto these dates 'til Friday.
——————————————————————————————————————–
23:37 And with that arrogant and delusional statement, the blog ends.
23:36 Mollie Wintle: 'I am definitely in with Pembroke!'
23:29 It's almost 11:30 and we sense dates are coming to their natural close. In the words of Will, "you're either in or you're not in." Succinct and to the point. Love you will xxxx
23:19 Shout out to Murray Edwards girls, having an excellent time with boys!
23:06 Nina and Lucy have been abandoned by their dates! But they've found a pair of likely lads at the bowling alley. Power to you, ladies.
23:05 Group dates are the way forward. Nick (far left) looking as beautiful and sassy as ever.
22:48 Back and have returned with date in hand! OJ is being reserved and quiet but am convinced it is all a facade.
22:36 Huge spot courtesy of Francesca Ebel – Super Mark Lui
22:32 If you are Lucy and you were sad earlier PLEASE get in touch! A boy named Abdullah is really keen to go on a last minute date with you – this could be your big break! TAKE A LEAP!
22:21 We have just recieved word that 'Sophie' has smelly hair.
22:19 NEWS JUST IN: Abdullah has got in touch saying he will happily take Lucy on a date!
22:15 Beth Swords – wonderful to hear of your news!
22:13  woah Matt Berry! Those are some outrageously arched eyebrows there…
22:10 Word on the street is that the most popular date destination this year is Las Iguanas. We've managed to get a snap of Pizza Express – it's looking pretty empty, guys…
22:08 NEWS JUST IN: OJ, Mollie's date, has just made very clear that he is "not looking for a relationship". What a way to begin! So many hearts breaking already…
22:05 Lots of lovely gentlemen have been seen looking amorous outside Vaults!
22:03 King's is putting on all of its best colours! What a wonderful sight! Thanks for the photo Mollie – wishing you the best of luck on your date! Hope you've both wrapped up warm…
22:00 Arjun – why so glum plum! I didn't even have a date!
21:56 Come you Louis you can do it! Talk about Eastenders!
21:52 Charlotte Iver has snapped a stunning kilt! Just goes to prove that it really does matter how you dress up your lower parts…
21:49 Reporter Francesca Ebel is busying snapping in Pizza Express. Can't see any nudes, however, Francesca…
21:46 Here is Lucy – lost and alone! Who would do such a thing! Tweet @tabcambridge if you'd love to give this girl a date!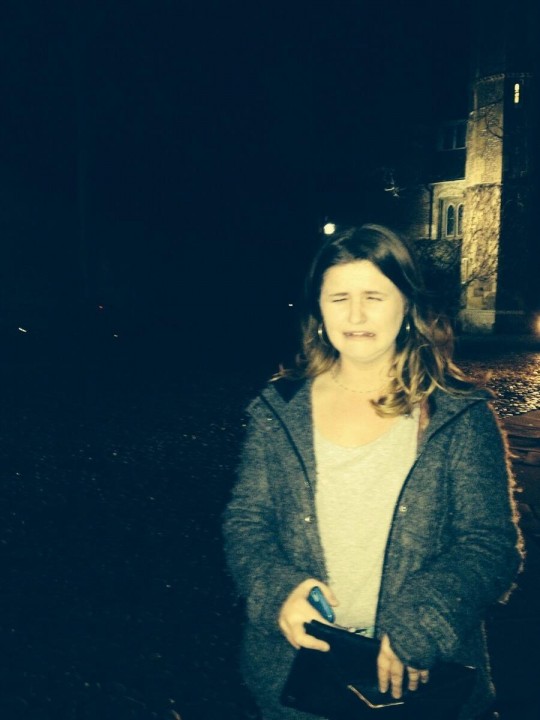 21:40 Charlotte Iver is having a wonderful time on her date. Smiles all round. She talks excitedly of a "PHILOSOPHER AND ENGINEER IN PROGRESS". Well, Charlotte, we're wishing you all the best this evening.
21:36 Francesca Ebel is mulching around Pizza Express looking for signs of romance. She says "everyone seems to be getting on just swimmingly! And they're all naked." The Tab cannot comment on the veracity of these reports.
21:34 Tab stalwart Patrick Brookes with his wonderful date! Wishing you the very best of luck guys!
21:28 Reports that Café Rouge is bustling with young love! What is your favourite restaurant to dine in?
21:22: Lucy has been stood up and is now reportedly alone and sad in the cold! What a crying shame! Anyone else feeling lonely and fancy a second date?
21:11 News just in: Harry's date is over. Ling Li has left, and the romance is dead.
21:06 omg HQ who needs a date.
Well OJ does actually, he's currently waiting outside Trinity Great Gate! Heading there now, wish me luck! Over to Ben.
20:54 Single and sad over at Tab HQ. Secrets coming out. Ben's just admitted to making his own Fitz freshers' page. "Every post contained a kinda hint to my gap year."
I wish I had a boyfriend.
20:51 It feels like the right time to do a shout out to Pithers, Easter Editor 2013. This playlist was made by him for a Tab take on Valentine's Day last year:
https://thetab.com/uk/cambridge/2013/02/14/the-valentines-soundtrack/
In his own words, "I don't make music for me, I make it for the people I love."
20:45 Clear jealousy of Harry's date over here in Tab HQ. Deputy Editor Ben stakes his claim: "Ling looks like a wonderful girl. I'm devastated I passed up on the opportunity to date her. I hate myself."
20:43 Update: crowds around Vaults not looking as thick as expected. We hear most dates are scheduled to meet at 9pm though, so we're keeping our fingers and legs crossed…
20:38 Harry has responded to Mark's gaze: "Mark Liu is a stalker and fully deserves the restraining order that was taken out against him."
Omg Harry! We don't all have dates you know! Peace and love.
20:35 Christ's buttery hotting up.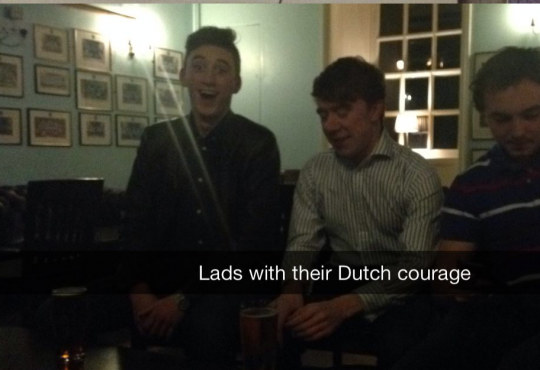 20:29 Harry and Ling Li are getting on like a house on fire. According to Mark, anyway.
Hope @HShukman knows how to deal with an Asian female. They won't be judging him based on genetics, but financial status #ragblinddate

— Mark Liu (@supermarkliu) February 11, 2014
20:22 Tab legend Harry Shukman is being stalked by Mark Liu. Calm down Mark
20:11 Rosie's emails got increasingly tragic earlier in the day:
https://twitter.com/rosiecrosss/status/433331000962072577
https://twitter.com/rosiecrosss/status/433330846763081728
20:05 Rosie is worried that her date won't turn up: she's sent him SIX emails with no reply. Anyone want to date Rosie??
20:03 ALERT Now blogging from Tab HQ! Will and Ben looking extra pretty tonight.
19:44 Jess is having real wardrobe s(h)ocker:
19:40 Let us know what he actually looks like please, Yasmin.
19:35 Snapchat etiquette does not apply tonight. The night has not been fruitful for Steph:
19:33 Update from Tab favourite Adrian Gray: "Worried she'll think I want to have sex with her."
Bethany Hutchinson, if you're reading, get in touch….
19:28 What's the etiquette about getting drunk before a date? Because my housemates are currently staggering between shower and kitchen… One of them has just pointed out that "I need to get crunk to make small talk." And yes, it was Laura.
19:23 Some heartbreak and it's not even 8 o' clock!!!
@tabcambridge My blind date hasn't replied to my email. Rude. #tabblinddate

— Milo Edwards (@Milo_Edwards) February 11, 2014
Avoiding Milo? Get in touch. We want to know why.
19:17 I guess some people are into this…
Hey @tabcambridge I'm doing Spy on RAG Blind Date, going to observe them and analyse for social experiment. #ragblinddate

— Mark Liu (@supermarkliu) February 11, 2014
19:02 Ah she seems to have picked up now though: "The last package I saw was from Amazon, so I'm quite looking forward to my date this evening."
God sucha minx.
18:50 More form news. Corpus second year Jess is feeling slightly disillusioned with hers:
"For cheesiest chat up line I've got 'HAY GURL LET ME AT YOUR RIM AND I'LL MAKE YOUR HEAD SPIN.'
Sam is going nowhere near my rim."
18:46 All is not lost. News just in that Adam, a Mathmo  from Trinity, is actually taking a girl to Trinity Hall with him. Nisha says that she's "going to eat 'til I bleed."
18:45 Disaster in Trinity having Halfway Hall the same night as RAG, thus depriving tens of second years of their chance to find love. Historian Amy says: "Trinity reclaims my night and my loins to prevent any slip down the tompkins table or down my pants." A  BioNatsic has simply commented: "Halfway to Madness."
18:22 The forms seem to be of a higher standard a few metres away in Churchill, though! Art historian Daisy is feeling pretty pleased with her match: "Apparently just looking at him will make me moist :)"
Got an equally promising form? Let us know.
18:15 Alarming amount of crap forms this year. This has just been sent in.
…What does that even mean?
18:08 Nina has just wisely pointed out that all sorts of boys come out of the woodwork at RAG. "They come out for one night…and then you never see them again." Very true.
18:03 Excitement here in Murray Edwards  is palpable. All except for next-door-neighbour Laura: "'I wish I'd never signed up. Inane small talk awaits me."
Feeling the same as Laura? Want me to go over and pull her socks up? Get in touch.
18:00 Hello, Mollie here! Welcome to RAG Blind Date! As I type, students across Cambridge are putting on their prettiest shoes and pocketing their inhalers. The night is cold – but full of potential.