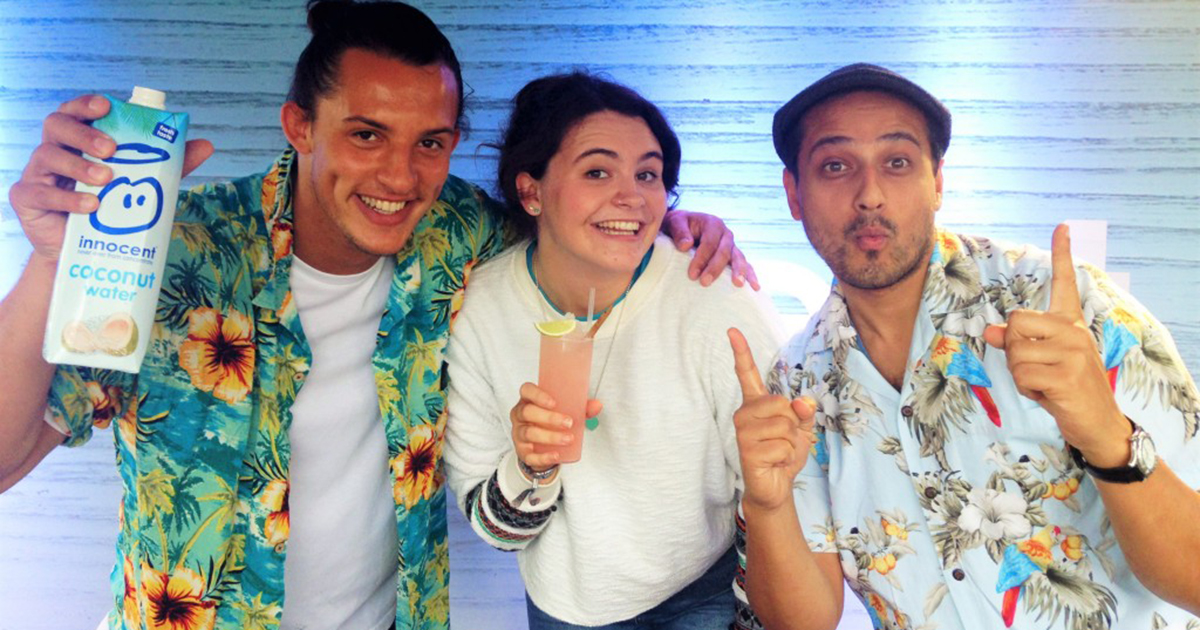 Emoji-themed mocktail bar opens in London
national
noad
First there was a cat cafe, then Russell Brand came with his groundbreaking Trews cafe, and now we have an "emoji themed bar".
Based in Shoreditch Boxpark, the new tropical bar is basically just bar where every item on their menu is described only in emojis.
Just when you thought it couldn't get any more twee, customers could only order drinks at the bar by taking a photo and hashtagging it with the corresponding emojis shown on their menu.
Punters could only order "mocktails" at the bar as alcohol wasn't served.
Turns out it was a PR stunt for world's most cutesy drinks company Innocent, bigging up everyone's favourite fancy water, coconut.
The depressingly sober bar is decked out with flamingos, a coconut shy, hammocks, steel drums and hand massages.
Among the healthy mocktails available there was Georgia Peach: "really sweet and tastes like summer", a FroYo Coco and a Pink Virgin Mojito described as "naughty".
Clemmie, who works at Innocent and is the brains behind operation make-coconut-water-popular said the idea was all about: "Getting people to try it because they seem a little unsure of it".
She added: "We just thought it would be a fun and different way to ease people into trying coconut water by bringing tropical life to concrete London.
"It's tongue and cheek and using the emoji's is an extension of that, it's the fasting growing language and it gets people taking photos and talking about what we're doing on social media."
The most popular drink was the Georgia Peach mocktail, and one punter said: "My favourite emoji is the little laughing monkey, I'm disappointed he isn't on the menu. He's just so cheeky.
"Shame about the weather, but it's a cool idea."
While some were less than impressed with the Emoji bar — one moaned about having to post on Instagram when they just wanted a drink — the pop-up was packed out by mid-morning and seemed to be a resounding success with tired commuters.
Barmen Fabrizio, Sergio, Marco Arg and Nathan will be serving their mocktails until 8pm tonight, and all you need is a phone and a hashtag to get one.
Worth going just for the hammock really.