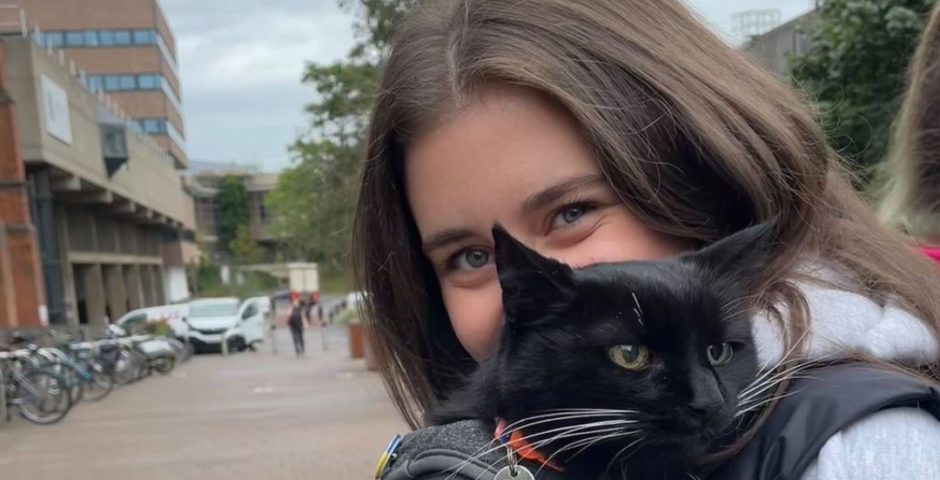 Meet Ozzie, Newcastle University's official wellbeing cat
She works alongside Bessie, the Jack Russel
Maybe it's just a lingering adjustment period following the disruption from covid the past two years, but last year's exam season was rough. And now winter is rolling in and the buzz of summer curled up and died a long time ago. The dread of first semester exam season is near, looming in the air like an unwelcome fart. Last term, some students dealt with stress in strange ways and we heard some questionable things (see Overheard on campus: Exam edition). Sometimes, stress can only be alleviated with a cuddle from that furry friend you left at home at the start of semester. Cue Ozzie.
You may have heard of Bessie, the official health and wellbeing dog of Newcastle University, but you may not have heard of Ozzie. She was introduced back on the university Instagram in June and has been putting in those shifts ever since as the uni's very first campus cat.
Ozzie lives with the uni's Catholic chaplain and her official Instagram page is @whiskers_of_wisdom where you can check out her latest movements and find out where you can meet her next. So far, she's put hours in at the Helix, the Student Forum, outside the med school, the Robbo and King's Gate. She worked overtime during Freshers' Week having cuddles and taking pictures and she's even got her own smart card.
She walks around Toon in a little harness and is always up for cuddles and photo opportunities. She's 14 years old and is starting to earn her BNOC status as more and more students are attending her meet and greets. We half expect her poster to be up on campus soon as one of their notable alumni.
She is super cute and definitely worth visiting if you need a little pick me up during your studies. Look out for her next appearance days on via @whiskers_of_ wisdom or @newcastleuni for updates.
Want to write stories like this? Join the team, no experience required. DM us via @TheTabNewcastle on Instagram or The Tab Newcastle on Facebook.
Related stories recommended by this writer: