We asked you for the craziest pictures of Storm Arwen's damage to student houses
We'd hate to be your landlords right now
On Friday night, Storm Arwen graced the city of Newcastle with rain, sleet, snow and winds up to 100mph.
The storm resulted in a red weather warning and left many households without power – meaning no electricity, heating, or lights (I wonder if you can get an assignment extension for that?)
We asked over on our Instagram if any of your houses had been damaged, and this is what you showed us.
Ceiling collapse chaos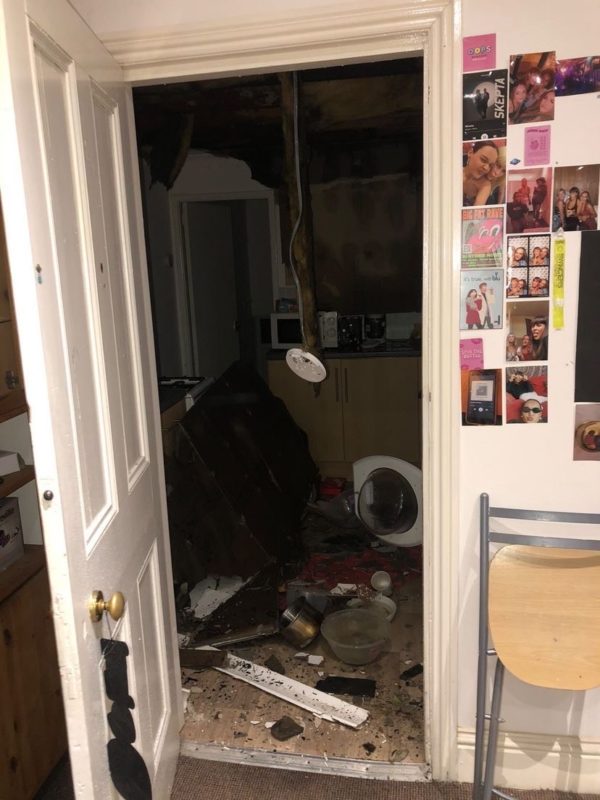 These students told us their roof started leaking and their heating and electricity cut off before bed. They were woken up at 3am by the ceiling falling in so they had to spend the night in a hotel.
We hope you got breakfast included after that night's sleep.
Tree terror
If this isn't an excuse not to go to the library, we're not sure what is. Students saw this on their way to a midnight library sesh… Understandably they turned around.
Wall woes
This would have taken some serious clearing up! But on the bright side, at least it didn't fall on top of their car – a pretty lucky escape if you ask us.
However, we'd hate to be their landlord right now – that's some pretty costly damage.
Fencing faux pas
We've seen a range of fallen fences over the past few days, but this one was one of the best – or worst, however you choose to look at it.
Storm Arwen may have been strong, but this fence seemed to be stronger. How didn't it fall apart??
Bush blues
It looks like these students won't be leaving the house for a while! Their bush fell over, resulting in the front door becoming blocked.
What a good excuse to get some cozy pjs on and watch Christmas movies for the next 5 days.
TV troubles
The residents here have been banned from the garden just in case the aerial falls. Unlucky, looks like you'll have to find somewhere else to build snowmen.
Whether you're outside enjoying the snow, or snuggled up inside in fluffy pjs with a hot chocolate- we hope that you're all safe and doing well.
Want to write stories like this? Join the team, no experience required. DM us via @TheTabNewcastle on Instagram or The Tab Newcastle on Facebook.
Related stories recommended by this writer: