World Mental Health Day: How to look after yourself in isolation
Eating a full tub of Ben and Jerry's can't be your only source of happiness
Do you remember the CBBC show Trapped!, where six completely random kids would sign up to complete some horrifying challenges, making the most sinister sacrifices in order to avoid being trapped forever by The Voice? 
We feel like the programme is an accurate depiction of 2020 so far. The only differences being that we in fact didn't sign up for it, nor is Boris sporting a ghoulish purple lipstick. However you look at it, life this year has been less of a time fulfilling New Year's resolutions and more of a time overeating and complaining about the government, but let's face it, we didn't need a global pandemic as an excuse to do that. 
Every one of us would be lying if we said our mental health had not taken more of a hit than usual this year. With many of us excited and ready to be legless in Perdu throughout Freshers' week, we've been banished to our rooms with the only positive thing being our COVID-19 test. While Uni life hasn't yet lived up to what we've all been expecting, it's still important that we look after ourselves through these difficult times.
With Newcastle's Universities having some of the highest rates of coronavirus in the country, if you haven't yet started self-isolating, then you definitely know a mate who has. You may be thinking the pub is the only answer to enjoy the time you have with your flatmates and while that does take up a pretty healthy amount of your time as a student, being stuck in accommodation with the people you live with can be a great way to get to know them a lot better. Interacting with others is highly significant in how we can look after our mental health as, ultimate, we're all in the same boat.
In support of World Mental Health Day, we've come up with some ways to make isolation that little bit easier:
Get to know your flatmates
Avoiding any interaction may seem to be the only way forward and self-isolation has become the perfect excuse to lock yourself in your room and wake up for breakfast at 5pm. Let's face it, sitting in your room eating Ben & Jerry's is a lot easier than striking up a conversation for some of us. But getting involved in what your housemates are doing can actually improve your mood and make isolation that bit more bearable.
Quiz nights
Throughout lockdown, nearly everyone had to join the dreaded Zoom call at some point in those Panic Room-esque few months, with it being the only source of entertainment at the time (besides watching Tiger King and praying you weren't picked for the 5k run). Quizzes are perfect for getting to know your flatmates as you get to see their strengths for when pub quizzes start up again properly. Before you know it, you have found your sports genius, your music guru and your general knowledge queen and you're good to go.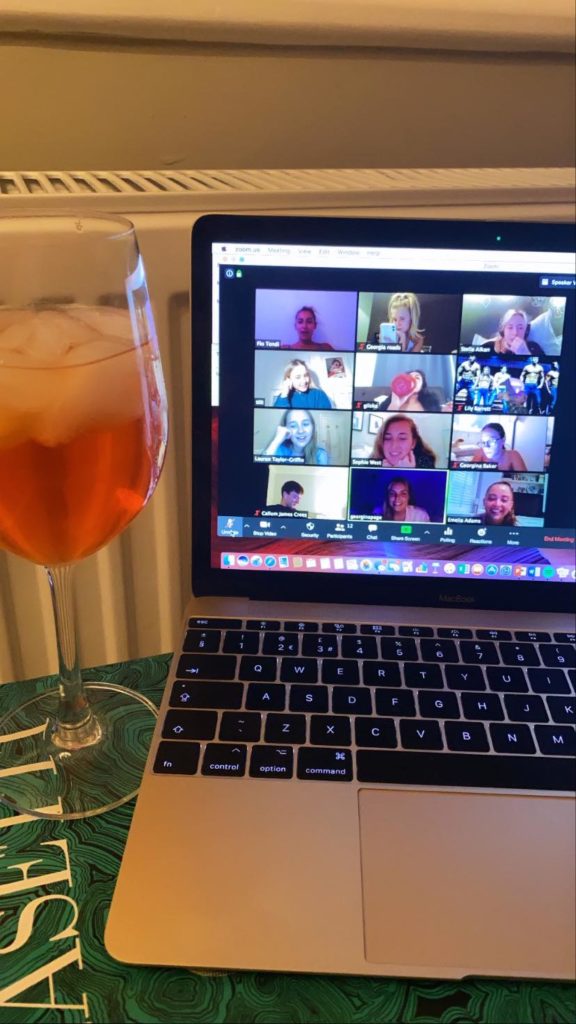 Eat meals together
Another piece of advice you've probably seen in every YouTuber "Uni Survival Guide" video ever made, but a strategy that definitely works. Try and find time at least one day a week to pick a meal everyone in your flat enjoys and spend time together over your love of Lasagne or Spag Bol. You could even just order a Domino's and watch TV together. 
Make TikToks
While this may be a total given and the majority of you have already made about a thousand since starting uni, TikTok is a fun way to break the ice with your flatmates. A viral video may be all you need to bring your flat closer together. There's nothing better than learning the "Renegade" to make a lifelong bond with your housemates.
Find things you enjoy doing
The phrase "putting yourself out there" may have become the Uni cliché of the century, but being surrounded by people 24/7 can be extremely overwhelming and making time for yourself is vital to keep your mind and body healthy. Make time for your own company and find things you enjoy doing, like watching your favourite stand-up comedian, listening to your favourite Spotify playlist or finding your new Netflix obsession.
Make a routine, and follow it
One of the simplest things you can do to improve your overall mental health is to give yourself something that you look forward to every day. Whether that be reading a chapter of a book or having a relaxing bath, knowing what the day brings can be beneficial to coping with living at uni. Falling asleep on Zoom is not how you want to start this academic year, so find time to unwind during the day. Get your favourite chocolate and treat yourself.
Don't put too much pressure on yourself!
When you come to university, you think that it's going to be the best three years of your life – you'll make loads of friends, visit all the pubs and clubs the Toon has to offer and maybe even make an appearance on Geordie Shore. The most important thing to remember is that everyone has probably felt lonely at some point during their uni experience, and choosing to spend time by yourself doesn't mean you're being anti-social – it simply means you're taking the time to look after yourself. Find the right balance of "me time" and playing a game of beer pong with the rest of your flat. Although the current climate makes this seem unlikely, remember that you're not alone in feeling this way.
Things will get better, but in the meantime, there will always be someone there to support you; the following resources are freely available if you're struggling and need extra support.
Anxiety UK is a charity that provides support if you have an anxiety condition.
Telephone contact: 03444 775 774 (Mon-Fri 09:30-22:00, Sat-Sun 10:00-20:00)
Find out more at: www.anxietyuk.org.uk 
Crisis Text Line offers free advice via text counselling sessions 24/7.
Text SHOUT to 85258 to use their service.
Find out more at: www.crisistextline.org 
Men's Health Forum offers 24/7 stress support for men by text, chat and email.
Find out more at: www.menshealthforum.org.uk
Mind promotes the views and needs of people with mental health problems.
Telephone contact: 0330 123 3393 (Mon-Fri 09:00-18:00)
Find out more at: www.mind.org.uk
Samaritans offer confidential support for people experiencing feelings of distress or despair.
Telephone contact: 116 123 (Available 24/7)
Find out more at: www.samaritans.org.uk
Furthermore, Newcastle University offers free counselling and support as part of their student services, with 1-on-1 counselling (online, telephone, in-person) and a CBT therapy app to download on your mobile device. Contact your peer mentor, personal tutor, or NUSU rep for more information.
Northumbria University also offers counselling from their dedicated mental health team. You can ask the helpdesk for a referral to the welfare team for four confidential sessions over the course of four weeks.
If you think you are in any immediate danger of harming yourself, please contact your local GP and/or emergency services on 111 or 999 straight away.