A year in review: 15 ridiculous things that happened in Newcastle 2017
The good, the bad and the ugly
In 2017 we said hello to Mrs. May and goodbye to net neutrality (whatever that is). In Newcastle, students continued to do what they do best: get naked and complain about things, and the university have continued to do what they do best, overcharge us for cups and ignore our requests. Thankfully it's not all doom and gloom, we can still all have a laugh at the council and rubbish tattoos. Here are the most ridiculous things that happened in our great toon in 2017:
1. An organised singing of Toto's Africa actually happened
The police said no. We did it anyway. (Even if it was only once before we all ran off.)
2. Newcastle fresher texted his boss asking to get off work because he brought some girls back
3. Newcastle University gave the owner of WHQ the same honorary degree as MLK
Yeah because they've pretty much achieved the same thing, right?
4. Five Northumbria students got matching blueberry treble tattoos
One of the inked ladies told The Tab: "Trebs are for life, not just for uni. Where there's a treb there's a way". You might never be a foot model hun, but you'll always be a hashtag mentalist.
5. The council made THAT video about "Jesmond super parties"
Earlier this year, Newcastle council released a horrid, patronising video about the danger of the SUPER PARTY. I'm all for health and safety but no one involved in the making of this dramatisation of university house parties was under the age of 50. They get a gold star for trying and, to be fair, I had no idea my mate's Lord of the Rings -themed 21st could be deadly.
6. There are STILL NO MICROWAVES in the Robbo. (ffs)
It's nearly 2018 and we still can't warm up our lunches. So what exactly are our student loans going on? Free books? Free cups? Free hot water? Free printing? Hahahahaha.
7. 10,000 people showed up to see Corbyn
Just ahead of the election, Jezza came to Newcastle to rouse us and speak to our souls one last time. His crowd was shockingly big and a source told The Tab: "He reached out to the students in the crowd, of which there were thousands, to remind them that Labour cares for us, unlike the Tories. Despite the rain the mood was still lit. 10/10 would vote Labour". If only, Jezza xxx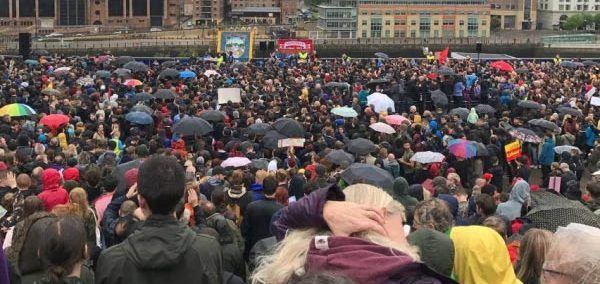 8. The rowing team got their kit off for a calendar again
Because as awful as 2017 has been, it's nothing some nice old botties can't fix.
9. Castle Leazes students were forced to have a "sleep over" because of a leak in one of the buildings
I imagine this is the sort of thing Durham students do for fun.
10. We found more traces of cocaine in the SU loos than in Castle Leazes (and who the fuck goes out to the SU?)
Have people been having a little sniff before having to endure that stint behind one of the tables at the job fair? Before meeting up for that study group full of painfully quiet course mates? Surely no one goes to those nights in the Union's "club" anymore.
11. Dog and Scone cafe added a PUG PUPPY to their list of K9 cuties
Laughing is the newest addition to the gang of woofers. That's right, her name is Laughing.
12. The Uni Badminton team put an old photo of team members in blackface in their newsletter
Need I say more?
13. Shijo wins best Newcastle alternative student lunch spot
Finally they get the recognition they deserve.
14. We beat durham in the rowing (again)
If its not bad enough for them that we have better nightlife and are the home of Shijo. Better luck next year.
15. The birth of the treble stein
There's a reason other European countries hate the British and I think the sight of a stein full of luminescent blue liquid is the perfect indicator as to why.
Photo Credits: Mono/Club Trop- Michael Trimble Photography, Soho Rooms- Chris Grey Photography