A second year's experience of in-person teaching
After experiencing the world of Microsoft Teams, in-person lectures are just as scary for us second years as they are for freshers
This year, uni is finally seeing a return to normality, and while we will deny that we're as clueless as freshers, the upcoming school year is a big one for us second years too. Having grown accustomed to rolling out of bed at 8:58 am and logging onto Microsoft Teams for a 9 am, getting the bus to campus and trying to find particular seminar rooms is a big challenge.
While the uni workload is something that we're used to, experiencing an actual uni lifestyle is new to us, so here is the first week of in-person teaching from a second year's experience.
Monday
Monday meant getting up early and pretending to be prepared for the coming term with an 8 am start, although that didn't even last to Tuesday. The worst part of new, in-person lectures has to be subtly trying to check the map to see where your seminar room is without making it obvious that you don't know where you're going – and realising that you only know the buildings on campus that you came across on our 3 am drunken walks home.
All I can say is, actual lecture theatres are scary. You wait outside recognising people that you follow on Instagram because they had 'English Lit' in their bio, but know you've never actually spoken to them. Then you can't press pause – I miss this. And to top it off there are extra stressful things to think about now, like, where am I supposed to sit?
Tuesday
Today I actually had to try and figure out the buses. After one driving past saying 'BUS FULL' and panicking I would be late, I spectated as someone watch a live lecture on the 1A, which really seemed to sum up students to a T. After getting off the bus, whilst regretting my life choices, I had to walk all the way to County. It's only day two and I'm already really missing only having to go as far as my desk.
To round off this busy day, we had the first in-person Tab meeting. After a year of these online, it was so nice to actually put faces to names. I can't give much away about the top-secret meetings, but I can reveal that we finally all got our official Tab t-shirts!
Living away from campus this year means a whole new range of takeaways available, and after ordering way too many in Welcome Week and putting a dent into our student loans already, we vowed that from the start of term, no more takeaways… yet here we are ordering maccies on Tuesday. And I will argue that it was completely necessary.
Wednesday
Seminars are a lot better when you can hide behind the screen blaming WiFi or microphone issues, especially when now I spend the whole avoiding eye contact with the lecturer because I don't want to be the only one talking. It's the same situation as with lectures, you know people's names and bits about them from the group chats but you've never actually spoken to them – hopefully when this awkwardness subsides lectures will get less painful.
After a year of walking around campus on afternoon walks in an attempt to get fresh air for the first time that week, I don't think I ever realised how many students there actually are. I used to think that Alex Square was busy, but that was nothing compared to walking between lectures now, and it's terrifying.
Thursday
Thursday saw the market in Alex Square, which is apparently supposed to be a weekly thing but it never happened last year! It's good, but dangerous, going to a book sale as a literature student every week means I'm going to have to constantly take the bus home with a new pile of books, and my bank account will definitely hate me.
Lecture two of the week was a lot smoother than number one, since I actually messaged and met people beforehand so I had people to sit next to and didn't have to look awkwardly around the room.
But the worst part of living off campus has to be when you have a two-hour break between lecture, where are you supposed to go? It's week one and already I wish I was living on campus again so I could go back to my room and have a nap instead of sitting in the library or learning zone pretending to do work.
Friday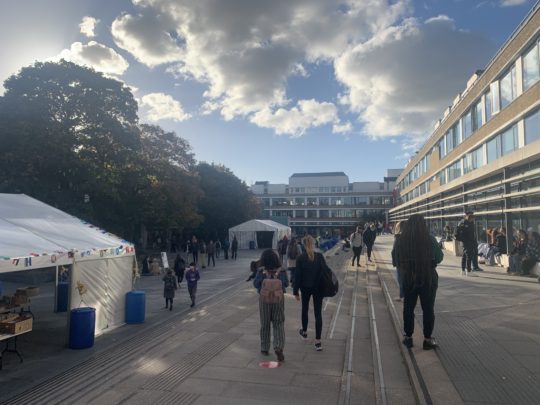 Friday, thank goodness, meant a lie in and only one seminar. I have definitely come to the conclusion that in-person teaching is a lot more tiring than online, but I think that it will be worth it in a few weeks when we're all into the rhythm of it!
I ended the week exhausted and dreading doing it all again next week, completely and utterly annoyed at getting the bus, but grateful to have experienced a vaguely normal uni experience. I'm sure that with time seminars will be a lot better (especially without the technological issues), but lectures may not catch on, and while I'm glad I can say that I've experienced an in-person one, so far I much prefer being able to watch them when I want to, and being able to pause for a few too many breaks.
I'm also questioning how people now go out to Sugar and Glow on top of this; but I'm sure I'll experience that myself soon!
Related articles recommended by this writer