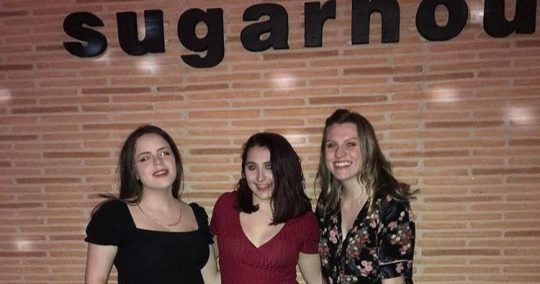 What your pose in Sugar actually says about you
A picture says a thousand words
No night out in Sugar is complete until you've had your Sultans and fallen asleep in a taxi, but in between the spilt drinks and pushing on the dance floor there is one thing that is more certain than anything else. You, and four other people you may or may not know huddling together when the cameraman comes walking around for one last photo before the night is over. You can't escape the person holding the Sugar camera until it's too late.
You wake up the next day, the photos are up and they are in the group chat. You stare at it for way too long, wondering "What am I doing?". Your pose in the club says a lot about you, you just didn't know.
The Hercules
With the new year comes new years resolutions, and no one is more common that the wish to get fit, so if you're caught tensing in the club you are not the only one. Been to the gym twice and want to show it off then this one really is for you, make sure that girl from flat five sees this on Facebook in the morning just so she can see how "ripped" you have become. The camera never lies.
Thumbs up
What happens when you have £5.50 for a night out and club entry is £4? Do you stay in? Of course not, you're a seasoned clubber and this night is unlike no other, just go light on pres. But when you sober up in the club and really don't want to be on camera, there is something that stands in the way of your Snapchat infamy: Your thumbs. This pose is for those who really haven't had enough to drink, and let's be honest, it really shows.
The face smush
You hate to see it, or at least you hate to see it done to you. Reserved for only the most desperate of situations, the face by face is a last resort when someone is so desperate not to be pulled they call over the photographer. Unlucky for them however the other person has no idea and so proceeds to get as close as possible. But what's more of a compliment than someone wanting a photo with you for the whole evening? You may look really awkward, but at least it proves you were there.
Peace sign
The notion of peace is one championed by an ever shrinking number of people, and those who do fight for it find extraordinary ways of doing so. Be it old all new, all these people have done great things, non of which are greater that throwing a peace sign in a club. This is the pose suited for any Greta Thunberg wannabe or John Lennon fan, though you may not change the world you are certainly are doing a good job of convincing yourself and the photographer otherwise.
Kissing on the cheek
When the dust from freshers has finally settled and uni life is well under way, for some the though of a night in sugar is too much. This is however your flat pull you out for pres and don't let you back into your room. the kissing on the cheek is a constant reminder that you are definitely having fun, and the photos are only a way of your flat showing you. On the other hand for those too modest to pull, kissing on the cheek provides some SFW evidence for the morning after the night before.
Collab
BNOC or no NOC you can guarantee that Wednesdays are for Sugar, and with everyone crowded under one roof there are plenty of opportunities for group photos. Want to know how popular you are? Count the people on your left and right and their is your answer. This pose, or rather group pose, says a lot not just about how popular you are, but how well organised you are in the club. Or you could just grab a few strangers who will most likely appreciate being in the photo so they too look more popular.
Last bus home
If asked what you think of photos taken after 3 am you have no idea how to answer, chances are you are doing it right. Complete delirium, no consistency and VK are all prominent features of these poses. You have completed the night out, taking the last bus back to campus as you party hard, and the pictures on Insta the next day tell no word of a lie.
A picture says a thousand words, so make sure you master your night out pose so you aren't caught off guard.