'We're sick and tired': We spoke to picketers taking part in the UCU strike action at Lancs Uni
Education not exploitation
The UCU lecturer strikes began this week. Whilst we've all seen them as we come onto campus on the bus, The Lancaster Tab spoke to picketers taking part in the UCU strike action at Lancaster University to answer the questions that many students have been asking.
"Education not exploitation" reads the signs at the entrance to the university this morning, as they have since the beginning of the week, as strike action continues across 60 UK universities. Yet, the atmosphere and obvious passion of those on the front lines of picketing remains strong despite the freezing temperatures of the early morning.
"We arrive when it's dark and leave when it's dark, so you have to remain hopeful that the outcome will be a good one", states one protesting faculty member on their fifth continuous day of picketing.
Although the strikes are thought to run the full eight-day course, comparing with last year's 14-day strikes, protesters remain optimistic that the strikes are making a significant impact as negotiations with the UCEA continue, expecting a written statement by early next week.
However, despite the optimism of UCU members, they are still encouraging further strike involvement by both the student body and other faculty members.
One staff member on strike was arguing for students to "come to the picket lines and speak to us, boycott lectures, write to the Vice Chancellor.
"We don't want to hurt students, but it's the only power we have against these unfair conditions." Although students cannot technically become actual picketers, they can still attend and support strike actions taking place across the university.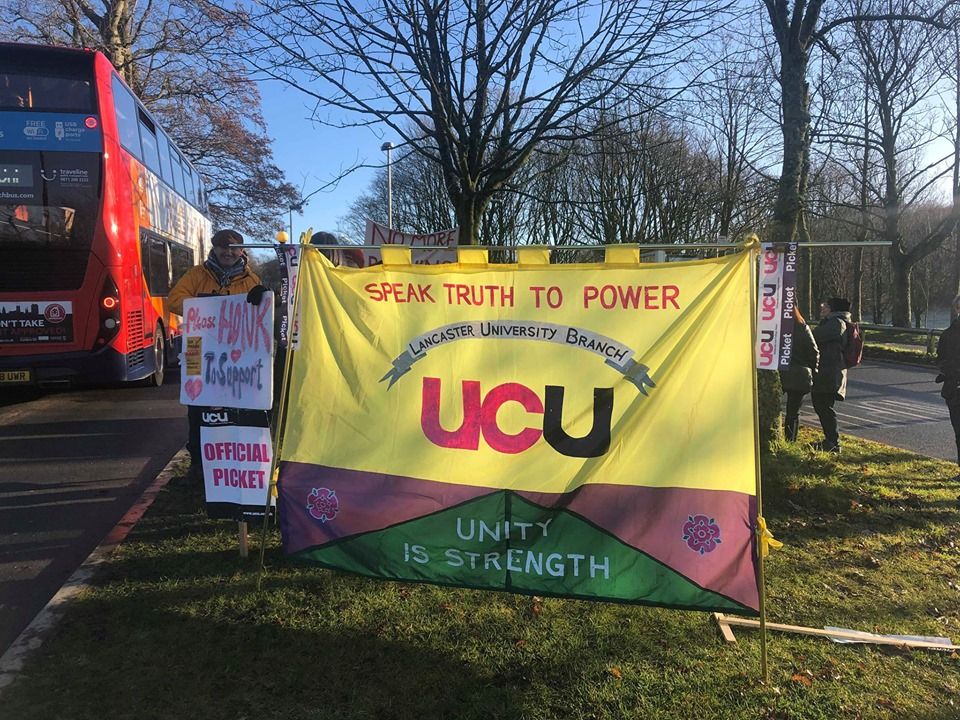 The invitation to speak to picketers regarding their issues has also been reportedly extended to members of the senior management team; the invitation is yet to be accepted by certain members of university management.
"Sick and tired" were the words used by many, as they described the working conditions they face in their day to day lives: telling The Lancaster Tab that people are upset and angry as the university was described as seeing "how much more they could get out of people."
Many described the lack of progression for lecturers and staff as they described feeling like "casual labourers" in the face of overwhelming amounts of preparation, marking and workloads, reportedly only being paid for 10 minutes of marking time per essay. Similarly, the continuation of zero-hours contracts for staff members leading core programmes is said to lead to a "rationing" of time, preventing staff from fully supporting or engaging with their students.
So, whether you agree with these strikes or not, one thing has been made perfectly clear: these protesters have no intention of backing down and no intention of going anywhere, so get used to it.
Featured image via Thomas Fish
Related articles recommended by this writer:
– This is everything we know about the Lancaster Uni lecturer strikes so far
– 'We're encouraged to think of students as customers': We spoke to Lancs lecturers about why they're striking