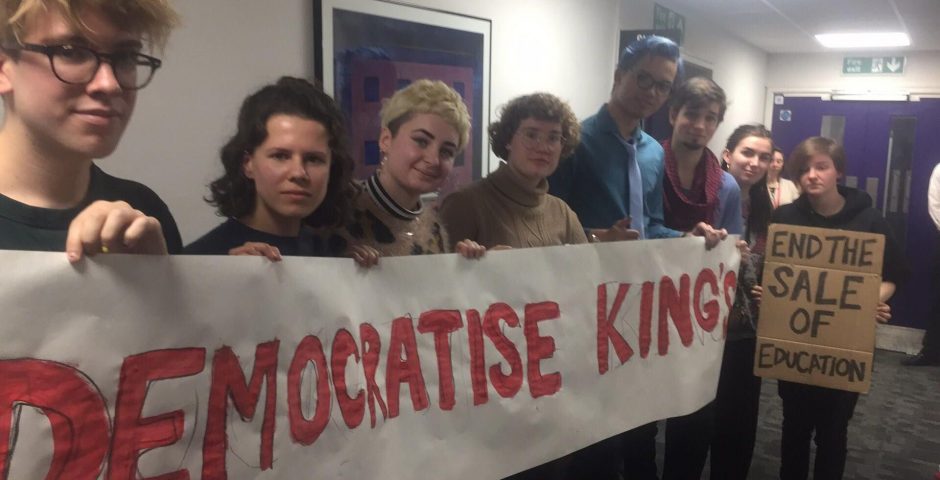 King's students have occupied Ed Byrne's office in support of striking lecturers
Their demands are clear and they're livestreaming on Facebook
Students of KCL are currently sat outside Vice Chancellor Ed Byrne's office in the James Clerk Maxwell building, demanding a meeting regarding the proposed changes to lecturers' pensions by the UUK.
The proposed cuts to pensions would have the lecturers see a loss of £10,000 for every year of their retirement. Student support for the striking lecturers has been ongoing, from attendance to teach-outs to standing on the picket line.
Lecturers at King's have refuted the recent proposals made by the UUK following negotiations last week, escalating tensions between strikers and administration. Strikes are now set to continue past the previously agreed time period.
In a Facebook post, a group called KCL Students Support the UCU Strike state that they feel "forced to escalate [their] actions since Byrne has not accepted the UCU demands and is not publicly supporting the strike".
Edward Byrne accepts a yearly salary of £458,000. They add that King's has endorsed the ACAS-negotiated deal that had been refused by UCU branches, one that would have cut pensions in three years' time.
They write: "we are occupying because we understand that students and workers need to unite to oppose the marketization of education and fight for better conditions for all".
The post outlines how in addition to support for the striking lecturers, these students' occupation of Ed Byrne's office is also to express their outrage at the unfair gender pay gap and treatment of cleaning staff.
The post ends with the occupying students' demands: