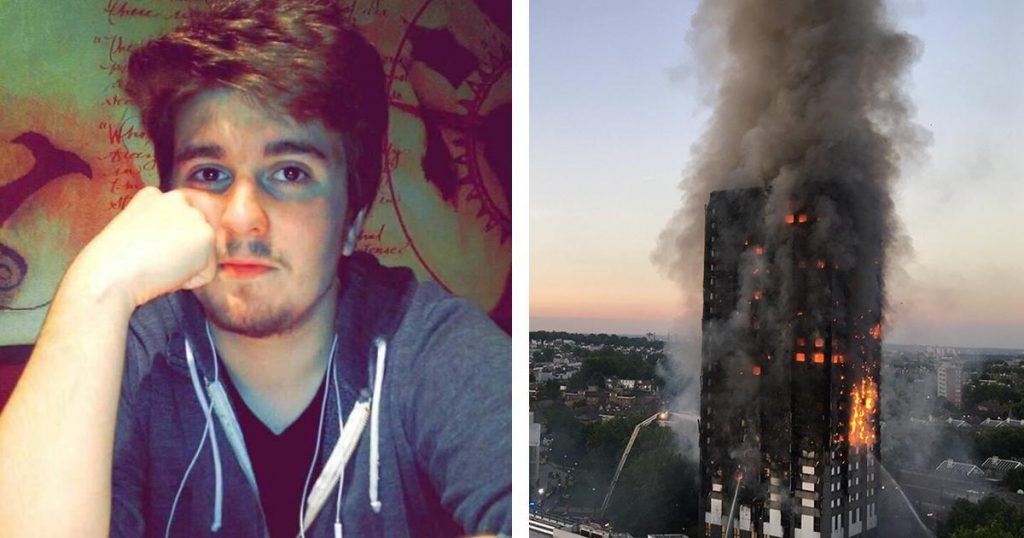 Exclusive: The Grenfell Fire left me homeless. Now I'm living in a Holiday Inn while studying at uni
We've been living in a hotel for four months
The fire at Grenfell Tower in West London earlier this year devastated many lives, leaving hundreds of people without a home, most families are living in hotels four months on. We spoke to a university student who survived about his experience since the fire.
Tiago Alves, a third year Physics student at King's College London arrived to our first interview from a Holiday Inn where he now lives, wearing a black jacket, jeans and a blue polo. The very same clothes he wore when he escaped the inferno.
He was living on the 13th floor when the fire broke out at Grenfell Tower. Here is Tiago's story.
The night of the fire
We had some family members over from South Africa and went out to a restaurant and stayed there until quite late. After they had been dropped back at their hotel, my dad came back shouting that there was a fire. I had smelt smoke while they were out but hadn't suspected anything.
My dad stayed on our floor, he went to knock on the doors and everyone from the 13th floor managed to get out alive. As we were going down, at about 1am, the firefighters were coming up.
What's scary is that in the lift, my dad realised he had left his phone in the car, so my mum went down to get it. My phone had run out of battery.
When she was downstairs, the firefighters told my mum that everyone must stay inside their apartments so she tried to call but couldn't get through to any of us.
The aftermath
Afterwards we went to our friend's house who lives in direct view of our own apartment. We could see people waving white sheets and torches from their windows and screaming for help.
We attempted to inform some police officers who were on the other side of the building where the fire was. I was calling my dad and saying there are people on these floors. The police said "we can't get to everyone."
I stayed with friends until I was relocated to this hotel in Earl's Court. We're still living here fourthree months later. In the first two weeks we were running around like headless chickens. I was lucky to have friends nearby but there were people who were sleeping at Westway Sports Centre, some ended up staying there for 10 days.
Three days after the fire I got a call. When I picked up they said, "this is King's chaplin speaking we checked our system and it said that you were residing at Grenfell. Is everything alright? We've contacted your department."
We spoke about counselling and I asked them to send me an email so that everything was in writing. Once that happened, they sent an email to my personal tutor and he made sure that I got the right counselling. They put me in contact with King's living bursary and hardship funds. I was not receiving any of these beforehand.
Some of the charity money has been distributed. My parents went back to work. We're trying to get back to some sort of normal life. There was a company who were giving out laptops to students. King's also offered to buy me a laptop and they said I could keep it for as long as I needed.
'We're still living in a hotel four months later'
After a week, that's when people started to be put into hotels. At the time we didn't think it was necessary because Theresa May's promise was three weeks and we'd be rehoused. We assumed there was no need for us to go into a hotel.
We've made good friends with the staff. There are hotels where a majority of residents are from Grenfell closer to High Street Kensington and it's good to be in close proximity. There are five or six Grenfell families living here too. Initially, we had two rooms – one for our parents and I was sharing with my sister. But now that she started her A-Levels they suggested we get separate rooms.
There were rumours that we would be given luxury flats in Kensington to live in. This was not true.
My father had bought our flat in Grenfell Tower 16 years ago. We are in the process of sorting out the mortgage out with the council. We were given a couple of options we weren't happy with. One option was they pay a portion of what the property was worth and we would go back and live in social housing.
What we were trying to advocate was for the council to give us a permanent property and just transfer the lease from one onto the other, but there is no sign of this happening yet, so we continue to live in this hotel indefinitely.
Interview edited for clarity and length.