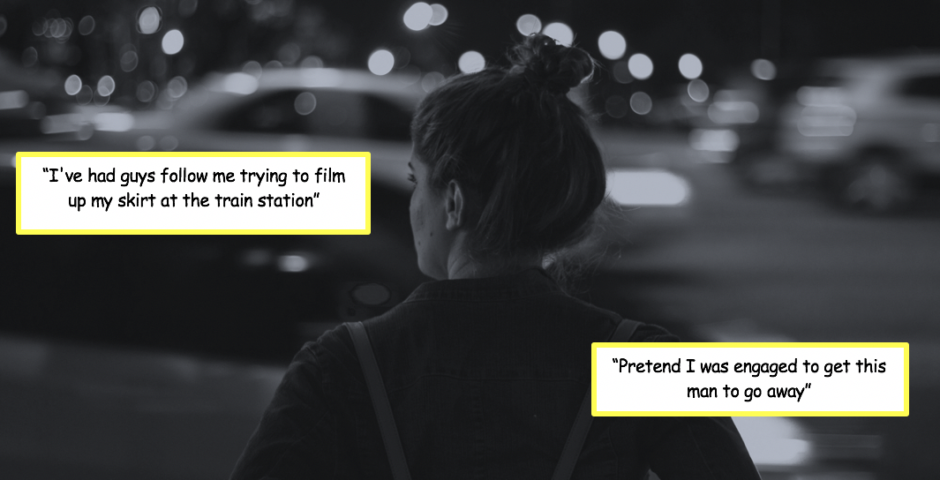 'It's painfully normalised': Cardiff students discuss experiences of sexual assault
Only 9 per cent of victims reported their assault
Content trigger warning: Details of sexual assault, harassment and other information readers might find upsetting.
The tragic death of Sarah Everard has sparked a UK-wide outrage over sexual assault against women. This week, UN Women released a study finding that 97 per cent of women aged 18-24 have experienced sexual harassment in public spaces. Social media has erupted with the news of both Sarah's death and the staggering findings of the study, prompting the 'Reclaim These Streets' vigil on Saturday 13th of March across the country.
We wanted to find out how sexual assault has effected Cardiff's students, whether they reported it, and how women subconsciously work to prevent sexual harassment in everyday life. Here's what we found…
63 per cent of Cardiff students have been sexually assaulted
63 per cent (725 people) of the 1,145 respondents said they had been sexually assaulted before. However, with both men and women participating in this survey, and with the lines of what some consider sexual assault being very blurred, it is difficult to distinguish just how many people have been effected.
The Cardiff Tab spoke to one student who explained, "I've had guys follow me trying to film up my skirt at the train station, the security guard saw and walked away". She went on to say that, "Every girl has had a guy cat calling her regardless of what she's wearing, even when in a group, it's painfully normalised as 'a part of a woman's experience'".
Only 9 per cent of Cardiff's victims reported their assault
A staggering 91 per cent of respondents who said they had been sexually assaulted didn't report their it to the authorities or the university. And for the 9 per cent that did report it, only 46 were satisfied with the outcome of the report, compared with 110 who were not satisfied.
Preventing sexual assault becomes part of your daily life
After the tragic news of Sarah Everard's death earlier this week, many women across the country have been sharing ways in which they protect themselves from sexual assault, and many of these things are subconscious, we don't even know we're doing them.
The Cardiff Tab asked students how they have worked to prevent sexual assault in the past. In a poll, the choices were, have you: a. pretended to be on the phone, b. changed your clothes, c. crossed the road, or d. all of the above. Of the 1,051 respondents that answered this poll, a huge 633 said they had done all three of these things to protect themselves, providing the largest response by far. This shows that women must go out of their way to ensure that they feel safe, and one method alone usually isn't enough.
We spoke to one Cardiff student who explained she has to be extra-protective of her friends in clubs, "purposely moving away from guys, making sure we know where friends are".
As a young girl, you are brought up to dress appropriately, never walk alone, get a taxi, and be as safe as possible, but women are now coming out to say that the education should be placed males rather than females.
'I've lost count of how many times something has happened'
The Cardiff Tab spoke to one student who said, "Before uni I would be able to tell you every experience I've had with sexual assault/harassment. But this is my second year at uni and I've lost count of how many times something has happened". This student went on to describe a recent experience, "walking to Tescos last week, 2pm on a Sunday, young teens followed me down the street and smacked my ass before running off".
Students feel safer in their home towns than in Cardiff
The Cardiff Tab also asked students whether they felt safer in their home towns or in Cardiff. 74 per cent (824 out of 1,119) of students voted that they felt much safer in their home towns than in the Welsh capital.
I had to 'pretend I was engaged to get this man to go away'
Speaking to Cardiff students this week, The Cardiff Tab found that one tactic women use to ward off unwanted attention is to pretend they are engaged or married. One student told us, "I was approached walking up Wharton St, walking with my headphones in and reading revision cards because it was during exams, had to think quick and swap one of my rings over and pretend I was engaged to get this man to go away, nothing else worked".
Are smart phones making it easier for victims to report sexual assault?
One student told The Cardiff Tab that past experiences of sexual assault have made her more vigilant than ever, to the point now anytime she walks alone, she has her "phone videoing the whole time in case I receive any unwelcome cat-calling etc".
This student went on to explain that this has helped her to report assaults, "When I received unwanted sexual harassment from construction workers I would film them, take note of the company or site they were working on and send the video to senior members of the company." This resulted in the student having two meetings with two different site managers, "they were both amazing and said they would take the situation seriously and conduct additional training".
'ALWAYS lock my car as soon as I get in and check my back seats'
This is a daily routine for most women who drive. We've all heard the horror stories of men trying to get in your car whilst filling up with petrol or stopping at the side of a road.
A group of women have organised a socially-distanced vigil on Saturday March 13th to argue that women have a right to feel safe on Britain's streets. The original vigil was set to take place in London at Clapham Common, however they are now being organised across the country, including in Cardiff.
Do men understand how we feel?
The Cardiff Tab spoke to one student who explained that her male flatmates don't realise how serious women must take their safety in everyday life. The student explained that she needed to go to the shop, but said to her male flatmate she'd go the next day as it was dark out. "He was confused and thought maybe I was afraid of the dark…he was really shocked".
Another student we spoke to explained that men and woman often have different boundaries on what is and isn't sexual assault. This student said that "If someone consents to sex on the basis that their partner will be wearing a condom and the guy takes it off during sex without their partner knowing, that's non consensual sex and is a violation. All the girls I've spoken to view it as assault, but guys have rarely understood the issue".
How else do women try to prevent sexual assault?
Our talks with many Cardiff students this week highlighted a huge list of prevention methods that women use to protect themselves. They include: walking with keys in your hand, swaggering to appear masculine, walking well-lit routes, pretending to be on the phone, only wearing one headphone, and sensible footwear. Students also explained they cross the road if a man is on the same side, not walking next to parked vans, and being as nice as possible when turning men down not to anger them.
One student told us, "I always memorise number plates and I memorise the roads I go down when I'm in a taxi". Another explaining, "I always carry around hairspray or spray deodrant".
It is important to note that our poll relied on answers from all students, not exclusively women, suggesting that 63 per cent had experienced sexual harassment. A study by @babedotnet showed that female students at Cardiff University were the second worst affected by groping on nights out in the country, with 95 per cent of those asked reporting they had been groped in a club.
It is both saddening and angering to know that people experience such high levels of sexual assault in Cardiff and the UK as a whole. Discussions such as these that have arisen due to such a tragic event that allowed us to spread awareness, educate individuals, and create support groups for those effected. We'd like to thank everyone who contributed to this discussion, it is talks like these that evoke change.
Cardiff University have a zero tolerance policy towards sexual harassment, and encourage victims to report incidents to @[email protected]
Feature Image: Geronmio Giqueaux/Unsplash
Related stories recommended by this writer:
• This is what happens when you report a sexual assault to Cardiff uni
• Boys tagging mates in confessions about sexual harassment is silencing victims
• Cardiff Uni refuses to let sexual assault victims appeal their perpetrators punishment