We spoke to one of the designers at Cardiff Fashion Week
She's the winner of ASOS & The Clothes Show Young Design award
We got the chance to speak to Kai Stewart, one of the designer showcasing her collection at Cardiff Fashion Week next week.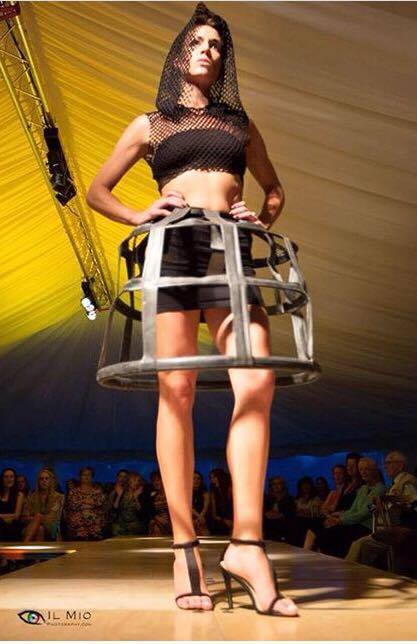 We asked her about her latest collection from her fashion line Jaxxon House and what it means to be working with ASOS.
What can we expect to see in your collection on the catwalk?
"My 'Renaissance' collection is perfect for weddings, the Races and special occasions.  My aim was to create designs that are dramatic, quirky yet feminine and using beautiful fabrics for an altogether striking collection!"
What does it mean to be ASOS and the Clothes Show Young Designer?
"The prize meant that I was able to take my brand 'Jaxxon House' to the Clothes Show and have my own stand (normal cost around £2,000), I was then also allowed to trade on Asos Marketplace for a year free of charge.  The competition was open to any Fashion Graduates who had started their own Label in the past three years and there was several stages to the competition which I had to complete."
How has winning it changed your career?
"Many doors have opened for me since I won the Asos and Clothes Show Live competition, I have since been sponsored to showcase at London Fashion Week and also been invited to show my work at New York and Paris Fashion Weeks."
What inspires the pieces you design?
"The collections that I have designed are all quite different, I have enjoyed trying out different styles from my Ready To Wear graduate collection, to my Summer '15 collection made from wetsuits, old bike wheels and recycled pieces and now to my Renaissance Collection which is elegant and feminine. I will use inspiration from many places although I am often drawn to old items, traditional styles, textures and up cycling often playing a key role."
What are your favorite autumn/winter trends at the moment?
"I love the 'underwear' for outerwear trend for Autumn Winter 2016 as seen on the catwalks of Versace and Alexander McQueen."
What kind of style did you have as a student?
"As a student my Tutor often commented I was the 'queen of texture' and that has definitely stayed with me until today."
What will uni students love about your collection?
"Everyone has such different styles and my collection will truly suit some people whereas others may hate it, but I would much rather these reactions than for it to be mediocre and forgettable.  Any students who love Vivienne Westwood may like the Renaissance Collection as I was inspired by her dramatic style when I was designing some of the pieces."
Any words of advice for current fashion students trying to make a name for themselves?
"My advice to any students is to just go for it, work hard and always stay true to yourself and your own style!"