Eight things we're going to miss most about Stack
Unfortunately, this week's sudden heatwave wasn't the only shock to our system. As you may have heard, our beloved Stack has announced they're closing their doors for the last time on Monday 2nd May after four memorable years of trading.
To say we're heartbroken would be an understatement, so let's relive some of the best mems of Stack before we say goodbye forever.
Match Days
Stack will no doubt be missed the most on match days. The big screen and open air experience was unrivalled and had the best game day vibes going.
Also a major rugby boy hub during the Six Nations. If you know, you know.
What we would give for one more year of Euro's on those wobbly benches.
Hadrian's Tipi
The unofficial marker of Christmas in the Toon. Hadrian's was unrivalled, a proper cosy little hideout offering everything a hardened Newcastle student would need on a cold, Christmassy eve.
We're talking hot cider and mulled wine, complete with fire pit and homage to Northumberland's very own Hadrian's Wall. Christmas 2022 won't be the same without Hadrian's.
Live Music
Some of the best Newcastle nights out were to be had in Stack. The live music element brought such a varied audience and often had us up dancing with the honorary members of Cramlington Working Mens Club and we loved it.
Hopefully, a new venue will step up to keep the live music scene bustling in Newcastle and follow in the footsteps of Stack. We can hope.
Independent Businesses
One of Stack's main strengths was the absolutely huge range of food and drink vendors.
What's that, you fancy pancakes from The Dispensary while jamming out to cover of Sweet Caroline? Say no more. An authentic Middlesborough parmo? Parmogeddon's got that checked off.
With Bao buns, bubble tea, burgers and bevs, you literally have all of your bases, and subsequently your cravings, covered. We love businesses supporting businesses and Stack was just that.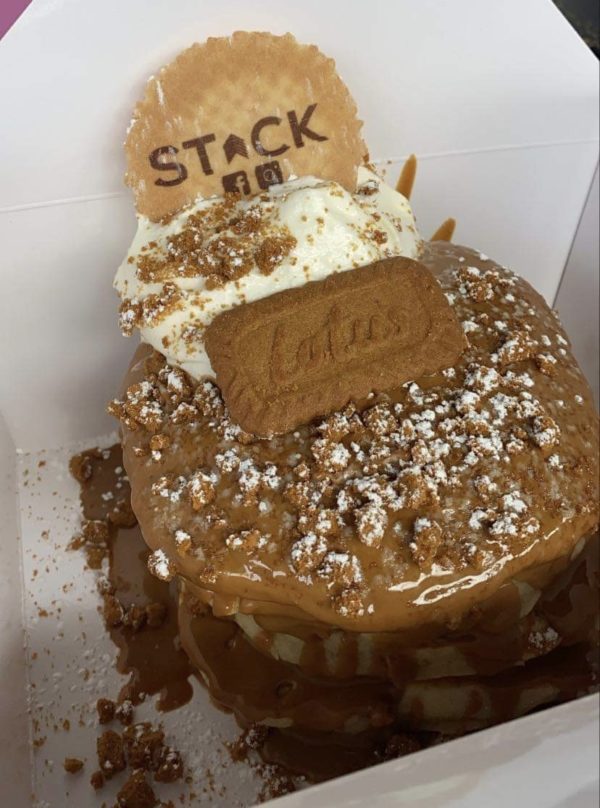 Sunny bank holidays
Stack was simply made for the bank holiday – with free entry and day drinking not only accepted but actively encouraged.
The music, vodka doubles and the sun beating down on us made for a top tier bank holiday combination – unbeatable, in fact. You made friends with the middle aged women one bench over when they asked to borrow your lighter and mocked the table of lads behind for supporting Sunderland. You all went home best mates anyway, with the same bank holiday blues. Viva la Stack bank holiday, a core memory of Newcastle we will hold forever.
Events
Any event worth celebrating would be celebrated here, most recently with the venue going all out for St Paddy's day. Providing props, drinks deals and unique themed bevs, if you could get into Stack, you were set for the day – and night.
One of the great things about the open air feature was never getting too warm – or too cold thanks to the abundance of gas heaters. Absolute 10/10 experience, will miss terribly.
Sunday quiz afternoon was yet another banging night we'll miss. As soon as those dabbers came out you knew you were staying for another pint or three.
Date Night
We've said it 100 times already but Stack catered for all. The perfect relaxed yet buzzy vibe for a first date where your acquaintance can't judge you for getting a waffle at 10pm. So good in fact that many of us endured Memecastle blind dates here.
Whether that's a good or bad memory, its defo one you'll remember. The lighting was low, the benches cosy and the alcohol plentiful. Your date defo knew you were laying it on thick when you chose to sit opposite the heater and proceeded to pine for their jacket or even better, lean in for their body heat.
If you've not done it yourself, you've defo watched someone try it.
The nights out
I think we're all going to struggle to find a place to replace Stack. It was the ideal destination for both casual drinks and your birthday night out. Everybody goes and anything goes.
The bubbly staff will be missed, the £7 Desperados not so much. Spotting your mates in the container toilets, thawing your hands under the warm tap in the winter months, fighting over who got to sit under the heater. You gave us the best four years, Stack.
As they say, don't be said because it's over. Smile because it happened. But we'll forever have a Stack sized hole in our hearts.
Want to write stories like this? Join the team, no experience required. DM us via @TheTabNewcastle on Instagram or The Tab Newcastle on Facebook.
Related stories recommended by this writer: