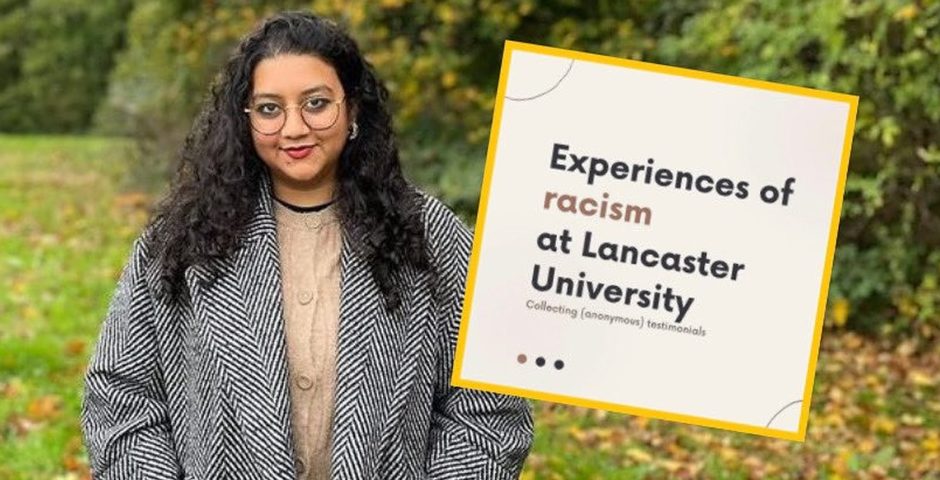 Fabiha Askari on gathering anonymous testimonials of racism at Lancaster University
'I want to ensure that students get the opportunity to feel heard'
In response to the news of a former Lancaster student experiencing racism at university, Fabiha Askari, Labour Councillor for the University and Scotforth Rural Ward Lancaster, has been gathering anonymous testimonials of students' experiences of racism at the university.
Through a Google Form, students can anonymously answer questions about their experience of racism.
The Tab Lancaster reached out to Fabiha to discuss the work she is doing, the aims of gathering these testimonials, and how Lancaster students can show support.
'My initial reaction was a mixture of shock and disappointment'
Fabiha began by saying that when she first found out how the university had handled Sa'ad's experience of racism on campus back in 2018, she felt "a mixture of shock and disappointment". She continued to discuss how while she continues to hear about and experience racism at Lancaster University, "it continues to be equally as heartbreaking every time another incident comes to light."
She said: "The fact that such an environment exists in Lancaster where people are able to do such things acts, in itself, as proof that they do not fear the consequences of their actions."
'The first thing they really need to do is listen to students'
When asked how the university can better handle, prevent and deal with racist incidents on campus, Fabhia said that there is a lot the university "can and must do" to prevent a similar instance from happening again. She said: "The first thing they really need to do is listen to students.
"Additionally, it is vital for them to overhaul the current reporting system they have which has proven to be inadequate time and time again. There is a lot more that the university and the SU must consider but it must stem from listening to students and responding to what they want."
'I want to ensure that students get the opportunity to feel heard'
Regarding the aims of gathering anonymous testimonials, Fabiha said: "I want to ensure that students get the opportunity to feel heard and to know that their experiences are being acknowledged.
"Secondly, after as many responses as possible have been collected, I will ensure that these are entirely anonymised and then collate them into a document which will be sent to the University management and the Students' Union."
Fabiha went onto say that gathering these experiences means that the university cannot then say they were "unaware" of these instances or that they were never reported. She also said: "Some responses coming through have shown that students did report incidents."
Fabiha told us that there is an open letter currently being written. She said: "This open letter will list short, medium and long term demands."
'Active anti-racism is not a linear process'
It is important for students to share their support during this time. To do this, Fabiha said that sharing the form and submitting experiences of racism, or witnessed instances of racism, is a great way to help. She said: " It can be difficult to admit that you have witnessed racism and did not speak up at the time, but I would urge anyone who is in that position to share their experience (even if this is anonymously)."
Fabiha went on to discuss how students should be having open conversations about racism. She said: "Active anti-racism is not a linear process and any active attempt of self-improvement and reflection is beyond appreciated. It would also be great for students to be open to having conversations regarding racism. This is not to say that you should force anyone to share their traumatic experiences when they are uncomfortable doing so, however, it is to say that you are open to listening and engaging in empathetic conversation."
"If you feel that you know someone you has experienced racism, please try your best to support and empower them to speak up. We must all work collectively to make change and must recognise how difficult and painful this process can be. However, I strongly believe that if we work together and confront both ourselves and institutional barriers at large, we will be able to make significant positive change!"
Lancaster University's comment
A Lancaster University spokesperson said: "The University is in contact with Fabiha Askari and we look forward to meeting with her in the very near future.
"Racism is real, unjust and entirely unacceptable and as such Lancaster University wants to be part of the solution. Like many other universities, we have proactively implemented a number of policies and initiatives to reflect our true community values and to support every single member of our university. However, if one person claims to have experienced racism on our campus then this is unacceptable and we will redouble our efforts in response. We offer our heartfelt apologies to anyone in that position and strongly encourage them to report incidents either through the Student Conduct Officer or anonymously via the Unisafe app,(available on the iLancaster App) or to the Police.
"Where incidents are reported to us we will act and, if we fall short in upholding our values, we will learn and improve. We aspire to be an inclusive community where all of our members are treated with dignity and respect. Anyone experiencing racism on campus will receive our full support.
"This week we have reviewed an extensive 2018 investigation into a number of complaints and counter-complaints within a student flat. The process of the current review has included ensuring allegations (relating to racist graffiti brought forward by a student during 2017/18) were considered and dealt with
"The 2018 investigation (progressed under the Bullying, Harassment and Sexual Misconduct and Disciplinary policies in force at that time) examined photographic and other evidence and took statements from a number of staff and students. Our records show that these processes were completed in full, a formal outcome letter was provided alongside an offer of wellbeing support and the opportunity to appeal.
"In addition, a number of new allegations about University staff actions have been made on social media. Any and all such accusations will be subject to a thorough investigation.
"But, as of today (26/1/22) we have not been able to find any evidence to suggest that the University required this student pay for damage to their door, pay for accommodation they did not use, discouraged them go to the police, or was requested to provide an apology.
"We have also contacted the former student, inviting them to engage directly with us so we can understand the full picture, gather evidence from them and take action, wherever necessary."
The Students' Union has been contacted for comment.
To fill out the anonymous form to share your experience, or witnessed experience, of racism, click here.
Related articles recommended by this writer: