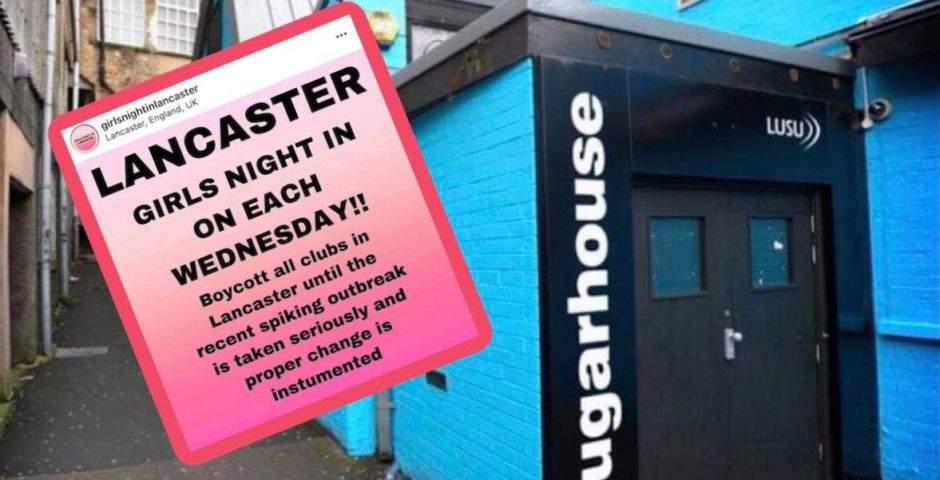 Lancaster clubs respond to boycott amid national rise in spiking
GLOW said that 'customer safety' is their 'number one priority'
| UPDATED
Several nightclubs in Lancaster have issued statements amid the national rise in reports of spiking.
Lancaster clubs, including The Sugarhouse, GLOW and Generation, have promised to tackle this issue using drinks testing kits, pub watch meetings, "stoptopps", and CCTV cameras.
On Instagram, a country-wide "Girls Night In" club boycott is taking place in many cities, including Nottingham, Bristol, Edinburgh, and Durham.
A petition has also been launched demanding it become a legal requirement for nightclubs to search guests on entry thoroughly. At the time of writing, the petition has surpassed 160,000 signatures and will therefore be considered for debate in Parliament.
Locally, every Wednesday, from October 27th, the Instagram account @girlsnightinlancaster are calling on students to boycott all clubs in Lancaster.
Those behind the Instagram account have started a further petition, this time demanding action be taken by Lancaster clubs specifically.
This is what Lancaster's clubs had to say:
The Sugarhouse
A Sugarhouse spokesperson said: "We are aware of this incident in Nottingham and will be briefing relevant staff to ensure they are aware of it as well. At the Sugarhouse, the safety of our customers is our highest priority, and if we need to review any of our extensive safety measures to take account of it, we will do so.
"The Sugarhouse takes student welfare seriously and is proud to lead the way on welfare, scoring Gold in Best Bar None in 2018 and 2019 and Platinum 100 per cent in 2020.
"We currently have several policies and procedures to counter spiking in our venue, and several things in place to help anyone who may feel unwell:
• We have a dedicated welfare room, fully stocked with first aid provisions, sofa, blankets and a coffee machine.
• We have a dedicated SIA licensed FGH Welfare Supervisor working every night we are open; they wear a purple hi-vis jacket and will help anyone who needs support – say hi next time you are here! They are fully first aid trained.
• We offer free spikeys, drink testing kits and will soon have 'stoptopps' which are foil covers for standard glasses.
• We have signage around the venue encouraging customers to look after their drinks and a warning that drink spiking will not be tolerated.
• We have extensive high-quality CCTV covering the full venue, including all bars.
• Staff are trained to collect unattended glasses and be alert to suspicious behaviour around the venue and bars.
• Door Supervisors will be alert for suspicious behaviour and are trained to look after customers who are unwell. The majority of our core team are First Aid trained as well as Managers.
• On busy nights, we run the 'Late Night Do it Right' stand outside the venue, offering a friendly face for a chat, free water and biscuits.
• We search all large bags on entry and perform random searches throughout the night; we are currently discussing what more we can do to ensure no weapons are brought into the venue.
• Should anyone be discovered to be spiking drinks with alcohol or drugs; they would be reported to the Police, barred from the venue for life and also reported to the Deanery at the University."
GLOW
A GLOW spokesperson said: "Customer safety is our number one priority, and as nightclub operators, we follow all safety guidelines, have regular team meetings with our staff, security & we speak to other nightclub operators around the UK on a weekly basis discussing all things nightclub related.
"We also host the monthly Lancaster pub watch meetings here at Glow. The pub watch is held monthly, which allows all venues, public health officers, police and licensing to get together and discuss any incidents, ideas or anything nightlife/hospitality related. Lancaster has one of the most successful pub watch schemes, with great numbers turning out each month, showing a true dedication to keeping Lancaster a safe place for a safe night out.
"I am a pub watch senior board member and have been since 2016 when I took over Glow Nightclub. Alongside the police, other board members and I meet privately after the pub watch meetings finish to go through any pending incidents or any growing concerns related to bars & nightclubs in Lancaster. At the next pub watch meeting, I will be discussing the spiking concerns in great detail with the local authorities and all other venues to see what we, as the nightlife of Lancaster City Centre, can do to make our customers feel safe when visiting our venues."
They went on to say: "I would also like to put on record that we have had zero confirmed cases of spiking in Glow since taking over the venue in 2016. Glow has never been contacted by the police, licensing or any local authorities with concerns about possible spikings in our venue.
"My team and I have regular staff training sessions on how to prevent drinks being spiked, how to deal with possible spiked drink situations and what to do if we suspect someone has been spiked. Our door supervisors are also trained in this department. We have over 30 HD cameras throughout the venue, which are monitored each night we trade by a member of our team whose job is to watch over the full venue keeping a close eye on any suspicious behaviour, customers who need assistance and just generally looking out for the safety of our customers. We also have the greater Manchester safeguarding officer visiting us on the 11th of November to provide a level 3 safeguarding training session to all of our staff, including management.
"We have safety guidance adverts on our in house screens such as Ask for Angela and other customer safety guidelines. We also have slides that advise customers on protecting themselves from being spiked and what to do if they suspect they have been spiked.
"As always, myself, my management team, door supervisors and every single member of our team are here to help each night we trade. We have a safe room available for any customers who need any help whatsoever. If they need a quiet place to sit down and drink some water, please reach out to a member of our team if they need first aid or five minutes away from crowded areas. "
Generation
A Generation spokesperson said: "We've already got stoppers in place. They go on any of the bottles we've got and are free for anyone to take. We do have to explain what they're actually for a lot of the time because quite a few people pick them up and ask. But since freshers' the uptake has actually been a lot better. People have been more aware of them and what they're for. So, they're in place in both bars and always have been.
"Toilet wise, we have implemented unisex toilets downstairs. We've always had free menstrual products for everybody, and last week we put up a sign that advertises help to people who might be in danger. These signs are only in the unisex and ladies toilets, but the help is available to everyone.
"We've started looking at our general service stuff as well since this week. Usually, everything comes in a glass that is open to interference once they actually leave the bar. But we've found a supplier that can give us toppers – a plastic lid that your straw goes into and holds centrally – so we're looking to implement them ASAP. The discussion went around the staff as to what we could do to improve things, and this was something that was brought up.
"With regards to the security on the door, everyone has always been trained to spot anyone unusual who might be carrying or behaving in an unusual manner. But we also have a random search policy that we put in place. We have a member of our team on the door who will perform random checks systematically throughout the night. That avoids any backlash because it's literally a random number — say seven — that's picked at the beginning of the night, and if you're the seventh person in the queue, you're getting searched.
"I've been working as a drag queen and in this industry for about 22 years, and it's something that has come about over and over again. It's not new. Even the needle spikes that are in the news this week, there was an issue with it many years ago in a lot of gay venues in London. I don't know how it was combatted or how they dealt with, but it's something that we're going to look into and see if there are any easy answers to the problem.
"We try and do as much as we can for the safety of our customers as possible. We would love it if more people of colour or women decided to become door staff because we do struggle. There is one female member of door staff in the company that we use, so to actually have more women come into the industry would help an awful lot.
"A lot of our customers would rather speak to my assistant manager, who's female, if they feel uncomfortable, rather than speak to another cis man. So we give people the option if they want to talk, at any point, who they deal with.
"But spiking is an issue across the board for all genders. It's something that does happen, and we try to stop it wherever possible. Our drug confiscation goes into a lockbox, and we hand that to the police. This way, the police can cross-reference our CCTV to see if there's an influx of issues at a certain time. This can then be pointed out to us by the police at our weekly pub watch meetings, which we're an active player in."
Girls Night In Lancaster
Girls Night In told the Lancaster Tab that they organised the boycott of Lancaster clubs because "women have had enough of feeling unsafe".
Concern was expressed surrounding the use of needles; they said: "Women must worry about how we are going to get safely to and back from the club, we must worry about protecting ourselves and our friends from getting spiked, we must worry about sexual harassment and assault and so much more. Women should not have to be scared for their safety at a place where they should be having fun.
https://www.instagram.com/p/CVNZ-KHhu6q/
"Sugarhouse offers free drinks testing kits; this is great as it allows women to feel safer. However, the news reports of this new spiking method are risking our safety and our health on a night out. Contaminated needles could expose the victims to HIV and Hepatitis with lifelong consequences. So, drinks testing kits aren't enough anymore.
"We need clubs to have obvious medical centres and a safe way to get home, drinks testing kits and drinks covers (where they aren't already provided) and increased security.
"Boycotting is the only way for clubs and the to hear us; we want there to be proper safety and prevention methods in place to stop this from happening and support of the victims of spiking."
Their statement concluded with a message of inclusivity; they said: "Although this campaign may appear to be centred around women. Anybody could be spiked, and it's important not to forget that. Make sure to know the signs and look out for your friends on a night out. We hope that you all stay safe."
Related stories recommended by this writer:
• 'I found out the next day in A&E': What it's like to be spiked at uni
• LUSU to bring back the Sugarbus as soon as possible 
• 'It literally saves lives': Students outraged that LUSU axe the Sugarbus