Meet 'Prof DJ' – the Lancs lecturer striking a chord with students
Does YOUR lecturer DJ? Thought not.
In these troubling times, everybody is missing some aspect of university life. Some may miss queuing up for Greggs in Alexandra Square; for others, they'll be missing nights out in Sugar. Most of us are missing the sight of the campus ducks, and lots of us are feeling pretty surprised that we're actually missing lectures?!
Lancaster prides itself on delivering high-quality teaching, and one such form of this is the lecturers employed here. But they're certainly not all the same. One unique lecturer is Professor of Political Economy, Chris May. He uses PowerPoint like most lecturers, and conducts research as usual.
"So what's the point of the interview, if he's just the same?" we hear you ask. Ah, we forgot to mention. He also trades under the name of "Prof DJ" – he's a part-time DJ here in Lancaster. With all that in mind, we decided to (virtually) sit down with Prof DJ and find out what makes him tick, what's good about teaching in Lancaster, and his new found love for Queen Bey.
What's the typical student response to your music?
"In general, I think it's so funny. About 30 per cent of people get it completely. Obviously it's a bit of fun, and sometimes it's linked to the lecture. Part of the reason I do it is to avoid the deathly silence when everyone walks in. Over half of people walk in and are probably thinking 'what the f*** is going on? Why's the lecturer playing pop music? What's happening?!' It's a bit of a curve ball for them – I quite like that! I think complacency can set in with uni students, especially in second year; anything that can disturb that is pleasant. Although it can be mystifying, I like that!"
How would you describe your teaching style?
"The first thing I wrote down was 'sweary!' To give it a dignified and reasonable word, I'd say 'dynamic.' Y'know, I move around a bit, I don't talk to notes. I structure the slides, but each time I give a lecture it's slightly different; they're broadly similar, but it's dynamic, and fluid. I'd like to think in seminars I'm inclusive and promote plurality. I'd like to think it's engaging, and student-focused, and flexible; it's not a rigid 'this is what we're doing, suck it up' approach."
Do you think it's important to have different teaching styles?
"Well, it's a really good question! I ran the Part I Politics module for four years, and one piece of feedback that always came back from students was the difference in delivery styles between the seven lecturers. There's always been an underlying thing that we should be trying to address that – but our view has been that in post-uni life people present things in widely varying ways. I think it's quite good for students to see a range. There's discursive styles like mine, to very static almost just sit-at-the-front-and-read-the-notes.
"I think students need to see that the difference isn't a difference in quality, it's a difference in approach! They aren't better or worse than one another, they're just different. When you leave uni you need to know that just because someone presents in a way that you're not used to doesn't mean that the contents should be ignored."
Favourite pre-lecture track?
"I'm gonna give two answers. One, I always use on the Open Days – Marvin Gaye's Inner City Blues but this year I used Samm Henshaw's Church a lot in lectures. This is a bit like Desert Island Discs! If you asked me next week then it'd be different!"
What is it about Beyoncé?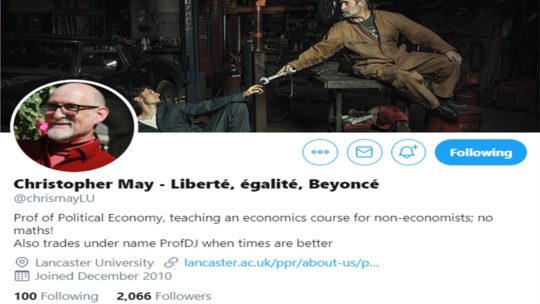 "My Twitter handle was actually a bit of graffiti in Florence! It's a restaurant in a repurposed prison building, and it's quite groovy and funky, and someone had just written that pun on the wall there!
"The reason I like her is that she's both a strong and positive woman, but she's in such an interesting relationship. Her relationship with Jay Z doesn't look easy! So many people probably would've knocked it on the head. He doesn't seem as good for her as he could be. As someone who's been married for 34 years, that's really interesting to me that she's stuck with it, and I think she's a really positive role model! Culturally, she does good music as well!"
What are the best and worst things about lecturing in Lancaster?
"I think the best thing about it is that I like performing; getting up in front of an audience and showing off! I like being able to exercise my prejudices. I always warn my students that they're not getting social science objectivity – they're getting what I actually think, and that works well as more of a prompt for them to think about things. That notion of enjoying talking about something, and engaging the students; engaging with young people, and I want them to respond!
"The worst thing is exactly the other way round. There's nothing more dispiriting than looking across the room and there are people who are completely disengaged. The worst thing is seeing someone sat at their desk and they're flicking through their phone; on Facebook or doing shopping. I get that not everyone is gonna be engaged, but it's more the pointlessness of wasting everybody's time. When people are talking, that's even worse, when they're yakking along!
"The reason I teach at uni is because you're all over 18. it's voluntary, and you want to be here. It's a joint project!"
What's your favourite Greggs product?
"The only thing I ever buy from Greggs – aside from the occasional sticky bun – is coffee. I only buy it in the summer, as well!"
What's your favourite College or JCR space?
"I'm actually a member of Fylde College, and I quite like the space, but it's a bit far from my office. I hang out in County quite a lot, and not just because that's where I'm based, but because in County Diner there's Hazel! Hazel is almost the only independent catering contractor at the university – she's always very kind to me, we get on very well. I like to support Hazel, and independent contractors. I think the university should do more to support local businesses!
"Fylde have done a really good job with their JCR though, I've done a gig there and it's worked really, really well – it's a nice space, well thought-out and it's a good scale. County is too boxy though, which is really weird!"
Are you worried about the impact that lockdown will have on Lancaster students?
"The university isn't entirely sure about what it's going to do. I did my first degree and an MA with the Open University, and I'm aware of what state-of-the-art online learning looks like. It's very resource-heavy, and it takes a lot of work. The idea that we can do this at Lancaster, in a way that's effective and value for money will be a significant challenge.
"It's not clear to me what the university wants to do with it. This will radically change the student experience; I can't run the sort of seminar that I ran this year if it's online. You cant have that back and forth the same, so you have to change the way it's provided."
Do you think that third term online learning from Lancaster is "value for money?"
"I think for Part II students, there's a reasonable argument that they have. Apart from the last week of Lent Term, you can pretty much make the argument that, until Easter, teaching was the same as it has always been. Coursework and exams in term three are being handled. I'm not saying it hasn't been disrupted, but I don't think Part II students have suffered from a serious degradation of their learning.
"Part I students definitely had a change. It was five weeks of very different student engagement, there was a significant fall off in our first year modules; we think in Politics we averaged out at about 50 per cent attendance. There is some argument for there having been some detrimental effect to first years; what the university's doing about it, I have no idea. It's well beyond my pay grade!"
Related stories recommended by this writer:
It is OUR turn, Roses should be in Lancaster for 2021
Why cancel culture should be cancelled in Lancs
I didn't sign up for an online degree, and I shouldn't be made to pay £9k to do one