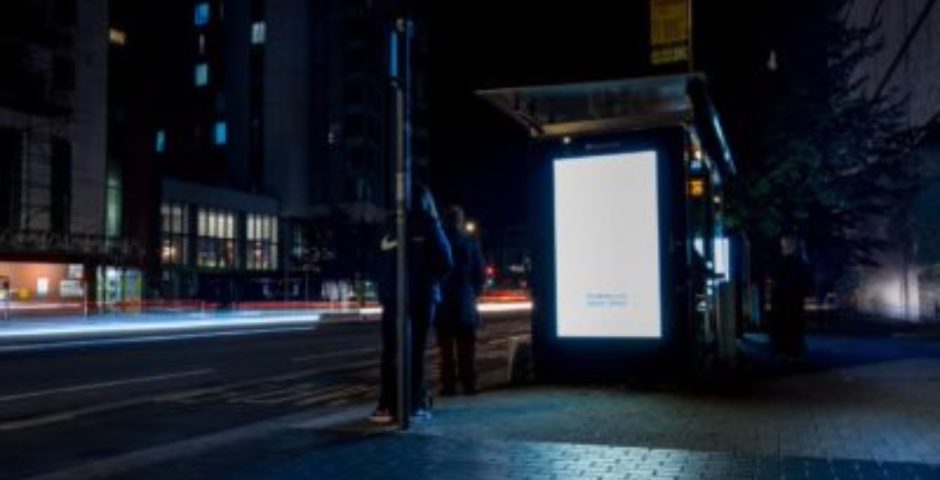 #FORASaferCardiff initiative lights up billboards for Freshers' fortnight
35 digital billboards will illuminate the capital providing refuge to help women feel safe
From September 20th until October 4th, 35 digital billboards will light up the city centre and surrounding student areas at night, including sites on City Road, North Road and Tresillion Way.
Business development service For Cardiff have initiated a new campaign to light up dark streets and help those who feel at risk in Cardiff.
The service is working in partnership with businesses across the city to provide safe places for women who feel intimated or unsafe on the streets.
The billboards will include a QR code which links to the Safe Places app, where those who feel vulnerable or scared can find the nearest designated "safe place."
Freshers' Fortnight will see an increase in young females who are walking the streets of Cardiff, with many being unfamiliar with the area.
The campaign will run through the duration of Freshers' Fortnight (20 September- 4 October).
The scheme comes after a recent report found that 80 per cent of women in the UK revealed they had been sexually harassed in public spaces.
Speaking to a Cardiff student, 21 (regarding the issue of sexual harassment and intimation among the streets of Cardiff), she explained that harassment is normalised: "regardless of what you wear or who you are with, catcalling is expected being a young woman and people need to be called out for it".
A recent Tab article also found that 63 per cent of Cardiff students have been sexually assaulted.
The initiative by FOR Cardiff has been welcomed by students across the city, including final year physiotherapy student at Cardiff University, Jemma Shand (22), who said: "During 2019 Freshers' Fortnight, one of my friends was walking alone on the way back to her halls of residence and got followed by a stranger.
"At one point, the person caught up with her and touched her inappropriately."
She added: "I hated walking by myself in Freshers' Fortnight, and I still don't like it two years on even though that person was arrested. Knowing that these billboards are there shining light on dark streets and have QR codes to find Safe Places makes me more confident when walking in Cardiff at night."
The Angel Hotel was one of the first to declare it would open its doors to anyone seeking safety following the murder of Sarah Everard in March 2021. Sarah Everard's death brought the issue of women's safety to the forefront, prompting the 'Reclaim These Streets' movement in March 2021.
The recent death of London school teacher Sabina Nessa, killed on her way home this September, has also triggered an outcry of anger and frustration among women that yet another woman has lost her life. Vigils are being held up and down the UK in her memory.
General Manager of the Angel Hotel in Cardiff, Richard Smith, said: "With the reopening of indoor hospitality, we have seen a lot of people come through our doors seeking refuge, with many being young women who feel at risk."
"Whether someone has run out of money and needs a safe ride home, or they're feeling vulnerable or unsafe in any way, we're here to help. Along with FOR Cardiff's Night Marshalls, the Safe Places initiative is something that will make Cardiff a safer place for all."
All Safe Places have been given sufficient training to ensure all staff members can manage difficult situations and provide the best assistance and care for those in need.
For Cardiff said: "Whether it's just to have a conversation, to call a friend, ask someone to call a cab, or even to dial 999 – these are places where a friendly face is guaranteed, and support will be always be provided."
The Safe Places initiative will continue to run beyond Fresher's Fortnight, and For Cardiff is encouraging businesses to collaborate with the scheme to create a network of Safe Places. Businesses can apply through the FOR A Safer Cardiff website.
Beyond the billboards around the city, registered Safe Places can be identified by a window sticker and are listed on the FOR A Safer Cardiff website.
Adrian Field, Executive Director of FOR Cardiff said: "Our ambition is to make Cardiff a city where women feel confident and welcome when walking through the capital, night or day.
"With Cardiff's businesses registering to be a Safe Place, we can do our bit to create a safer and more welcoming environment for all who live, work or visit Cardiff city centre."
He added: "We believe that Wales and its capital city has a responsibility to lead the way in creating a safer environment for women in the city."
To download the Safe Places app or to find out more click here.
Related articles recommended by this writer:
• 'It's painfully normalised': Cardiff students discuss experiences of sexual assault
• Two men have been seriously injured in a stabbing incident in Cardiff city centre 
• The man attacked in Bute Park last month has passed away due to injuries