Style Resolutions
Forget New Years Resolutions – think Style Resolutions…
Is 2013 the year you will finally sort your life out? Doubtful. I hope you're prepared for the Twitter bombardment of New Years resolutions – 'New Year New Me! #2013' (do people really still say that???) 'cant wait to get skinny in 2013' (okay so I may be a little guilty of the last one, don't judge).
After trawling the web for the most cliché, mundane and mainstream New Years resolutions for both the regular person and students, I've compiled a list and given them a fashionable twist to add a bit of excitement and style to the sheer banality of it all.
"I Will Work Out More"
Gym membership? Don't bother. We all know you'll go four times, eat a Dominos pizza, and never go back. Instead, spend your money injecting a bit of a sports vibe into your wardrobe and get some decent trainers. And no, not the functional kind. I'm talking about cool, bright, hi-top styles like the ones you saw on your favorite 90's shows as a kid.
"I Will Save Money"
Don't kid yourself – this will also never happen. Fortunately, American Apparel has made this dress with you in mind: twist and tie into different styles whenever you want an instant new dress. Avoid the bright colours though, unless you fancy looking like an 18 year old American girl on Spring break in 2005. Black is classy. Not very good with knots and twisting things? That's cool. There's even videos showing you how to do it.
Alternatively just opt for the classic LBD. Always a winner when you have nothing to wear and your housemates' clothes are 'in the wash' (you've been blacklisted from borrowing their clothes).
"I Will Have More Sex"
No. This is not an excuse to become the next big Taly Tramp. But it can be an excuse to treat yourself to some new lingerie. Who doesn't love a bit of satin and lace?
Boux Avenue always have beautiful sets to offer.
If you want to try something a bit different head to Sealed With a Loving Kiss, an independent store located in the Royal Arcade. http://www.sealedwithalovingkiss.co.uk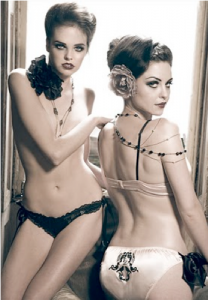 "I Will Study Hard" – geek chic glasses.
If you are actually verging on being blind, like myself, it's worth investing in some stylish glasses like these from the Gok Wan collection at Specsavers, or some classic Ray-Bans. Perfect vision? You can still pretend to be blind/ironically geeky/irritating hipster with these from New Look instead.
"I Will Get High More Often"
HEELS. Obviously. Missguided do some lovely affordable pairs. It hurts so much less falling down the stairs in Revs in a pair of Missguided heels than it does in your favourite Kurt Geiger's.
"I Will Stop Choosing Bed over Morning Lectures…"
Nope. That one's just never going to happen.