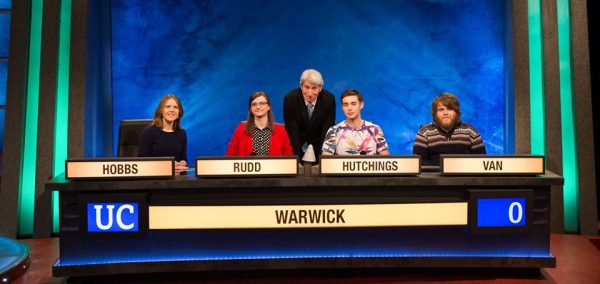 Warwick University Challenge student targeted online over her appearance
She received cruel comments about her gender
Following Warwick's University Challenge first quarter-final defeat this week, it emerged that team member Sophie Rudd has been maliciously targeted online again, over her gender.
Despite being hailed as one of the smartest contestants to appear on the show, Rudd has been attacked by Twitter trolls. They commented on the Computer Science student's appearance, rather than her intelligence.
Tweets included:
Gotta appreciate the Adams Apple on Sophie Rudd..but not the choice in blouse style..

— Dave Roberts (@TheDudleyDave) January 30, 2017
In other breaking, light entertainment news……I think 'Warwick – RUDD' is a dead ringer for Harry Potter in drag ? #UniversityChallenge

— Richard Crabb (@NorfolkTARDIS) January 30, 2017
However, this is not the first time that Rudd has been trolled over her appearance, with similar comments being made after her appearance on University Challenge in July 2016.
Many supported Rudd over the abuse that she was given, praising her on Twitter:
I am literally disgusted at some of the tweets about Sophie Rudd, she is beautiful, intelligent and makes Warwick proud #universitychallenge

— Charlotte (@charlottemcggg) January 31, 2017
Warwick might have lost heavily but Sophie Rudd's bopping to the pizzicato cheered up my night- go girl go! #UniversityChallenge

— Alex Drysdale (@LordSoupdragon) January 30, 2017
#universitychallenge wow! Hope my children are as smart as Rudd! Shame on all the people trolling her. Get a life! #spreadlove

— Bonita Bennett (@bonitafernan) January 30, 2017
Final-year student Varsha Patel said: "These comments are completely shameful, and the ignorance is overwhelming.
"She's obviously brilliant, and the fact that some people can only focus on her appearance, or dress-sense, is so backwards to me."