A guide to the coolest pubs Brighton has to offer
All so aesthetically pleasing
Brighton is known for its nightlife and clubs, but as a consequence, the pubs always get lost in the glory of the clubbing scene.
To solve this problem, we have compiled a collection of Brighton's best pubs so you don't have to.
Tempest Inn
This bar is beyond contemporary art deco, blow your mind. Right on the foot of the beach, this bar is the perfect location for summer, whether you want to enjoy the view of the beach through the giant windows or sit outside in the sun on the canopies.
The bar is known for its unique aesthetic of pink ocean washed caves, with booths cut into crystal stone creating a surreal under the ocean vibe. Each cave is lit with a dim ambient light, setting the perfect evening atmosphere for a quirky date or catch up with friends, definitely something you can only find in Brighton.
Every weekend this bar is open from 12pm-3am perfect for a weekend unwind.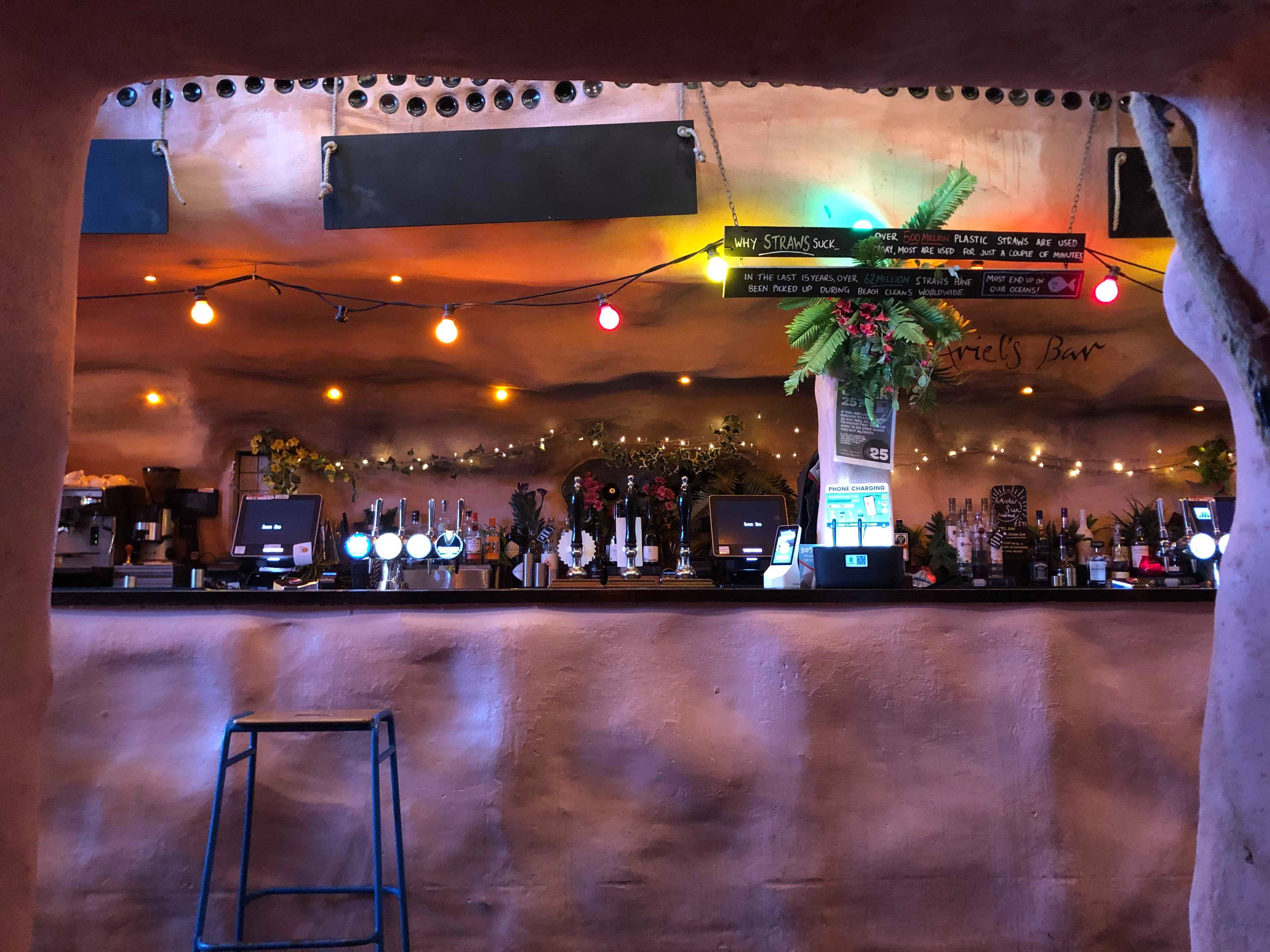 The Bees Mouth
This bar is super sweet like honey! This vibrant cozy venue is an adventure of neon lights, live jazz and beers. This is the bar to be for all you music lovers, packed with events of psychedelic jam nights, comedy open mics, live performances, cinema dystopia and many more interesting events. Jam nights are the perfect evening for everyone, full of friends and strangers creating beautiful music with everyone up and dancing, having pure, wholesome fun.
Medusa bar
Medusa bar is a super chill and cushy bar hidden away near western road. It has beautiful fairy light webs in trees all over the venue, setting a fairytale setting while you sit back and sip on beer listening to live music and open mic acts.
Come down on a Thursday from 9pm for the open mic, maybe after a drink or two you'll be up there, whether it's singing or poetry, all if welcome. The staff and crowds are super friendly and it's a lovely venue to mingle with friends new or old!
Mashtun
It is 'for the party people of the North Laine and beyond', which is the perfect description of Mash, as they deliver an alternative party/night out for those who can't hack clubbing. The bar turns to a chilled version of a club after around 10pm on the weekend, and they keep it real by steering away from the mainstream chart music that some people can't vibe to, dishing tracks from old Kanye to The Notorious B.I.G, something for everyone to groove to.
Upstairs is a laid back communal room where you can chill from the sesh and talk – and actually hear each other talk, something you cannot achieve in a club. On weekdays it's a great place to hang out and catch a bite, with a great burger menu to fill your burger desires, whether your sitting outside under the heated canopies or by the bar in the rustic decorum.
The Worlds End
This is where all the video game lovers will thrive. Downstairs mixes all the old school video games with Mario kart and sonic the hedgehog, creating a retro wonderland in the spacious rustic bar. Whether you're getting mega competitive with your mates or impressing a first date with your Mario kart skills, everyones guaranteed to have an amazing time.
The gaming doesn't stop there, upstairs is the legendary VR and arcade room, full to the brim with hours of fun on the 8 person giant scalextrics circuit, foosball, and loads of games.
In the arcade is also a bar so you can kick back with a drink through the maze of amusement. They offer a brilliant variety of craft beers to satisfy everyone's taste and a delicious menu of food whether its snacking on buffalo wings or going all out their heavenly range of burgers.
Dead Wax Social
Deadwax is an underground looking bar with a grungy vibe illuminated by red neon glow. The bar is best known for its music policy: Vinyl. Here they're keeping it real with over 5000 vinyls which you are welcome to browse through, or even bring your own to play while you and your buds kick it back with a pizza and beer.
Throughout the week the bar has great events for everyone including pub quizzes, acid box DJ Tuesdays and more every weekday. Every weekend at Deadwax a new DJ or event is thrown into the mix, including Tropicalia night; a night of African, Brazilian, Latin and Caribbean music to keep your booty grooving.
Know something? Send tips to [email protected]
Want to break stories like this? Join the team, no experience required. DM us via @thetabsussex on Instagram or The Tab Sussex on Facebook.