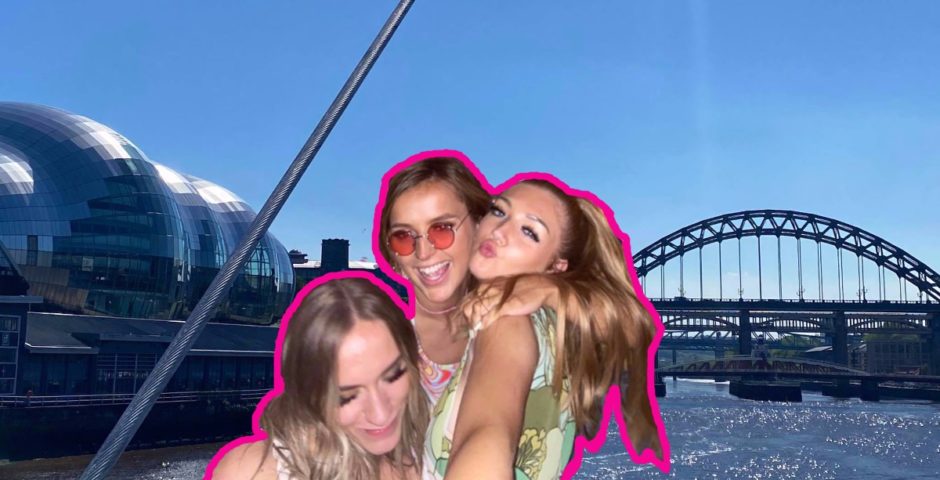 The A-Z of student life in Newcastle
From air forces to mullets, we've got uni life covered A-Z
As our new students settle into the first term, here at The Tab we've been busy collating a list of all the best things that Newcastle has to offer, for all our newbies on campus. From mullets to Munchies, and Poly vs Posh, we've got it all.
So, for all those searching to enjoy Newcastle's delicacies and finer attractions the North East has to showcase, this one's for you. So delve in, and discover the A-Z of Newcastle.
A
Angel of the North – Starting with our favourite tourist spot on the A1, the beautiful Angel of the North. The real queen of the Toon, one of Newcastle's must see sights.
However, we couldn't do the letter A without a cheeky mention for every student's beloved beat up Air Force 1s.
B
Bigg Market – Home to Bigg Market Chippy, Popworld, Filthy's and Bier Keller. You can be sure to catch every man and his dog out on a mid-week bender at this student hotspot.
C
Castle Leazes – Whether it's the accommodation or the group chat, it's the mother of all students.The home of every student's want or need. Lost your ID in the club? Castle Leazes. Looking to find who beaned your house? Castle Leazes. In search of new flatmates after falling out with yours? Castle Leazes.
D
Daddy's Trust Fund – We all know a Tilly or Minty with one of these.
Rah where's my baccy? Just who is funding that baccy addiction Tarquin?
E
Electric scooter – Jesmond's latest transport craze, get yourself on campus in no time with these little orange eco-warriors.
F
Flares – Whether it be the trousers or the club, we're down for Flares whenever, wherever here in the Toon.
G
Grainger Market – Head here for fresh fruit and veg whilst supporting local and independent businesses at the Monday market.
H
Holy Hobo – Jesmond's favourite boogie spot, home of the Wednesday social nights and Sunday roast.
The perfect place for a night out without the stress of getting to town, you can hit the dance floor and be home within ten minutes with this little Jesmond gem.
I
Instagram – Whilst we're here and I couldn't think of an I, go follow our Instagram for promotion purposes @thetabnewcastle
J
Jesmond – The place to be if you're a student, this is the holy grail of student living.
The very best of student living, Jesmond has it all. The bars, the Tesco, the Greggs, and the home of every person you've ever matched on Tinder. There is no student neighbourhood as iconic as ours.
K
Kandi Island – Monday nights out at the 11th best nightclub in Europe, Digital. Head down to this fresher hotspot for at the start of the week for their Kandi event after pres in Dog and Parrot.
L
Lonsdale – The home of the quiz night. Bringing Jesmond students together like never before to test general knowledge on everything from monopoly boards to Oasis's greatest hits.
Grab your university challenge team and head to Lonsdale's Thursday and Sunday evenings for a chance to win some well earned wonga – £100 to be exact.
M
Mullet – If you're not sporting this haircut around Jesmond, are you even a student? The final step to becoming a rah.
Munchies – Home of the best night out takeaway Newcastle can offer.
Here's to cheap chicken and chips at 2am absolutely steaming from a session in Soho. Nothing compares to making mates in munchies and meeting the love of your life over chips and gravy. We love you Munchies.
N
North Face Coat – Have you got your hands on one of these bad boys, the staple piece of Jesmond? Was it really worth the £200 from your student loan? Yes, absolutely yes, wouldn't be seen dead in Jesmond without it.
O
Osborne Road – Behold Newcastle's version of Magaluf's strip. Where else could you find cheap bevs, boys and banter less than a five minute walk from your house?
The home of boozy nights out with £2 Tuesdays, Blanc, Jam Jar, Spy and plenty of other social hotspots to fill ya boots.
P
Poly vs Posh – Northumbria and Newcastle. The rivalry is real between these two but we love you all.
Q
Quayside – The perfect location to spend some time alone. Check out the Sunday Market for all the local foods and supporting local businesses or hit The Baltic to experience the best of Newcastle's culture.
R
Rahs – Wouldn't be Newcastle without them – that's all there is to say.
S
Soho – Soho, Shaker, Swingers, Sinners. The clubs to suit every student's signature night out.
T
Trebs – Three trebs and a Jager anyone? Need we say more?
In what other city can you find this elite combo for less than a tenner. Proper canny like.
U
Unidays – We're all poor in this together, where else would rinse my student loan like PLT?
V
Vintage clothing – Charity shopping made hot. Newcastle University's fashion of the 21st century, as weird and wonderful as it may be.
W
Wednesday night socials – Nothing screams student more than a wild Wednesday night social, wacky themes and weird behaviour with every society you can think of.
X
Xhbition Park – Only a little bit of cheating with this one, check out this beaut park for a wind down with your pals, perfect for a breather during exam season.
Y
Y Aye – The Geordie slang that every southerner will be sure to say in no time. Pet, scran, tea for dinner, howay man, radgie, workyticket, mortal, paggered, the list goes on…
Z
Zoom – Ending on a gooden – one we're happy to leave in the past! Here's to in person classes and finally being back together
Want to write stories like this? Join the team, no experience required. DM us via @TheTabNewcastle on Instagram or The Tab Newcastle on Facebook.
Related stories recommended by this writer: