It's time to vote once and for all for the best club in Newcastle
This is definitely the most important decision you'll ever make
| UPDATED
You can't think of Newcastle without thinking of it's iconic clubs. You're not really a Newcastle student if you aren't drawn to trebs deals, the neon lights in Market Shaker and getting lost in Grey's Club or Digi. Join all that with a pair of your favourite flares, and you're good to go! A night out in Newcastle is what dreams are made of, and we're sure at this time, you're all dreaming of a proper boogie. The things we'd all do for a treb right now…
As we're all reminiscing about the good times this year, it's time to settle a debate, and decide which club is the God of all clubs in the Toon.
Soho
Soho, the club you can always count on. Every night, someone will always ask, "Soho?", and you'll all go even if you don't fancy it, because you know Soho will be there for you and you'll end up having a mint night. It provides the tunes, free entry and the cheap drinks and the trebs are unbeatable. The Soho community shines through – are we right?
Tup Tup
Hands down, the best place to get dressed up and twerk your heart out. If you're looking for a fancier night out, then Tup Tup is the obvious choice, a boujee outfit never goes a miss.
Digi
Digi is the staple club of Freshers' Year. Every Monday night, you've got to go otherwise you'll get FOMO, and you always look forward to your night there. Come second year, most of you will be done with Digi, leaving it to the freshers, unless there's a banging event on. One of your mates will always want to go back, and will pressure you to go with them. You'll always enjoy a night there, even if it's just you, your mates and 18 year olds.
Market Shaker
Free entry, prosecco on tap and three trebs for £7, count me in. Taking a pic with Market Shaker's iconic neon lights, a staple for every Newcastle girl's Instagram, is a must. Have you really been to Market Shaker if you haven't supported your local girl gang? Really? No one can say no to a night in Market Shaker, be it just a pre-club or as the whole night, as it's a place that you're always guaranteed to dance the night away to great tune after great tune.
House of Smith
Although a bit on the pricey side, a night at House of Smith always is a classy one. With the option of three clubs in one, there's something for everyone, all your mates will be happy with a night here. The downside of three clubs in one? Deffo not one for you if you like to go on an adventure during the night, because finding your pals after will be a mission and a half.
Holy Hobo
A club… in Jesmond… PERFECT. Holy Hobo is the epitome of no freshers allowed. You end up here every time you go for a couple of £2 pints at Blanc on a Tuesday, without fail. It's a classy establishment with banging cocktails and there is literally never a bad night here. They also serve unreal food during the day and are just all around killing the game. A strong strong addition to the Newcastle nightlife scene.
Flares
Flares is the go-to if you're in the mood for a boogie to the cheesiest tunes you can imagine. Flares is the one if you want to feel like you're 15 again at a house party, complete with the WKD and the decor which is so extra. The pole is a fan favourite though and is 100 per cent going to be where you end up after a few too many jagerbombs… and then straight to the photo-booth to take those pics which you think are so cute at the time, but just aren't.
World HQ
Home of SoulJam, World HQ has so much to offer. Every night is a different type of music, so there's something for everyone. Plus, did I mention, SoulJam? It's definitely a friendly club, you're bound to make at least three new friends every time you go there so what's not to love!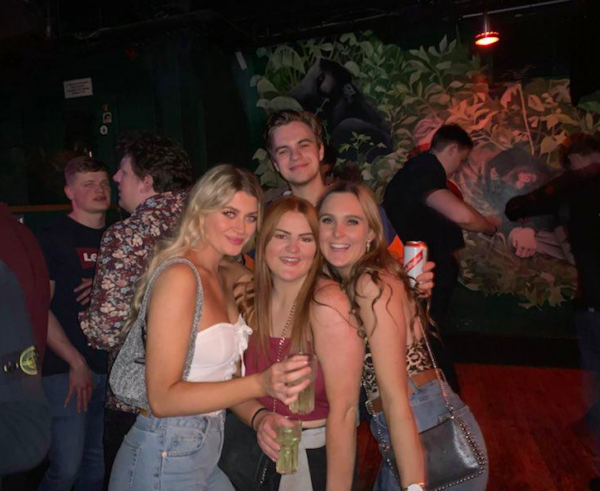 Bijoux
Trebs, Trebs, Trebs… do we have to say more? Known for their Geordie Shore vibe, and great tunes, if you're a true Northener you'll fit right in here. If you're feeling extra fancy, booking a booth is a a great shout, what could be better than a bit of space for you and your pals for a very decent price!
Greenhouse Disco Gardens
Land of the £2 treb. The new bar on the block this year which quickly became the home of the Wednesday sports night! Fun and cheap student deals during the week and a more boujee Avalon on a Saturday, giving you an excuse to get dressed up and have some cocktails. Greenhouse has the best of both worlds. Plus, stunning floral decor and an undercover smoking area – heavenly.
Greys

If you're one of the elite few who understands the layout of Grey's club then you've obviously been countless times, so it's fair to assume that you love the club. Can I blame you? With Oops, Block Party and Swingers all being in Greys, how can any club come close to competing with this standard?
MSA
MSA is the place to be for a great night, when have you ever had a bad time in MSA? Their special nights like LOCO really tip it over the edge though, it really is the one. You'll always bump into your pals too as it's so popular but small, making it the perfect place to go if one of your friends is prone to disappearing on a night out.
The Cut
If you're looking for a chill night with some cheesy throwback tunes, The Cut is always a go to. You probably go there buzzing to hear your childhood favourites, and they never disappoint. The Cut is a solid choice for a night out, and it's hard to say no when someone suggests it.
Sinners
Could the cage get anymore iconic? The entire point of a night at Sinners is to dance your heart out in the cage with your best mates, and to look down on those who aren't in the cage. The cherry on top? Free entry, so you can spend those extra pounds on a couple more drinks. A night in Sinners is the perfect recipe for a cheap, yet very drunk, night out.
Cast your vote now to avoid the wrong club winning. There can only be one.
Photo credit: Jake Morton (Off The Record)