Your 2017 festive Newcastle bucket list
'Tis the season to be Geordie
Having lived here all my life, I can definitely say that Christmas in Newcastle is magical. The North East LOVES Christmas and there are so many traditions that help make it 'the most wonderful time of the year'. Here's how you can make the most of the festive season whilst at university in Newcastle:
Hadrian's Tipi
Instagram-worthy and a favourite amongst locals and students alike. In previous years, the Tipi has been pitched next to Central Station, however for 2017 it is located on Pilgrim Street, only a short walk from campus! Definitely no excuse not to head down after lectures and check out the unicorn hot chocolates, or lively bar serving craft beers.
The carol service in Jesmond
Reminiscent of schooldays, the carol service is a perfect place to release all that Christmas energy in your soul. Whilst banging out some corkers such as Hark the Herald Angels, you can relieve some of that assignment stress. Plus, you can get some mulled wine in the church after.
Christmas drinks
If you want to feel all festive in the cold climate of the Toon, there are many hot Christmas drinks available. Bar Blanc in Jesmond serve mulled wine and cider – YUM. Plus if you want to try something extra special, Pleased To Meet You and Billabong are offering Hot Gin with Sipsmith London Dry Gin or Sloe Gin. These will get you feeling the Christmas spirit.
Christmas dinners
For first years in Castle Leazes, the annual Christmas dinner in the dining hall is always a crowd favourite. Paper hats and profiteroles all round.
For students out of halls (providing you haven't fallen out too much about who's lost the remote or left the heating on too long) there's the obligatory house Christmas dinner. Complete with a festive-themed photo shoot in the living room for those cute university mems.
Ice skating at the Centre for Life
Every year the ice rink returns to the courtyard that's home to the Centre For Life and Digital. With your student card, an hour is £8 and it's worth it to watch that one friend who thinks he's a proper legend fall over time and time again.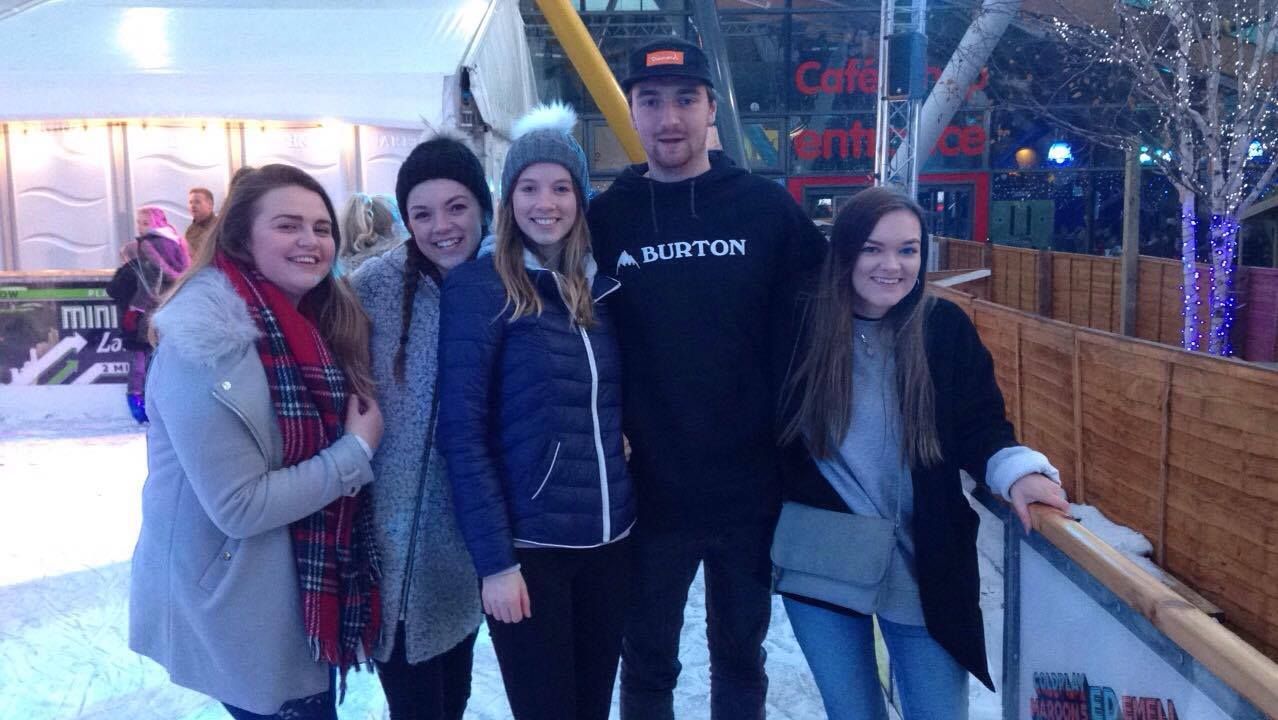 The Metro Centre
For all your present-shopping needs! Escape Northumberland Street and take a trip to the glorious Metro Centre, only a quick train/bus trip from campus. Theres a HUGE range of shops (there's a Zara, need I say more?) that you might not find in the town centre and well as over 60 food outlets.
Nights out on the Toon
Of course, Newcastle night life is as extra as ever over christmas. Many of the cocktail bars on Grey Street and the Quayside have already launched their festive drink menus, and look out for nightclubs like Flares which always have a Christmas cheesy tunes themed night before the semester's over. On the 4th of December there's even a Christmas jumper themed night in Tup Tup. With deadlines and January exams looming over the break, it would be rude not to enjoy one last night out with all your uni pals before heading home to see dear old ma and pa.
Greggs Festive Bake
The first sign that christmas has arrived in the north. Pastry filled with chicken breast, stuffing, bacon and cranberry. What more could a hungry, cold student want?
The Christmas Market
The Christmas market, located around Monument, is a hive of food and present stalls. Try unusual Ostrich or Kangaroo burgers or warm Churros with chocolate sauce and wash it down with some mulled wine. Play the 'who can find the ugliest outfit' game whilst looking at the clothes stalls for some real festive fun.
The Fenwick's Window Display
Every year, Fenwick Department store create a unique window display. Even the most sceptical accusers of it being "just a window" like to have a cheeky look as they pass it by. One of the most well-known Christmas traditions in the Toon and worth standing in the cold for, It has a different theme every year. For 2017 it's an adorable Paddington Bear story. For a free dose of Christmas cheer, head to Northumberland street for a peek.
Photo credit: Chris Grey photography – Soho Rooms