The good, the bad and the ugly: The Leeds Tab rates your Christmas dinners
Some of us need a cooking lesson, while others should get themselves on Masterchef
It's that time of year, you're sat at home (or isolating in Leeds, if you're one of the unlucky ones) bored out of your mind, waiting until you see an amazing Christmas dinner piled in front of your eyes.
Well, The Tab Leeds asked you to send in your photographs of Christmas dinners, so we thought we'd spread a bit of Christmas cheer and rate them for you!
Lizzy 9/10
Turkey is hiding and so is the amount of gravy, but the pigs in blankets look delicious and so do the roasties. The Yorkshire definitely isn't Aunt Bessies, we approve.
Caitlin 5/10
While we really rate the fact you've got not one but two Yorkshire puddings, the veg needs some work. The boiled broccoli looks overcooked and whose idea was it to put sweetcorn in a roast dinner?! Also, the question on everyone's minds is – where's the gravy?
Molly 6/10
Do I even need to ask, where is the gravy? Also the Yorkies, are they Aunt Bessies? Can't we push the boat out for Christmas. Carrots look borderline incinerated. Everything else looks delicious though. Why on earth has sweetcorn featured again?!
Cat 8/10
Is this a Christmas dinner from your nan's care home, or are you a uni student? Because why on earth is there red cabbage on that plate? The piece of broccoli seems lonely and out of place, but I do love the addition of parsnips. Plus, that Yorkshire looks Carvery-esque, so it's a healthy 8/10 for this one. We're going to assume you're a vegetarian because we can't identify any turkey or pigs in blankets?
Nakkita 4/10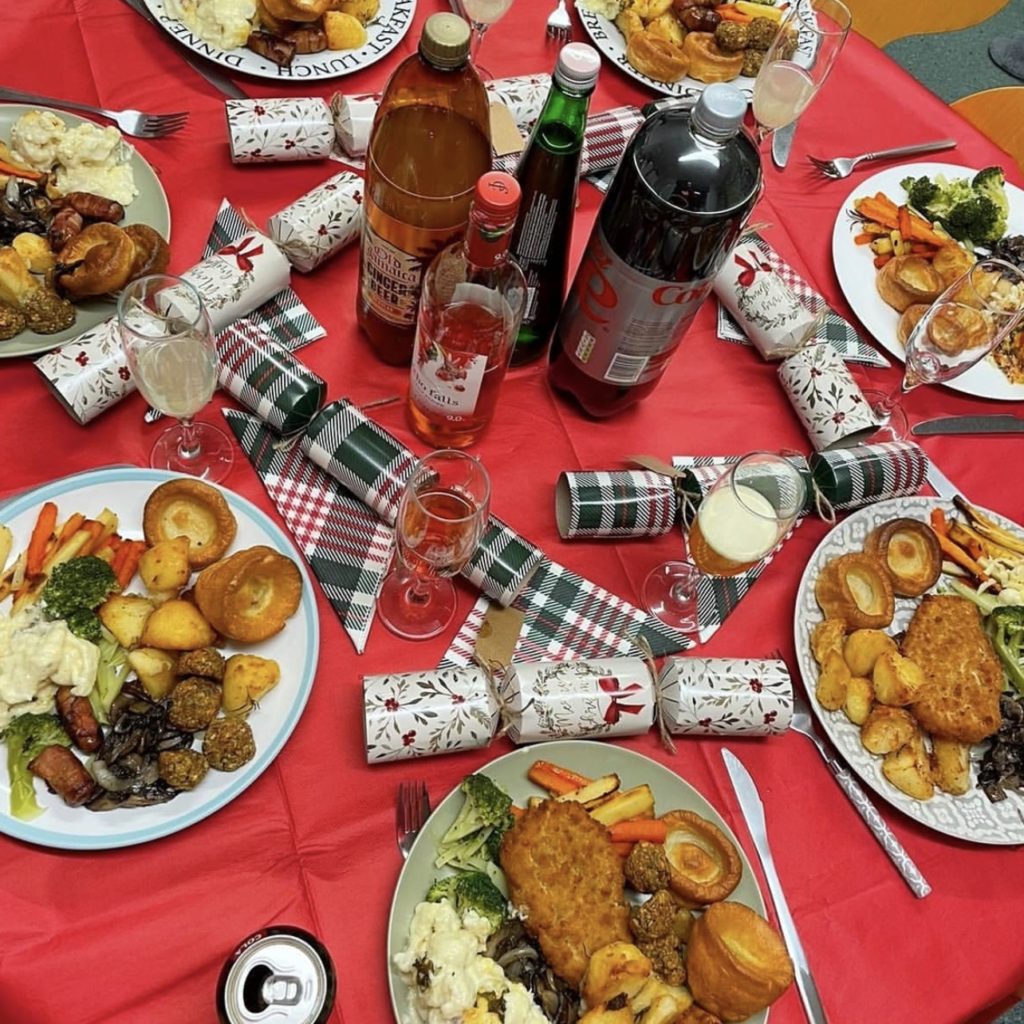 I was about to mention the blatant lack of gravy, but then I saw it, glaring at me from the middle of your plates. THE BREADED FILLET. The only thing crispy on your xmas plate should be those potatoes. Plus, is that a beer in a Prosecco glass? I feel like this is one of those images where the longer you look at it, the worse it gets. Extra points for being the only house so far to have a table cloth, though.
Ellie 6/10
Ellie, I feel a bit sad for you. From this image, I get the vibe that you've scraped this together to eat all by yourself. However, your potatoes do look nice and crispy, I love the way the carrots are cut and whilst I'd like to see a bit more gravy on that plate, I have to appreciate the effort that goes into making a roast for one.
Emily 8/10
This absolute monster of a roast (which could do with some presentation work) has been slain by the fact that there's mash on that plate. But, apart from that, this is absolute culinary excellence. The homemade pigs in blankets, the fact you've actually used cranberry sauce – this image makes me feel like it's snowing outside and I've just sat down in a small town's local carvery to warm up with a hearty roast, and this is the beauty they've served up. Life is good.
Paris 8/10
Whilst the healthy amount of gravy and cauliflower cheese makes this a winner for me, I'm a bit concerned about this plate's construction. The cabbage is a poor attempt at decoration, sitting atop the pile like a bow half-heartedly slapped on an Amazon Prime box that your dad couldn't be bothered to wrap properly. I'm all for culinary creativity, but if you mash this plate together anymore you'll have yourself a Christmas soup.
Megan 7/10
I'm praying that the pink meat is because of cranberry sauce, and not because your turkey is about to come back to life. Once again, big fan of the homemade pigs in blankets, but why is your stuffing social distancing?
Hâf 6/10
GRAVY IS NOT A DECORATIVE TOOL, HÂF. Let me grab a sip of water because I'm dehydrated at the thought of that lone potato on the edge of your plate. I don't know if it's just from your phone flash but that pink tinge on your turkey is making my stomach lurch. Please drop us a dm and let us know if you got food poisoning after this.
Eve 6.5/10
Gorgeous gorgeous girls smother their food in gravy… gorgeous gorgeous girls who ignore their broccoli must be crazy. I would talk more about what's on your plate, but I actually can't tell what's there. Hope you enjoyed your nondescript chunks of brown something or other?
Jess 9/10
Any plate with cauliflower cheese is a work of art to me. This is a gorgeous Christmas dinner. Your gravy is perfect consistency but would be even better if it didn't neglect your stuffing and broccoli. But, Jess, I'm really concerned about the lack of knife and fork in this image. Surely it should be on your decorative table mat? Did you plan on eating this with your bare hands?
Molly 6/10
The Yorkshire is at the centre of this place, where it deserves to be. However, where are your greens? The only identifiable vegetable here is carrots – have not heard of scurvy? Your mother would be unimpressed.
Em 7/10
This plate has EVERYTHING. The carrots are cut in the best way and the parsnips look tasty. The gravy looks a tad runny for my liking, but I would still eat if you saved me a plate. Can't lie the cauliflower cheese looks like someone's thrown up on your plate, and did someone step in dog shit and then on your brussels?
George 5/10
The gravy looks a questionable consistency and is that a Yorkshire pudding in the top left corner or a soggy potato? The main question here is – why beef and not turkey or chicken? We're confused. Also, don't be the grinch, you need at least two pigs in blankets on your plate.
Eden 7.5/10
Plenty of potatoes on this plate and the organisation is impeccable. The pigs in blankets look slightly nuked and rather small. However, the turkey looks tender. Seems like half of the plate is from Tesco Freezer with the frozen peas and the Aunt Bessie's potatoes. Bonus points for the stuffing wall.
Ollie 6/10
First thoughts – DRY. The turkey looks like its been sat on the beach in Benidorm for as long as Madge. The potatoes look great, but are they Aunt Bessie's? However, what on earth is at the top of the plate. Can anyone identify that pale specimen? An attempt at mash or stuffing or chunder from an Otley Run?
Anna 4/10
Could someone please locate the turkey? It seems to have ran off the plate back to the farm. I was going to assume it was a vegetarian plate but there's pigs in blankets so I'm incredibly confused. If it had turkey, it'd be on for full marks, however the essentials ingredient has gone for a stroll, tanking the score.
Meryl 4/10
Those Yorkshires look DIVINE, but why are they hidden by two hideously overcooked sausages. Where are the greens? This plate looks like the Savanna Sunset Phillips Hue scene that I've got on in my living room right now. And it makes sense because where is the GRAVY?
Ollie 5/10
The green tinged turkey looks diseased and the stuffing is definitely undercooked. Where's the gravy? And is that cauliflower cheese or mac and cheese? Healthy portion of veg, your mother would be proud. However, I spy frozen (or worse, tinned) carrots.
Joe 5/10
Did that Yorkshire pudding set off your fire alarm? Maybe that's why the colour of your gravy looks similar to that of urine. We're confused at the bone at top left of the plate… could someone not wait until dinner was served? However, we appreciate the homemade effort on this plate.
Ell 7/10
I don't really know what to say about this one. It looks good, but it also looks like there's nothing on the plate either. Why do you only have a tiny bit of turkey and what on earth is that portion of stuffing? Also, who has GREEN BEANS on a Christmas dinner? Gravy saves the day but I also think you're being a bit harsh with the serving of Gravy Granules as it looks more like brown water.
Niall 6/10
A commendable effort here Niall. I love the gravy-boat-Yorkshire-pudding but I do hope you poured more all over the plate since it has to be an all-over job instead of a dip and dunk job. Is that mashed potato in the bottom left? The turkey looks a tad dry but with the state of the ovens in Hyde Park, I'm not surprised. Pigs in blankets look a bit unevenly cooked and what is that in the top right – stuffing? I hope not.
Bella 6/10
Turkey looks a bit unloved (like me on Christmas Day), and spread out socially distanced the same way Bojo was at his 'meeting' with Carrie and his pals last May. Roasties look crispy and the pigs in blankets look yummy. Bit more gravy and it would be a top contender. The Yorkshires look banging so please send a couple my way.
Dylan 9/10
Wow. I think this could be my favourite so far. The stuffing looks ample in portion, the turkey looks moist and my mum said she's enjoying the ambience of the candles and approves of the drinks. Not sure what happened to the pig that lost its blanket? Please let us know, we are genuinely concerned. Roasties could be a little more crisp but if my mum served me this on Xmas day I'd be very happy. "Extra points for the chilled beer in the background" – my mum.
Flora 5/10
"Ohhh no" – my mother. What is that "insipid gravy," has someone vomited over the plate? The only saving grace is the pig in blanket – looks quality. Is it a shop one? What on earth is that Yorkshire pudding, looks like a burnt scone. Roasties look banging and the one lone brussel is all you need.
Related stories:
• Three Leeds-based artists you should know about
• The Leeds Tab is on the lookout for your Christmas dinners