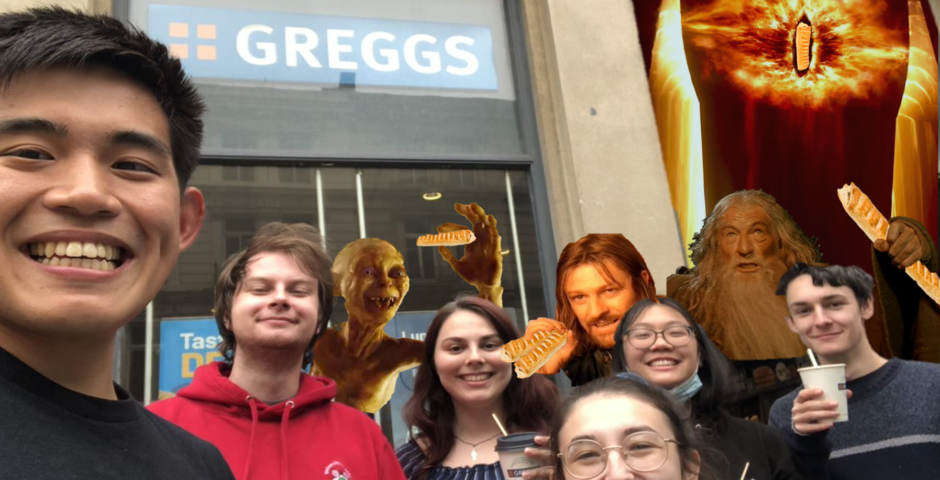 The Lord of the Pies: A Leeds guide to the Greggly Run
Forget the Otley Run, this is the true test of Northern prowess
The Greggly Run – like the Otley Run but instead of becoming very intoxicated you become very full. On the route there are 12 Greggs to visit.
Six adventurers and I took part, with 12 sausage rolls lined up waiting for us, and a probable trip to LGI at the end.
About the Greggly Run:
The Greggly Run has achieved semi-mythical status for the pasty-o-philes amongst us. At an average of 7.22 GSK (Greggs per Square Kilometre), Central Leeds is undoubtedly the pasty capital of Yorkshire, if not the nation.
The Greggly Run consists of visiting 12 Greggs, consuming roughly 4000 calories and definitely landing at least one probable trip to A&E: this challenge is not for the faint of heart. Many have embarked on this sacred pilgrimage, few have returned to tell the tale and those that did return were not the same again.
The terms are simple: one item of food or drink per stop, drinks and vegan alternatives are acceptable, fruit and crisps are not. There is no upper time limit, though from experience the sausage rolls are decidedly lukewarm by about 3pm (and probably starting to "oink" again).
The Quest:
And so, on one beautiful autumn morn, six brave young adventurers embarked on this mighty quest. We had conditioned our bodies well for this marathon, having skipped the obligatory Post-Fruity Flames the night before.
As such, we were absolutely famished and slightly hungover as we tucked into a hearty steak bake and black coffee at the Merrion Centre (2/12).
Following this was a glorious second breakfast down Woodhouse Lane, and elevenses just around the corner (4/12). Like ordering the expensive drinks early whilst you can still taste, so too did we savour this moment of satiation before the grim slog to follow.
The Breaking of the Fellowship
It soon became apparent – both physically and financially– that a tactical shift from pasties to sausage rolls was needed.
The nervous feeling in our stomachs was quickly filled, then crushed, by the enormous weight of our quest – and all the MSG's. The early excitement ebbed away, and in its place came fear, then regret.
Outside the LGI (5/12), there were arguments and tempers boiled – there was even talk of skipping some of the Greggs. Blasphemous… how dare they suggest such a cowardly act?
The fellowship was breaking; the pastry was corrupting the weak of mind.
The Three-headed Beast
Nonetheless, we made our way onto the Headrow, then down to Victoria Street (7/12) where, as several members of the fellowship slipped in and out of food comas, we took an hour's lunch break.
The mood was sombre now, smiles faded and eyes sagging, each step further from home felt heavier than the last.
It was becoming clear that, as we consumed on this quest, the quest was consuming us.

Aroused from their slumber at around 1pm, the fellowship moved onto Trinity. There stood an unholy, three-headed beast: THREE Greggs in and around Trinity.
Three Greggs in one location, possibly the greatest pasty-per-capita ratio in the country.
One does not simply enter Trinity; we had to visit each and every Greggs on the north, west and eastern sides (10/12). Not even having the strength to chew, flakes of pastry stuck to our mouths like feet to the floor of a sticky nightclub.
My heart was pounding like I had just run a marathon – it was probably working that hard to pump past my clogged arteries. I was reminded of my work in the hospital, and that little section on every patient's form: "Reason for presenting to hospital". I think they'll need a bigger box.
Onto Trinity…
But we had passed the three-headed beast, and the end was in sight. Just two more Greggs by Kirkstall Market to go. Two more gut-wrenching, oesophagus-bruising episodes and it would all be over.
We barely had the strength to raise our loyalty cards to the cashier as we took our final round of pastry-wrapped poison. The last crumb of lukewarm pasty slid down my throat, and with it came, not a sense of celebration, but relief.

Return of the Greggs
The app was wrong; there was one more store, a secret, master Greggs, down on Boar Lane by the train station. We had come so far: this would be our final battle.
We dragged our bloated bodies past our defeated foes. With each regret-laden step, customers and Gregg's ladies alike cheered us on like the champion athletes we were.
And at the gates of our salvation, we found our guardian angel. The store manager was so impressed (or concerned) with our valiant quest, that he gave us free sausage rolls.
It was 4pm, they were stone cold and definitely about to be discarded, but we didn't care at this point; with overflowing stomachs and starved wallets, our quest was finally over.
There and back again…
4 hours and 20 minutes: 6 sausage rolls, 2 steak bake, 2 coffees, 1 pizza slice and a donut, a true fantasy epic with all the director cuts. Time would heal our broken bodies and unclog our greasy hearts, but the legacy of what was achieved today will live for generations to come.
Related stories recommended by this writer: