Transphobic stickers have been spotted again on Edinburgh University campus
One of them says "you're being rather silly if you think a woman has a willy"
Content warning: transphobia
Students have found more transphobic stickers on Edinburgh University campus.
The stickers say things like: "ScotGov you're being rather silly if you think a woman has a willy" and "Puberty is not an illness. It's normal. STOP giving our kids experimental drugs to block it."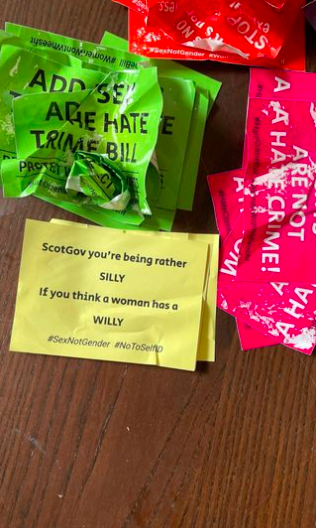 One sticker said: "Do you believe male-sexed people should have the right to undress and shower in a communal changing room with teenage girls?"
One  Edinburgh University student told The Tab he spotted these stickers and more outside Appleton Tower and throughout George and Bristo Squares.
He said he also found the stickers in other areas of Edinburgh such as Middle Meadow Walk and on Greyfriars Bobby.
This isn't the first time stickers like these have been spotted in Edinburgh. The Tab has reported multiple instances over the past couple of years of these kind of stickers.
A spokesperson for Edinburgh University told The Tab: "The University will not tolerate offensive material on campus and we have previously removed, and will continue to remove, any such material.
"It is vital that our students and staff feel that our campuses are safe and inclusive places to be."
Related articles recommended by this writer:
• More transphobic stickers have been found on Edinburgh Uni campus
• More transphobic stickers have been found outside the Edinburgh Uni library
• Transphobic stickers found on Edinburgh campus, saying 'women's sex based rights are not for penises'