A Cambridge student's first-hand account of the #EndSARS protests in Nigeria and the violence which followed
'People just didn't want to be trampled on anymore'
CN: Graphic descriptions of violence, assault, and death. Mention of rape, kidnapping, and murder.
Stephen Ajadi is a PhD student at Fitzwilliam College, who has been living and conducting field research in Nigeria – between Abuja and Lagos – since 2019. When the #EndSARS protests began in early October, Stephen was in Lagos – a walking distance from the Lekki toll gates, where on the 20th October, members of the Nigeran Armed Forces reportedly opened fire on a group of peaceful protestors. Amnesty International has said that at least 12 people were killed on the scene.
Stephen, who was hosting an online Oxbridge panel event when he heard the gunshots, shares his experience of attending the protests and talks about how this has shaped his experience studying a PhD at Cambridge, which is focused on violence and conflict in sub-Saharan Africa.
What are the #EndSARS protests?
"SARS" is the "Special Anti-Robbery Squad" in Nigeria, which was set up in 1992. It was initially meant to deal with crimes such as robbery, vehicle theft, and kidnapping. The unit has been accused of violent crimes against civilians, leading to protests across the country. On 11th October 2020, the government announced that the unit had been formally disbanded. You can read more about SARS here.
Stephen describes SARS as: "A supposedly elite unit of the police that was set up to tackle high-level crime. There's so much evidence that shows they have been responsible for extreme crimes that range from rape, kidnapping, murder, and even robbery itself."
'October 3rd was the tipping point'
Stephen tells The Cambridge Tab about how anger towards the special unit grew to a climax, triggering a wave of protests across the country, and eventually, the world: "For a long time now, people have been calling for reform. Formal announcements about the disbanding of the unit have been made in the past to placate the crowd and get people to calm down. But its operation has still continued. October 3rd was the tipping point."
The BBC reported that the following tweet from October 3rd was one of the main reasons there was such a huge presence at protests this month. The tweet went viral, receiving over 10,000 retweets:
SARS just shot a young boy dead at Ughelli, Delta state as we speak. In front of Wetland hotels. They left him for dead on the road side and drove away with the deceased Lexus jeep.

I have videos…

— Chinyelugo (@AfricaOfficial2) October 3, 2020
Following this tweet, the account owner released videos of the incident, which sparked outrage across the country. Stephen recounts these happenings: "The video went viral in Nigeria. Everybody just got triggered into anger. The exact happenings are not clear because there have been multiple narratives created about the same event. The police have argued that he wasn't killed. But they don't understand that that is not the point. They can't just shoot somebody because they assume he's a robber."
'People went off on social media'
After the video went viral, according to Stephen: "'There was a spark, and people went off on social media. The protests, the anger, the whole energy of the movement was online.
"And it was like this even before October. The End SARS hashtag started in 2017. That was when the backlash against police brutality started having a digital footprint. Since the special unit of the police had been so terrible in going about their duties, almost everybody had a bad experience with them."
'The city came together'
"After a while, some influencers took it to the physical realm", Stephen said. "They went out and they started protesting.
"Initially the government ignored them, because they were a group of about  50-100 people. But the digital footprint of the movement was so large, and not before long, people started protesting across the city. It turned into a huge wave of protests across Nigerian cities. Soon enough, Nigerians in the diaspora picked it up, and it became a mega protest around the world."
Stephen attended the protests in Lagos, which he has described as "one of the main epicentres, where most people were protesting at the time."
Living a short walk away from the Lekki toll gates, he talks about what it was like being at those initial demonstrations: "I had experience with the bad operation of some SARS operatives, so I wanted to lend a voice. I also wanted to study the development of the movement as part of my research. It was very safe and I was sure not to violate any of my study precautions.
"I've been studying cities and protests for a long time, and I've never seen such a sophisticated protest in terms of its organics. The whole site had a system as such that you could come there, stay for a week, and not go home. They had barbers there, they had toilets there, there was so much food – they made it so that when you got there there was almost no reason for you to go home. There were stretched out foldable beds and solar panels for charging phones, and everything was free."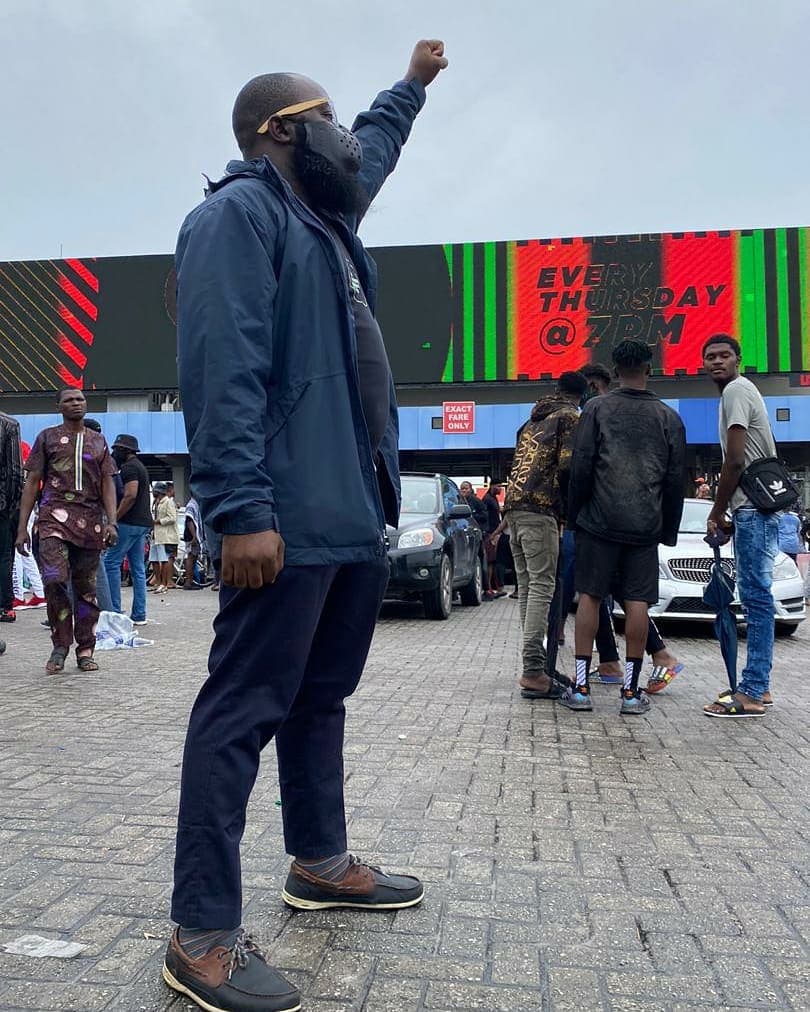 Stephen continued: "Lagos has one of the highest crime rate propensities in the country, so you would expect there to be a lot of theft and petty crime in a cluster that large. But for once, there were thousands of people in a single place, and all of a sudden it seemed like the safest place in the world.
"Lost property was not stolen but found and returned from a make-shift stage. People were handing out masks. Companies started tweeting passwords to their Wi-Fi. For the first time, the city came together. I witnessed it, and I saw the possibility for organic organisation in a city that is just so full of a complex kind of chaos."
'It's happening right here'
On the day of the 'Lekki Massacre' on 2oth October 2020, Stephen was at home hosting a Zoom panel – a discussion between the Oxford and Cambridge African societies about the causal factors behind neocolonialism. It was near the end of the event that the violence began.
"I was co-moderating the panel with a student from Oxford. So when the shooting started, I had to try and keep the panel going, even though I was scared. There were about a hundred people who registered, and it was actually someone else who was speaking who stopped talking and said, 'let me take five minutes to tell people that they are killing people in Nigeria right now.'  And I said 'yes, it's true, because I'm in Lekki, not far from the toll gate, and it's happening right here."
Stephen is the co-President of the ASCU (African Society of Cambridge University) and struggled to find words to relay to his peers back in Cambridge the true propensity of the situation. He said: "You can imagine how complicated it must have been to answer all of the questions about what was happening. Students from Oxford and Cambridge were messaging me afterward to find out what was going on. I had to put a post up on Instagram and Facebook, just to let everyone know that I was safe."
'I realised something unusual was about to happen'
On the day of the shooting, Stephen made the decision not to attend the protests, and this is one that he credits to his instincts, based on wider research and knowledge about the patterns of conflict.
"There was a curfew. I obeyed the curfew and stayed inside, but most people didn't", he said. "I know from my studies what the politics of curfews are, the dynamics of their implementation in sub-Sharan Africa, and how they can be used as tools of tyranny. The toll gates had cameras and vehicle sensors that were being taken down, and when I saw that I realised something unusual was about to happen."
Sadly, he was not able to convince many others to follow suit: "I was grateful to be able to use my knowledge to stay safe. I tried talking to people, but they still were so angry and they went out anyway. That night, towards the evening, people said that the soldiers came and they opened fire – point-blank, close range, on a set of peaceful protestors – it was said that people died."
Stephen watched a number of videos of the incident on an Instagram live stream from a Nigerian artiste called DJ Switch: "Over 150,000 people were watching it in real-time. But all of a sudden, the following day, there were basically no dead bodies, and the military said they were never there, even though the Lagos State Governor has said that there is CCTV footage showing military personnel at the scene. Within an expanse of three to four days, there was a lot of finger-pointing, and the plot changed many times."
The emotional impact for Stephen was of course, immense. As someone who conducts research specifically on spatiality and conflict, he articulates what went through his mind when he saw the very grounds where he had once stood, torn apart by unspeakable violence: "It affected me a lot because I am visually and emotionally connected to that space. As I've said, the toll gates are a walking distance from my house. Watching people dying on the Instagram live stream, I could picture it: the places I stood, the places I ran across, the places I met new people. I can mentally put myself in that context. If I was there when the shootings started, there is a very high chance I would have been harmed."
One moment, in particular, came to Stephen's mind as he recalled what led up to these tragic acts of violence. It's this moment that he chooses to remember, amongst all the chaos that came afterward:  "We were all crowded together, singing the national anthem. People came up one-by-one to talk about their experiences. I sort of came up out of the crowd, climbed the stairs, and looked back. There was an ocean of people in front of me. It was then that I realised just how big the movement was, and I saw that a demographic class had finally come together.
"The protests transcended race, ethnicity, and even religion. People just didn't want to be trampled on anymore. It was a stand against a perceived status-quo of tyranny."
Though the curfew in Lagos has now been relaxed, Stephen says that shootings continued for several days after the 20th and that it still feels unsafe to go out to certain areas late at night.
This is the first time that Stephen has spoken publically about his experience, voicing concerns on the extent to which people in Cambridge are aware of the situation in the first place: "It might be that the wider university community is unaware that there are students in Nigeria who were involved in the protests. I have definitely received a lot of support from my supervisor, but overall,  it feels like there's not been that much care and attention towards what has happened." The university press office has since been contacted for comment in relation to this statement. 
Stephen does, however, think it is important that the protests in Nigeria and other parts of Africa receive the attention they deserve from students and the media, especially since there are students at Cambridge, much like himself, who are implicated in them: "With a huge wave of global occurrences like this. There is always the danger of misinformation, especially if it involves students at the university. If at all such news has to be told, it has to be told right."
'It's about educating people and engaging in university-wide discussions'
Despite all of this, Stephen remains optimistic that within Cambridge at least, more can be done to raise awareness and keep the conversation about developments from the continent that intersect with student activity, accurate. He encourages anyone who wants to find out more about the #EndSARS movement and to know how they can help and continue to educate themselves, to get in contact with ACSU.
Stephen ended with: "I think in Cambridge generally, if people paid more attention to the students around them, to the news, to what is happening, knowing that it affects the community at the university, a better culture of empathy could be created.
"It's about educating people and engaging in university-wide discussions to help people understand what is going on – not just in Africa – but in different parts of the world. 
"If we create a system where we all talk to each other, where we realise that there are societies and groups of people in Cambridge that we can talk to, who have important things to say, then things might be better."
For more information about #EndSARS, you can visit Amnesty International, and you can get in touch with ACSU on their Facebook page, here. 
All image credits to Stephen Ajadi
The University press office has been contacted for comment.