Recreate your favourite Studio Ghibli foods at home!
More quarantine cooking content? We love to see it
| UPDATED
anime
baking
cooking
food
lockdown
quarantine cooking
recipe
studio ghibli
I don't know about you, but I've spent 80 per cent of my time in lockdown cooking or baking; it's a great way to beat boredom. The one snag is that I don't really know if my clothes will fit the same once we're let out.
I've made loads of different kinds of food, from noodles to cinnamon rolls (well, I have to keep my Instagram followers entertained, don't I?) Since I've also been binge-watching all the Ghibli movies on Netflix, I decided that it was time to recreate some of my favourite Studio Ghibli recipes. I might even do a part two featuring my favourite savoury Studio Ghibli recipes.
In this article, I'll show you how to make three of (in my opinion) the most iconic sweet eats from 'Kiki's Delivery Service', 'Spirited Away' and 'The Wind Rises'.
Kiki's Chocolate Cake – Kiki's Delivery Service
Okay, first things first, I made a mistake with this cake. I forgot to ice on Kiki's cat, Jiji. I love Jiji a lot, too, so I don't really understand how I let this happen. But, if you'll forgive me (I know it's hard…), the rest of the cake-making process is quite easy to follow!
For the chocolate cake, I used my own recipe (listed below), but feel free to use whichever method you prefer. I iced the cake with a ganache (a simple recipe of a 2:1 ratio of chocolate to double cream, heated together and combined). Finally, I filled it with a mocha fudge filling (recipe here + 2-3 tbsp instant coffee), but you can choose whatever you want.
There isn't anything implied in the movie (as far as I can remember) about what's inside, so it's all fair game; you could opt for a fruit filling, fresh cream, caramel – the list goes on!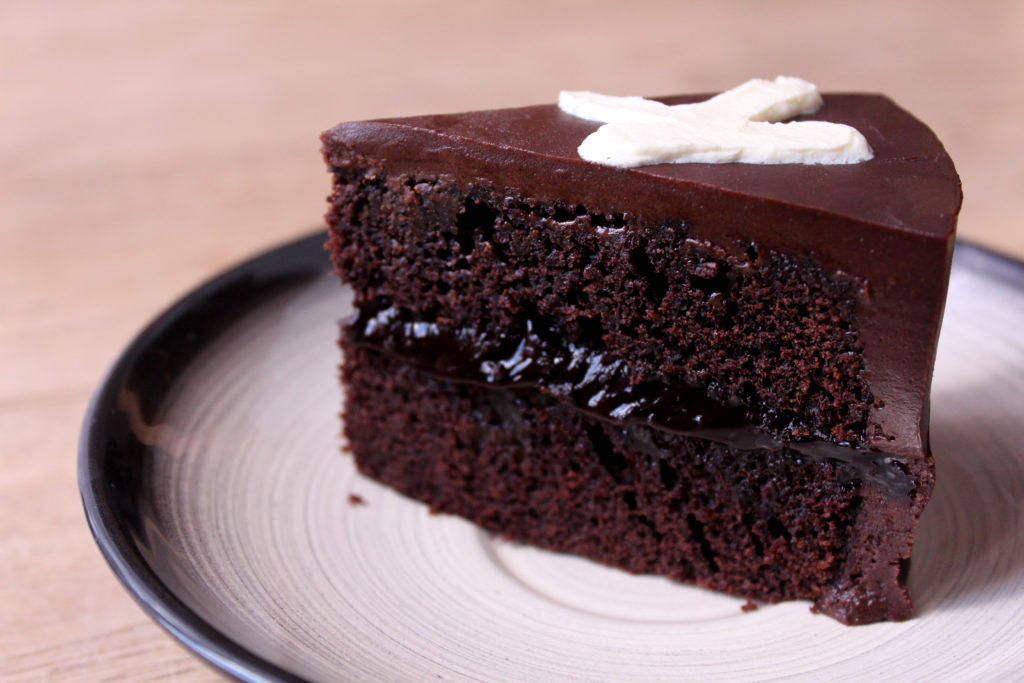 Recipe
Ingredients:
80ml vegetable oil
2 eggs
180g caster sugar
100ml milk (I used almond!)
2 tsp vanilla extract
100ml boiling water + 1 tbsp coffee
150g self-raising flour
50g cocoa powder
Method:
Preheat your oven to 170°C (or 340°F). Grease and line a 6-inch circular baking tin (you can also split the batter between two tins instead of halving the layers with a knife, up to you).
In a medium-sized bowl, whisk to combine the eggs, milk and vanilla. Once the coffee has cooled enough, stir it into the egg mixture.
In another bowl, whisk the oil and sugar until mixed, and then combine with the egg mixture.
In a large bowl (you can do this by hand), sift together the flour and cocoa.
Next, add in the wet ingredients, mixing until just combined and no pockets of flour remain.
Pour the batter into the prepared tin(s), and bake for 45 minutes (or until a skewer comes out clean). Leave to cool on a cooling rack.
Once the cake has cooled, you will need to prepare all of your frostings and fillings. You will also need white, red and green icing to decorate (e.g. plain buttercream + food colouring).
Using a sharp serrated knife, divide your cake into two horizontally so that you have two layers. Skip this if you split your batter between tins.
Secure the base layer onto a cake board with some icing and distribute your filling evenly on top, making sure not to go to close to the edges.
Continue with your frosting around the sides and top of the cake. To get really clean sharp edges (there are a few tutorials out there), you're gonna need to chill your cake in between layers of frosting and smooth over with a warm off-set spatula!
Finally, decorate with your buttercream frostings and (free-hand!) pipe Kiki, her name and (lol) her cat, too! You can find a reference photo here.
Giant Red Bean Buns – Spirited Away
Those soft, fluffy and HUGE buns that Chihiro and Lin were munching on seemed like the next thing I had to recreate. I decided to make my own red bean paste (don't know if I would recommend, it's a long process – see here), but if you can get your hands on pre-made, use that instead! The recipe for the bun is quite simple and is taken from here.
After you've made the dough according to the recipe linked before, you're going to need to let it proof (rise) for about an hour or until it's doubled in size (as shown below). Keep in mind where you leave it to proof –  it was pretty hot that day, so I might have let my dough go on for a bit too long.
If you're going for giant buns (and you definitely should!), you're going to need roughly about 1/5 of the dough per bun. Dust a surface/chopping board with some flour and roll your dough into a ball with your hands. Next, flatten the ball of dough, keeping the centre thicker than the edges, until you get a size that is roughly the same as your hand. Make sure that the edges are not too thin otherwise the dough will rip and the filling will spill out.
Place 1.5 tbsp of red bean paste into the center of the dough and fold in the edges inwards to seal the bun. Twist and tear the excess dough at the top, turn your bun over and use your palms to round the edges. Once all your buns are shaped, you can prepare your steamer! My steamer is metal (not bamboo), so I made an extra effort to grease the sides of the steamer (if you have grease-proof paper on hand, use it!), make sure the buns aren't too close to the water level, and drape a cloth over the top before placing the lid on. This should minimise condensation dripping onto the buns!
The giant buns will take longer to cook (mine took around an hour), so be wary! Your other buns may over-proof in that time, so keeping them in the fridge can help to slow down the yeast. If you over-proof your buns, you're likely to get cracks. Leave to cool slightly and enjoy!
Siberia Cake – The Wind Rises
I recently watched 'The Wind Rises' and let me tell you, my heart was SHATTERED. It was such a beautiful movie! The iconic food item from this movie is, of course, Jiro's favourite Siberia cake.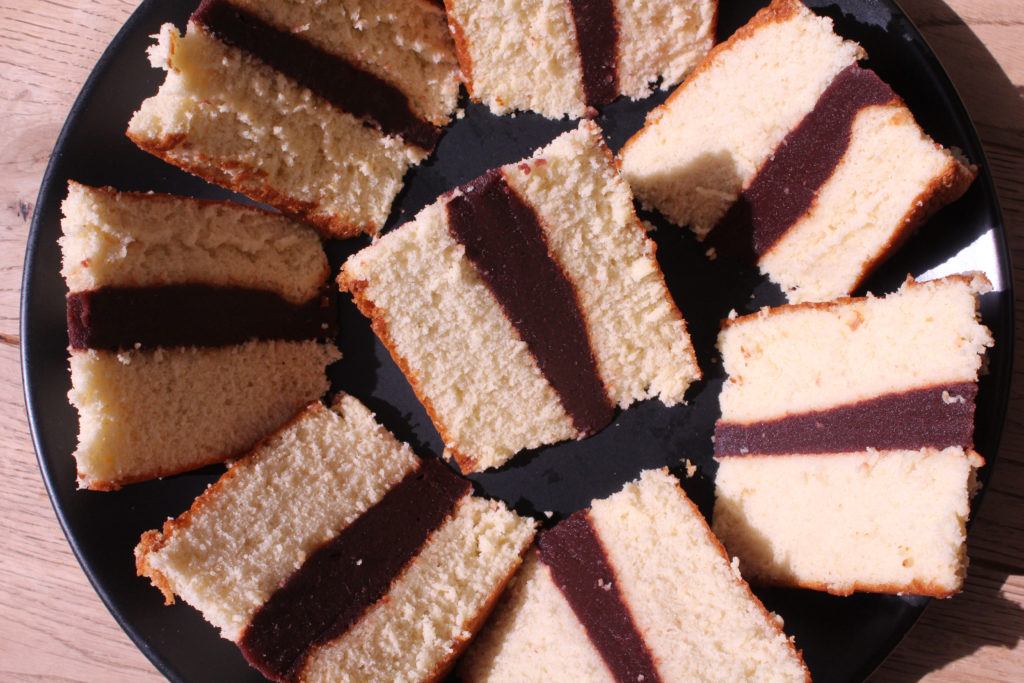 Siberia cake is basically two layers of castella cake (a Japanese sponge cake) sandwiched with a layer of red bean jelly. I've made castella once before and it didn't turn out great, but this time it was perfect! The castella turned out super light and airy – you can find the recipe here. Essentially, you need to first whip the eggs together with the sugar until pale, fluffy and thickened. You then add in some honey (diluted with hot water), fold in the flour and bake until just done.
Traditionally, castella is baked in a wooden mould which I didn't have. I settled for a regular metal baking tin, lined with grease-proof paper. I also used a differently sized tin, so make sure to adjust your baking times accordingly. My cake was fully baked within 30 minutes.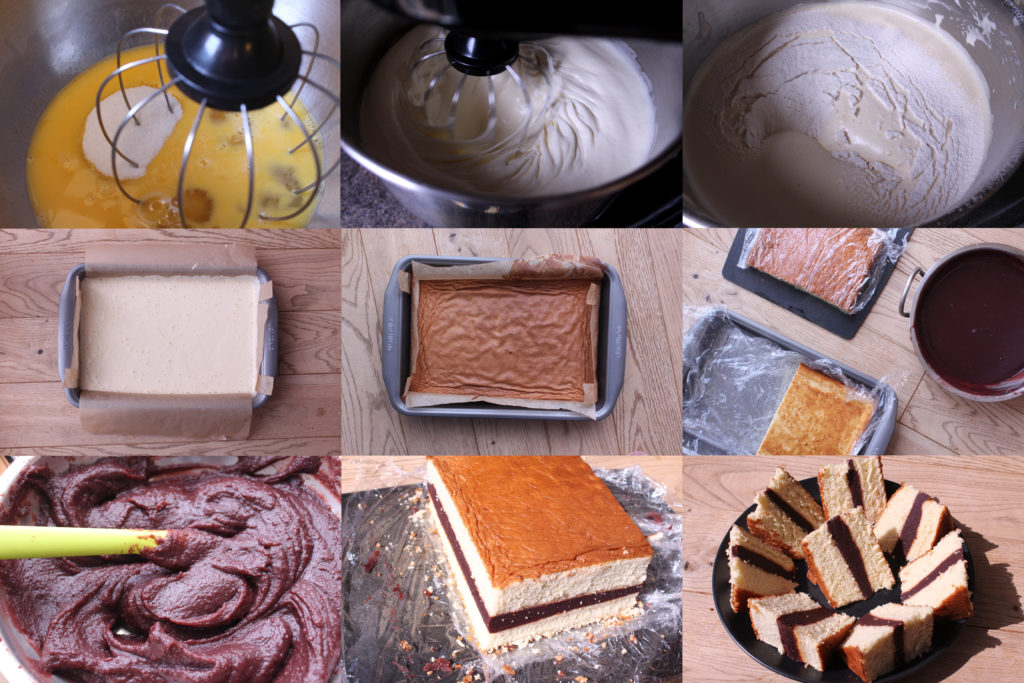 After baking, you'll need to prepare your red bean jelly. For this, you'll need red bean paste and food-grade agar agar. I used about 500g red bean paste (and had plenty to spare), with 10g of agar agar powder and 200ml hot water. Leave the agar agar to soak in the water for 10 minutes, bring to a boil and stir in the red bean paste until glossy. After this mixture has cooled and thickened into a spreadable consistency, layer this between your cake layers into a tin lined with cling-film.
Leave the cake to set in the fridge for at least four hours or overnight. Then, trim the edges, slice it into triangles and enjoy!
If you haven't gotten into quarantine baking yet, I definitely recommend it. And recreating your favourite movie treats is a great place to start! Stay tuned for a possible part two… Ponyo's ramen looks too good to pass up on.
All photo credits belong to the author.